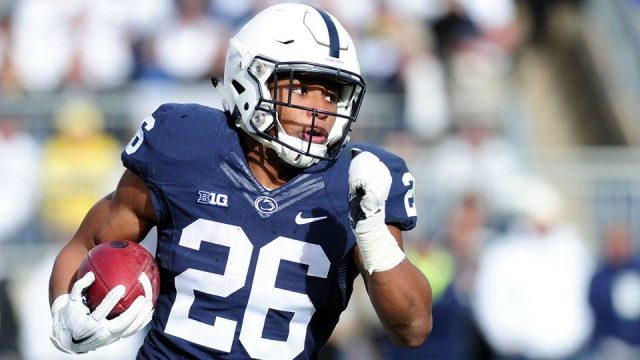 NCAAF Game of the Week: Penn State vs. Wisconsin
Every week in this space, I examine one college football game that's offering contrarian value to bettors. By using the tools available to Sportsbook Insider members, I have pinpointed the factors driving line movement and highlighted some of the best sharp money indicators.
My Games of the Week have provided solid value so far this season, and I'll look to build on that success this week. You can view all my past analysis below:
This week's research indicates there's tremendous value in Saturday's Big Ten Championship Game between the 7th-ranked Penn State Nittany Lions (10-2, 8-1) and the 6th-ranked Wisconsin Badgers (10-2, 7-2). Although it's highly unlikely, the winner of this game has an outside chance of slipping into the four-team College Football Playoff.
Based on the magnitude of this game, it's not surprising that this is the most heavily bet game of the week, and one-sided public money is clearly creating contrarian value. Riding a six-game winning streak, the Badgers opened as 3-point favorites at Pinnacle and have been hammered by the public. At the time of publication, Wisconsin was receiving 63% of spread tickets and 62% of spread dollars. Although the Badgers are still listed as 3-point favorites, that doesn't tell the entire story.
[click image below to enlarge]

You may notice a "+" icon on the line graph, which is indicative of a key injury update. In this instance, Penn State moved from +3 to +2.5 immediately after running back Saquon Barkley was upgraded from questionable to probable. This season, Barkley has racked up over 1,500 total yards with 17 touchdowns. That's a very significant move since "3" is actually the most common margin of victory.
Following that initial move, sharp money continued to hammer Penn State which caused the Nittany Lions to move from +3 to +1.5. However, public money has poured in on Wisconsin, which caused that line to jump back to 3. This looks like the perfect example of "Sharps vs. Squares," or "Pros vs. Joes."
As you can see from the screenshot below, there have been two Bet Signals triggered on this game including one on the spread and one on the total. This information is typically available exclusively to Sportsbook Insider Pro subscribers, but you can see every move on this game along with the triggering book and year-to-date record.
[click image below to enlarge]

It's important that bettors realize that not all bet signals are created equal and that market-setting sportsbooks like CRIS and Pinnacle consistently produce the most profitable steam moves and reverse line movement alerts for nearly every major sport. Since these market-setting books offer the highest limits, they attract the sharpest clients and therefore offer the sharpest lines. This season the CRIS NCAAF reverse line move has gone 66-53-1 (55.5%) on the spread.
We have conclusively proven that betting against the public is an effective strategy, particularly in the day's most heavily-bet games. This isn't only the most heavily bet game of the week, but it could potentially be the most heavily bet game of the season — especially given the late start time. With Penn State being largely ignored by bettors, this looks like the quintessential contrarian play. In fact, my research found that teams receiving less than 50% of spread tickets in conference title games have gone 35-26 ATS (57.4%) and teams receiving less than 40% of spread tickets have gone 21-14 ATS (60%) since 2005.
It's also worth noting that betting against the public has been a very lucrative strategy this season. Teams receiving less than 50% of spread tickets have gone 413-366 ATS (53%) and that record improves to 169-130 ATS (56.5%) when the number of bets is greater than the daily average.

Going one step further, I found that historically it's been very profitable to bet against the public in neutral site games. These games normally take an above average handle, which once again magnifies the value of betting against the public. Since 2005, teams receiving less than 40% of spread bets have gone 191-149 ATS (56.2%) on neutral turf. When their opponent is ranked, that win rate jumps to 57.6%.
Familiarity between teams disproportionately benefits the team getting points, and we have seen that phenomenon play out this year. On the season, underdogs have gone 266-228 ATS (53.8%) against conference opponents including a 208-172 ATS (54.7%) record when they're receiving less than 50% of spread bets. Small underdogs (+7 or lower) have been particularly lucrative.
Looking to glean some information from our newly added money percentages? Underdogs receiving less than 50% of spread dollars have gone 296-258 ATS (53.4%) this season. In conference games, that record improves to 188-154 ATS (55%). No matter how you slice it, Penn State looks like an excellent contrarian value.
I should also note that parlay percentage is a good indicator of square money. You won't find many sharps betting parlays since they're usually a losing proposition. At the time of publication, 62% of bettors who parlayed or teased this game had taken Wisconsin.
Penn State is in the midst of an eight-game winning streak, yet they're somehow a contrarian underdog. Sophomore quarterback Trace McSorley (2,976 passing yards, 21 TD:5 INT) has been a revelation, and Saquon Barkley has looked like one of the most dynamic backs in the nation. Both teams may struggle to generate long, sustained drives, so I'm happy to back this Nittany Lions offense due to their big play capability. It's also worth noting that Wisconsin quarterback Alex Hornibrook is expected to start, but he's been dealing with a head injury all week.
It's a small sample size, but underdogs have gone 4-0-1 ATS in the Big Ten title game. It's also interesting to note that although most sportsbooks are hanging Penn State +3, several sharp sportsbooks (including CRIS) are currently offering Penn State +2.5. This type of discrepancy between sharp and square sportsbooks further validates our sharp money indicators.
The pick: Penn State +3
Sportsbook Insider Pro subscribers have access to real-time odds, public betting trends, money percentages, bet signals (including steam moves and reverse line movement alerts), injury alerts, value meter, line watcher, line predictor, and many other unique features.
The only plays we officially endorse are our Best Bets, and we have three pending NCAAF Best Bets for this weekend's games. Those are only available to Sportsbook Insider Pro subscribers, so sign up now for a 4-day trial and start winning today!
Have any questions for the staff at Sports Insights? Make sure to utilize our live chat or call us directly at 877-838-2853.