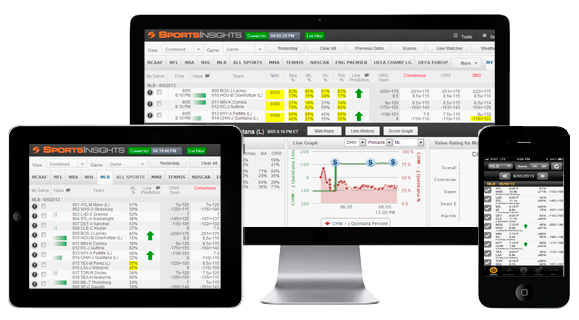 Real-Time Odds & Betting Trends
Data is the cornerstone of successful sports betting. Sportsbook Insider offers the industry's most advanced live odds platform for the most sought after, marketing-setting sportsbooks. We track in real time all the forces that move lines – public betting, sharp money, injury reports & weather updates.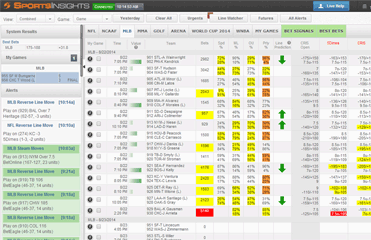 Live Odds From 50+ Sportsbooks
Since 1999, we've been doing nothing but gathering live odds and betting trends data. We provide you with instant access to live odds from over 50 sportsbooks. Our real-time odds software is 100% web-based so you don't have to download or install anything on your computer. You can also go mobile and easily access our live odds from your tablet or smartphone. Download our free smartphone app (Android & iPhone) for even quicker access and start making smarter bets now.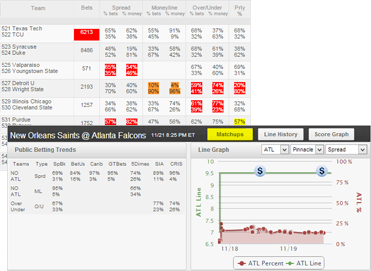 Real-Time Public Betting Trends
Sportsbook Insider takes you behind the lines and shows you what is happening on the sportsbook side. You'll get public sports betting trends on the number and the percentage of bets placed. Our data represents real wagers placed at the industry's largest and most trusted sports books. View public trends as a market average across seven contributing sportsbooks or see them broken down into each individual sportsbook's betting data.
Sportsbook Insider is the only tool in the world that offers real-time public betting trends from seven online sportsbooks – and betting money percentages.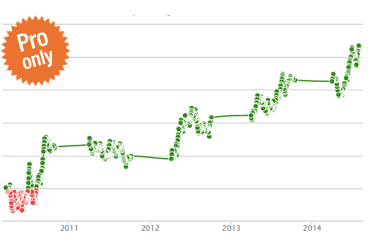 Get Our Best Bets
With a Pro membership, you'll get our profitable Best Bets picks. Our betting systems are developed by a team of "propeller heads"; economists, PhDs and CFAs, not salesmen. We don't handicap games. We handicap the sports betting marketplace. Sportsbooks leave money on the table every day as they look to offset risk. Our strategies are designed to take advantage of these profitable situations.
Since 2010, our systems returned a consistent winning percentage of 54%-55% ATS across all major sports.
Read more on our Best Bet performance and strategy
Access To Our Bet Signals
In addition to our Best Bets, Pro subscribers will receive access to all three of our Bet Signals — Contrarian Plays, Steam Moves and Reverse Line Movement alerts. The Contrarian Plays represent the most lop-sided bet games of the day and are the backbone of our betting against the public philosophy. Our Steam Moves and Reverse Line Movement alerts are excellent sharp money indicators which are triggered automatically throughout the day based on historically profitable line movement patterns. These Bet Signals are built on our proprietary betting trends data and can help bettors identify inefficiencies in the sports betting market. We track Bet Signals from over 50 different sportsbooks with archived records readily available.

Betting Against The Public
The logic is simple: whichever team the public loads up on, go the other way.
Experience the Power of Real-time Betting Data
Our real-time updates will provide you the same edge in sports betting enjoyed by professional bettors, but for a fraction of the price. Sign up and start winning more today!
Key Features
Breaking injury & weather alerts
Steam Move and Reverse Line Movement Alerts
Half time & quarters/periods odds
Live, in-game odds
Live scores
Smartphone & tablet access
Web-based: Easy to use and Customizable

Redesigned Matchups Page
By clicking on "Matchups" within the game dashboard, members can access game-specific stat comparisons, ATS trends, recent performance, head-to-head results, and much more.

Game Information Dashboard
With one click, access all information about each game, including Public Betting Percentages, Line-Movement graphs, Key Injuries, Bet Signals, Weather, Referee/Umpire information and trends, and Value Meter Rating.

Enhanced "My Games"
Simply check each game matchup to add an important game to My Games. You can customize My Games alerts to include Lineups, Weather, Final Scores and Injury Alerts via popup, email/text or smartphone push alert.

Line Movement Prediction
Our Line Predictor is an advanced computer model that accurately predicts imminent line movement so you can avoid those bad numbers. More on Line Predictor

Value Meter
Analyze key trends for every matchup on the board to quickly show which games are offering the most value.

Enhanced Line Watcher Alerts
Our improved Line Watcher feature can be set up to alert members via popup or email/text whenever a game, 1st half and/or 2nd half line hits a desired Spread, Moneyline or Total.

Urgent Injury Updates
With one click of the "Urgents" button, members can instantly see the most recent injury alerts for key players across all major sports.

Referee/Umpire Stats & Trends
Instantly access Runs/Points per game, Home/Away bias and Over/Under bias for referees and home plate umpires.