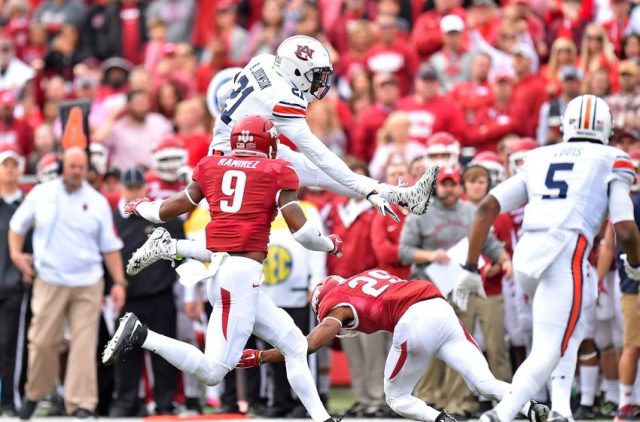 NCAAF Game of the Week: Auburn vs. Arkansas
Every week in this space, I have examined one football game that's offering contrarian value to bettors. By using the tools available to Sportsbook Insider members, I have pinpointed the factors driving line movement and highlighted some of the best sharp money indicators.
The featured picks have gone 6-1 ATS this season, and I'll look to build on that success this week. You can view all of my past analysis below:
This week's research indicates that there's solid value in Saturday's SEC showdown between the 22nd-ranked Auburn Tigers (4-2, 2-1 SEC) and the 17th-ranked Arkansas Razorbacks (5-2, 1-2 SEC). This is the most heavily bet game of the week, but public money hasn't affected the spread like many bettors would expect.
The Tigers opened as 7.5-point favorites at the market-setting Pinnacle sportsbook, but they have been widely ignored by public bettors. This falls in line with past research which found bettors are far more likely to take the underdog when two ranked teams play each other.
According to our public betting trends, the home favorite has received just 21% of spread tickets and 39% of total dollars wagered. Despite this one-sided public betting, Auburn has moved from -7.5 to -10 at Pinnacle. That reverse line movement is an excellent indicator that sharp money loves the Tigers.
[click image below to enlarge]
Since the start of the 2005 season, the favorite has received the majority of spread bets in 61.7% of regular season games involving two ranked teams. When two unranked teams play each other, the favorite has received the majority of spread bets in 82.6% of regular season games. The AP Top 25 rankings are not an accurate reflection of the nation's best teams, yet bettors clearly place significant weight on them. This altered public perception can create value for opportunistic contrarian bettors.
My research found that when two ranked teams play each other, the favorite has gone 276-231 ATS (54.4%) with a 6.3% return on investment (ROI). When that team is also receiving less than 50% of spread bets, the record improves to 106-77 ATS (57.9%) and the ROI more than doubles. This strategy has been particularly profitable over the past four seasons.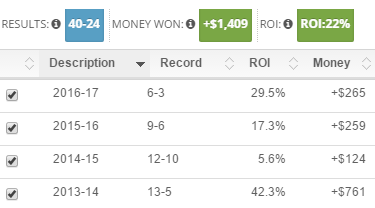 Clearly ranked favorites have offered value when they're being ignored by public bettors, which should come as no surprise to anybody who has been reading this column throughout the season. Over the past month, I have been strongly advocating that bettors fade (bet against) trendy underdogs.
Since 2005, underdogs receiving at least two-thirds of spread tickets have gone just 77-96 ATS (44.5%) in regular season games. The value of betting against the public is magnified in heavily bet college football games, and that record drops to 36-60 ATS (37.5%) when the number of bets is at least equal to the daily average. In other words, bettors should be steering clear of Arkansas as a publicly backed underdog.
Fading the trendy underdog has been particularly profitable this year. Favorites have gone just 212-231 ATS (49.1%) this season, but favorites receiving less than 50% of spread bets have gone 44-30 ATS (59.5%). Focusing solely on the most heavily bet games, favorites receiving less than 50% of spread bets have gone 27-13 ATS (67.5%) this season.
Earlier this season, our friends at Bet Labs published their first ever College Football Contrarian System. This strategy involves taking heavily bet teams receiving no more than 35% of spread bets in games with favorable line movement. The featured system has gone 211-153 ATS (58%) all-time including a 4-3 ATS record this season. Auburn is a current system pick, which further indicates they are offering value.
We should also note that parlay percentage, which is available exclusively to Sportsbook Insider subscribers, is an excellent indicator of square money. You won't find many sharps betting parlays since they're usually a losing proposition. At the time of publication, 88% of bettors who parlayed or teased this game had taken Arkansas.
The Tigers are coming off a bye, and that extended rest provides an additional advantage. Since 2005, favorites with 14+ days between games have gone 387-340 ATS (53.2%) which falls in line with similar NFL research indicating that favorites benefit more from the bye week than underdogs. Going one step farther, home favorites have gone 257-203 ATS (55.9%) following a bye week.
It's also worth noting that there have been several bet signals triggered on Auburn, including two profitable reverse line movement alerts triggered earlier in the week.
[click image below to enlarge]

This looks like the quintessential example of "Sharps vs. Squares" with casual bettors taking Arkansas and sharp bettors taking Auburn. In this week's most heavily bet game, I love the value on Auburn as a contrarian favorite. Most books are currently offering Auburn -10, but several square books are still hanging Auburn -9.5. This once again highlights the value of shopping for the best line before placing a wager.
Sportsbook Insider Pro subscribers have access to real-time odds, public betting trends, money percentages, bet signals (including steam moves and reverse line movement alerts), injury alerts, value meter, line watcher, line predictor, and many other unique features. We also have six pending NCAAF Best Bets which are only available with an active Pro subscription.
Sign up now for a 4-day trial of Sportsbook Insider Pro and start winning today!
Have any questions for the staff at Sports Insights? Make sure to utilize our live chat or call us directly at 877-838-2853.