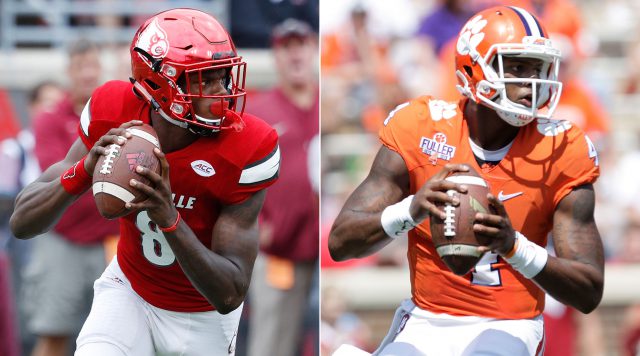 NCAAF Game of the Week: Louisville at Clemson
In potentially the year's biggest college football game, the third-ranked Louisville Cardinals will travel to Death Valley to face-off against the fifth-ranked Clemson Tigers. Although Clemson's October 29th matchup against Florida State was being touted as the effective ACC title game before the season, that narrative has shifted.
Back on August 29th, the Westgate Las Vegas Superbook posted "Game of the Year" lines for many of the season's most exciting matchups along with Heisman Odds for the upcoming season. At that time, Louisville was listed as 10-point underdogs against Clemson and quarterback Lamar Jackson was listed as a 100/1 longshot to win the Heisman Trophy. Oh, how the times have changed.
Louisville has won their first four games of the season by a combined margin of 164 points, including a 63-20 victory over Florida State. In those games, Jackson has racked up 1,330 passing yards, 526 rushing yards and 25 total touchdowns. Those staggering numbers have caused the sophomore quarterback's Heisman odds to jump from +10000 to -275 at the Westgate Superbook. In fact, many offshore sportsbooks have Jackson listed as the favorite against the field.
The Cardinals, who lead the nation in total yards and scoring, opened as 3.5-point underdogs at the market-setting Pinnacle sportsbook. That represented a 6.5-point difference from the preseason "Game of the Year" line at the Westgate. Despite that massive swing, public bettors have been backing the road 'dog. According to our public betting trends, Louisville has received 57% of spread tickets and 64% of total dollars wagered.
[click image below to enlarge]

With the market steadily pounding Louisville all week, oddsmakers have been forced to adjust their number multiple times. Since opening, the Cardinals have moved from +3.5 to -1.5 at Pinnacle. That includes two steam moves triggered on Wednesday afternoon:
5Dimes steam move on Louisville PK (50-28 ATS this season)
Pinnacle steam moves on Louisville +1 (49-43 ATS this season)
Although the limits are lower early in the week, these steam moves were a strong indicator that early sharp money liked Louisville. To see whether other places were seeing similar trends, I reached out to representatives from three different sportsbooks.
"The public loves Louisville and they've been backing the Cardinals at a 9-to-1 clip," according to Scott Cooley, an Odds Consultant for Bookmaker.eu. "We've taken a little bit of sharp action on the road squad, and that prompted the steam movement from the public."
This confirmed our initial analysis, but many sharp bettors wait to place their bets when the limits are increased closer to game time. "At this point, we haven't seen what side the pros are going to take, if any side," elaborated Cooley. "We don't think it's going to Louisville -3, but we've been somewhat surprised by the action thus far so it might. I really believe the sharps are waiting to see if they can get that key number before they jump on Clemson. Either way, I think this comes down to a PK at some point Saturday with sharp money on the home dog. And I wouldn't be surprised to see the Tigers close as favorites."
Over at William Hill in Las Vegas, there's been similarly one-sided action with Louisville receiving 68% of spread tickets and 74% of total dollars wagered. Despite this overwhelming support for the road team, don't expect that line to reach Louisville -3 anytime soon.
"The line is currently Louisville -2 and we do not expect for the line to move to -3 because if it gets to -3 then the public and the sharps will hammer that back down to -2," according to Ryan Oakes, a spokesman for William Hill. "We expect closer to game time tomorrow that this game will be almost split as money will come in on Clemson but for now nothing really sharp."
According to Jeff Sherman, Manager at the Westgate Superbook, they have seen essentially the same behavior this week. "It's been steady support by the general public on Louisville," stated Sherman. "No sharp action as of yet. Could see the line hitting Louisville -2.5, but not 3 as that would immediately be taken by the sharps. Public is extremely supportive of Louisville with the way Jackson is leading the team."
Casual bettors are consistently drawn to betting high-scoring offenses, so it's not entirely surprising to see such overwhelming support for Louisville. It's also predictable to see that sharp bettors are waiting for the line to reach 3, since that's the most significant key number for football bettors.
Personally, I have been fairly surprised by this line movement and believe that public bettors have overreacted to Louisville's hot start. Clemson is an extremely talented team, and this seems like an excellent opportunity to back them as the rare contrarian (receiving less than 50% of spread bets) home underdog.
It's also worth noting that although Louisville head coach Bobby Petrino has been one of the nations best ATS coaches at home, he's struggled on the road in the past.
Bobby Petrino ATS

Home: 35-18, +15.3u
Neutral: 10-6, +3.5u
Road: 21-25, -5.2u

— Sports Insights (@SportsInsights) September 30, 2016
Clemson hasn't played since last Thursday, which means they will be well-rested for Saturday's showdown. Dabo Swinney, who has gone 11-5 ATS as a contrarian underdog, will have additional time to prepare for this potent Louisville offense. I think this game will be surprisingly low-scoring, and Clemson will emerge victorious. Since it's unlikely that the line will reach Clemson +3, it's worth taking the Tigers now while they're still getting points.
Sportsbook Insider Pro subscribers have access to real-time odds, public betting trends, money percentages, bet signals (including steam moves and reverse line movement alerts), injury alerts, value meter, line watcher, line predictor, and many other unique features. We also have five pending NCAAF Best Bets which are only available with an active Pro subscription.
Sign up now for a 4-day trial of Sportsbook Insider Pro and start winning today!
Have any questions for the staff at Sports Insights? Make sure to utilize our live chat or call us directly at 877-838-2853.