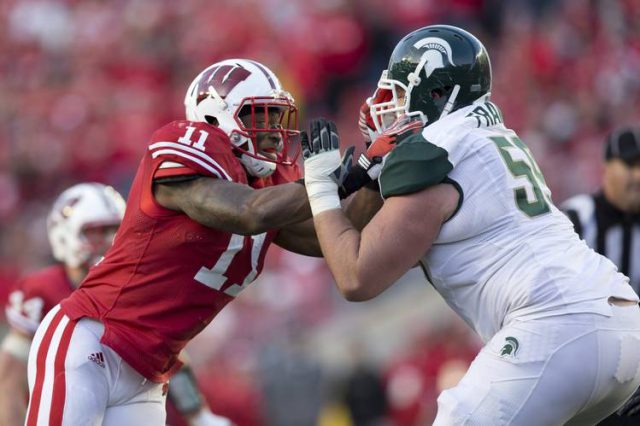 NCAAF Game of the Week: Wisconsin at Michigan State
Every week in this space, we will examine one football game that's offering contrarian value to bettors. By using the tools available to Sportsbook Insider members, we will explain what factors are driving line movement and pinpoint which teams are being hammered by sharp money.
In one of this week's most intriguing matchups, #8 Michigan State (2-0) opened as 6-point home favorites against #11 Wisconsin (3-0) at the market-setting Pinnacle sportsbook. We will frequently see bettors take the points when two ranked teams face off, but that's not the case in Saturday's Big Ten showdown. At the time of publication, the Spartans were receiving 77% of spread bets and 88% of total dollars wagered.
The screenshot below displays the individual spread ticket percentages at our contributing sportsbooks.

As you can see, Michigan State is receiving overwhelming public support at all seven of our contributing sportsbooks. Despite those one-sided public betting percentages, the Spartans have actually dropped from -6 to -5 at Pinnacle. That reverse line movement indicates that sharp money took Wisconsin +6 immediately after the line opened.
[click image below to enlarge]
It will be interesting to see which way the line moves over the next two days as more public money hits the market. There's no rush to bet this game now since "5" is considered a dead number, but there's plenty of reason to like the Badgers in this high profile matchup.
For starters, Wisconsin fits the criteria detailed in our 2015 College Football Betting Against the Public Report. Since the start of the 2003 season, that system has gone 107-58 ATS (64.8%) with +43.92 units won and a 26.6% return on investment (ROI). This season the system has gone 1-0 ATS, with its lone match coming in a Week 2 showdown between Duke and Wake Forest.
I have previously mentioned that home-field advantage is overvalued by bettors, and that it's best to sell high after big, nationally-televised wins. Both of these strategies enable contrarian bettors to capitalize on shaded lines created by overreactions from casual fans. Considering that Michigan State is playing at home after an upset victory over Notre Dame, this might be the ideal opportunity to fade (bet against) the Spartans.
As you can see from the Bet Labs screenshot below, road underdogs have provided value in games with low totals. Since opening, this total has dropped from 43.5 to 42.5 at Pinnacle, which also points towards value on Wisconsin.

We have conclusively proven that betting against the public is an effective strategy, particularly in the most heavily-bet games. Wisconsin (+5) is only receiving 23% of spread tickets in one of the weekend's biggest games, which makes them an excellent contrarian value.
Sportsbook Insider Pro subscribers have access to real-time odds, public betting trends, money percentages, bet signals (including steam moves and reverse line movement alerts), injury alerts, value meter, line watcher, line predictor, and many other unique features. We also have seven pending NCAAF Best Bets which are only available with an active Pro subscription.
Sign up now for a 4-day trial of Sportsbook Insider Pro and start winning today!
Have any questions for the staff at Sports Insights? Make sure to utilize our live chat or call us directly at 877-838-2853.