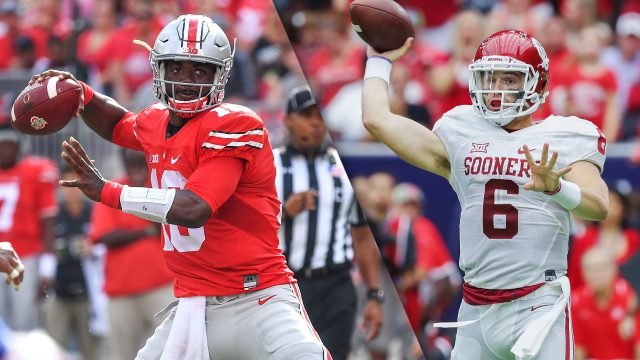 NCAAF Game of the Week: Ohio State at Oklahoma
Every week in this space, we will examine one football game that's offering contrarian value to bettors. By using the tools available to Sportsbook Insider members, we will explain what factors are driving line movement and pinpoint which teams are being hammered by sharp money.
Last week I argued that a combination of sharp money indicators and historical betting trends indicated that Wake Forest was offering value as a small road underdog against Duke. Not only did the Demon Deacons cover the closing spread, they won straight up. In this week's edition, I wanted to break down the line movement in Saturday's most highly anticipated matchup.
Coming off back-to-back blowout victories, #3 Ohio State opened as 2.5-point road favorites against #14 Oklahoma at the market-setting Pinnacle sportsbook. Early public betting has been hammering the Buckeyes, who have received 77% of spread bets and 78% of total dollars wagered. Although it's very common to see casual bettors take the underdog when two ranked teams square off, bettors are clearly deterred by the Sooners' Week 1 loss to Houston.
Despite receiving more than three-fourths of the money in Saturday's most heavily bet game, the Buckeyes have actually dropped from -2.5 to -1.5 at Pinnacle. This reverse line movement is an excellent indicator that sharp money has been taking the home underdog.
[click image below to enlarge]

In addition to this reverse line movement, there are several betting systems which indicate that Oklahoma is being vastly undervalued in this matchup. In an article published over the summer, we explained that betting against the public is profitable in the most heavily bet College Football games. Teams receiving less than 35% of spread bets have covered the spread at a 49.0% rate overall, but that rate increases to 51.5% when the number of bets placed is at least equal to the daily average. When the game is receiving at least 2.5-times the daily average, that rate skyrockets to 56.1%.
Additionally, Oklahoma fits the criteria for the 2016 College Football Contrarian System published by our friends at Bet Labs. That system, which examines heavily bet games with significant reverse line movement, has gone 207-150 ATS (58.0%) since the start of the 2005 season.
At Sports Insights, we always recommend buying on bad news and selling on good news to capitalize on public perception. Since Ohio State has outscored their first two opponents by a combined 112-points, they're an excellent sell high candidate. Since Oklahoma lost their season opener as a double-digit favorite, they're an excellent buy low candidate.
It's also worth noting that prior to the start of the season, the Sooners were listed as 6.5-point favorites in the "Game of the Year" lines at the Golden Nugget. They were also listed as 9-point favorites at the South Point. Even though neither team has suffered any major injuries, Oklahoma is now a 1.5-point underdog. That means public perception and overreaction has caused this line to move by more than a touchdown.
Historically the Sooners have been one of nation's most popular teams, and it's rare to see them receiving such limited public support. Since 2005, there have only been 13 games in which their opponent received at least 60% of spread bets. In those games, Oklahoma went 10-3 ATS.
Oklahoma (+1.5 vs. OSU) currently receiving 23% of spread bets. That would tie for the least public support on the Sooners in our database.

— Sports Insights (@SportsInsights) September 15, 2016
Both teams feature strong Heisman contenders at quarterback with Ohio State's J.T. Barrett (+627) and Oklahoma's Baker Mayfield (+4000) listed within the top 12. While it's easy to focus on the passing game, the more interesting story may involve the running game. Oklahoma's Samaje Perine racked up more than 3,000 rushing yards over the past two seasons, and he should play a major factor in Saturday's game. The Sooners also have an underrated rushing defense, which could turn the Buckeyes into a one-dimensional team.
Assuming bettors continue to overwhelmingly pound Ohio State over the next few days, I wouldn't be surprised to see the line move from 1.5 to 3 at some point. I would highly recommend waiting for this line to be artificially inflated before jumping on Oklahoma +3.
It's also worth noting that there's been some interesting movement on the total. Although 73% of tickets and 82% of total dollars wagered have taken the over, the total has dropped from 64.5 to 63 at Pinnacle. Once again, that's a good indicator of sharp money on the under.
[click image below to enlarge]

Sportsbook Insider Pro subscribers have access to real-time odds, public betting trends, money percentages, bet signals (including steam moves and reverse line movement alerts), injury alerts, value meter, line watcher, line predictor, and many other unique features. We also have six pending NCAAF Best Bets which are only available with an active Pro subscription.
Sign up now for a 4-day trial of Sportsbook Insider Pro and start winning today!
Have any questions for the staff at Sports Insights? Make sure to utilize our live chat or call us directly at 877-838-2853.