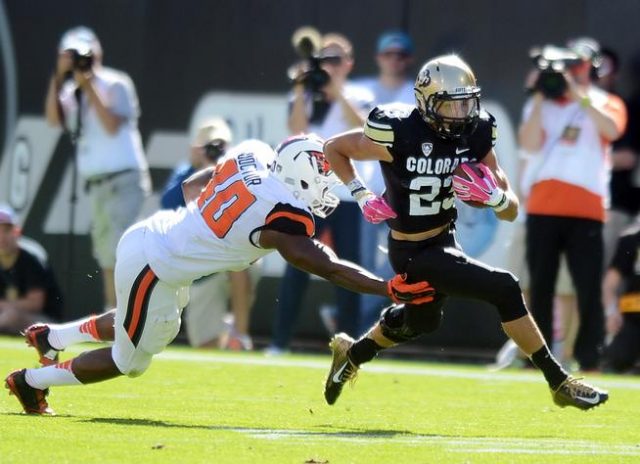 NCAAF Game of the Week: Colorado vs. Utah
Every week in this space, I examine one college football game that's offering contrarian value to bettors. By using the tools available to Sportsbook Insider members, I have pinpointed the factors driving line movement and highlighted some of the best sharp money indicators.
My Games of the Week have provided solid value so far this season, and I'll look to build on that success this week. You can view all my past analysis below:
This week's research indicates there's tremendous value in Saturday's Pac-12 battle between #9 Colorado Buffaloes (9-2, 7-1) and #22 Utah Utes (8-3, 5-3). If Colorado can emerge victorious in their final game of the regular season, they will win the Pac-12 South after finishing in last place with a 1-8 conference record last season. Considering the Buffs had won just five conference games in five years since joining the Pac-12 in 2011, this season's accomplishments are nothing short of remarkable.
Colorado (10-1 ATS) has been the nation's best team for spread bettors this season, yet they have been largely ignored by public bettors all week. The Buffaloes, who opened as 10-point favorites at the market-setting Pinnacle sportsbook, have received just 38% of spread tickets and 17% of spread dollars.
[click image below to enlarge]

Despite receiving limited public support, Colorado moved from -10 to -10.5 the day after opening at Pinnacle. Since that time, public money on Utah caused the line to drop back down to 10. Considering the high volume on this game, it wouldn't be shocking to see this line dip below 10 at some point before kickoff. However, sharp bettors would likely snatch up that number almost immediately. For that reason, I recommend setting a line watcher alert for Colorado -9.5.
Over the course of the season, I have spoken at length about the value of fading (betting against) trendy underdogs. This strategy involves taking favorites that are being ignored by a majority of bettors — especially in the most heavily bet games where public money is more likely to artificially inflate the spread. This season college football favorites have gone just 352-382 ATS (48.0%) including a 206-251 ATS (45.1%) record in October and November. However, those numbers improve substantially when we implement a contrarian strategy.
This season favorites have gone 76-66 ATS (53.5%) when receiving less than 50% of spread tickets. In games where the number of bets tracked is greater than the daily average, that record improves to 47-29 ATS (61.8%). That information indicates Colorado could be offering value.
It's rare to see the majority of public bettors taking the underdog, but this falls in line with past research which found bettors are more likely to back the 'dog when two ranked teams play each other. Casual bettors place far too much value on the AP Top 25, and they seem to believe the best course of action is simply taking the points and hoping for a competitive game when two ranked teams play each other. That has been a highly-flawed strategy.
Since the start of the 2005 season, the favorite has gone 285-235 ATS (54.8%) in regular season games featuring two ranked teams including a 235-189 ATS (55.4%) record in conference rivalries. When the ranked favorite is also receiving less than 50% of spread bets, that win rate improves to 62.4%.

It's important to know which side is receiving the majority of tickets, but our newly added money percentages provide another valuable piece of information. Sportsbooks are far more likely to adjust their lines if they have serious liability on one side, so identifying games with one-sided money percentages can easily be utilized to extract contrarian value.
This season teams receiving less than 50% of spread dollars have gone 377-342 ATS (52.4%), teams receiving less than 35% of spread dollars have gone 179-159 ATS (53.0%) and teams receiving less than 20% of spread dollars have gone 58-42 ATS (58%). When we focus solely on the most heavily bet games, those numbers improve across the board.
When the number of bets tracked is greater than the daily average, teams receiving less than 50% of spread dollars have gone 141-95 ATS (59.7%), teams receiving less than 35% of spread dollars have gone 56-35 ATS (61.5%) and teams receiving less than 20% of spread dollars have gone 13-7 ATS (65.0%). This further validates our analysis that Colorado is offering value as a contrarian favorite.
It's also interesting to note that favorites receiving less than 50% of spread tickets and spread dollars have gone 48-36 ATS (57.1%) this season. When the number of bets tracked is greater than the daily average, that record improves to 32-10 ATS (76.2%). No matter how you slice it, the Buffaloes are being greatly undervalued this weekend.
We should also note that parlay percentage is an excellent indicator of square money. You won't find many sharps betting parlays since they're usually a losing proposition. At the time of publication, 61% of bettors who parlayed or teased this game had taken Utah.
Utah running back Joe Williams has been phenomenal of late, rushing for over 1,000 yards in his past five games. However, the Buffs rank sixth in the nation in defensive efficiency and haven't allowed a player to rush for more than 120 yards in a game this season. Colorado is still vying for a spot in the College Football Playoff, and will be looking to make a statement with a big win on Saturday. I don't think this game will be competitive, so bettors can take Colorado -10 with confidence.
Colorado has only lost two games all season, and both losses came on the road against talented opponents (at Michigan, at USC). The Buffaloes have been the nation's best ATS team and they have gone 7-0 ATS when receiving less than 60% of spread tickets. Even though Colorado is coming off an impressive win against 8-3 Washington State and Utah is coming off a bad loss against 4-7 Oregon, bettors are surprisingly hammering the Utes. This line should be closer to two touchdowns, so I'll gladly back Colorado as a contrarian favorite.
Sportsbook Insider Pro subscribers have access to real-time odds, public betting trends, money percentages, bet signals (including steam moves and reverse line movement alerts), injury alerts, value meter, line watcher, line predictor, and many other unique features.
The only plays we officially endorse are our Best Bets, and we have five pending NCAAF Best Bets for this weekend's games. Those are only available to Sportsbook Insider Pro subscribers, so sign up now for a 4-day trial and start winning today!
Have any questions for the staff at Sports Insights? Make sure to utilize our live chat or call us directly at 877-838-2853.