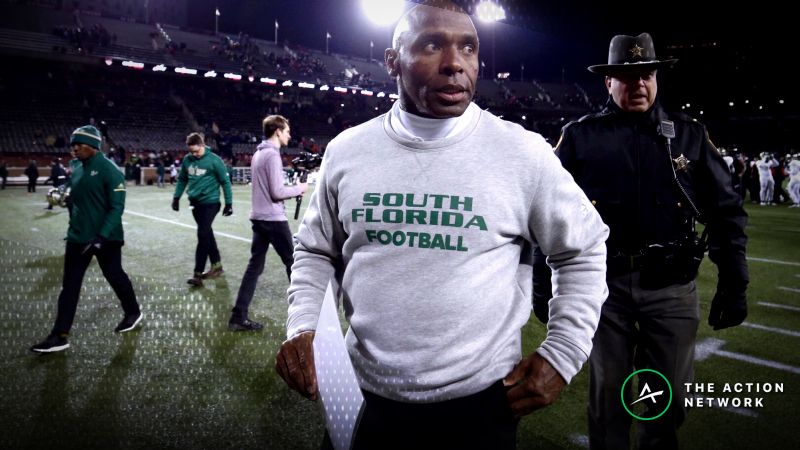 Weather Forecast Impacting Over/Under in Gasparilla Bowl
There's no Thursday Night Football tomorrow in the NFL, allowing bettors to concentrate on the Gasparilla Bowl between Marshall and South Florida instead.
Marshall is getting about 70% of the bets as a 2.5- or 3-point favorite. However, the weather forecast (and consequently the over/under) at Raymond James Stadium in Tampa is what I am focused on.
Though not quite as intense as the forecast in Nassau, windy conditions in Tampa should impact the passing and kicking game for these two teams.
Winds of 15 mph are expected throughout the game, with rain showers also in the cards — especially later in the game. The winds will also be blowing across the field, making it especially tough on kickers.
Generally speaking, the weather models are all fairly close to each other just a day before the game, but one model actually calls for considerably windier conditions. The GFS model calls for winds of 25-plus mph, with gusts upwards of 40 mph. I wouldn't count on seeing winds that high, but I'd rather have one model calling for more extreme conditions than less extreme conditions.
Historically, games with winds of 15+ mph have gone under 57.2% of the time, according to our Bet Labs database.
This over/under opened up at 54.5 way back on Dec. 3, reached as high as 55.5 and has since dropped to 51, as four steam moves have come in on the under since this forecast became more apparent on Monday.
This article was originally posted on ActionNetwork.com by Mark Gallant. Sports Insights is part of The Action Network.