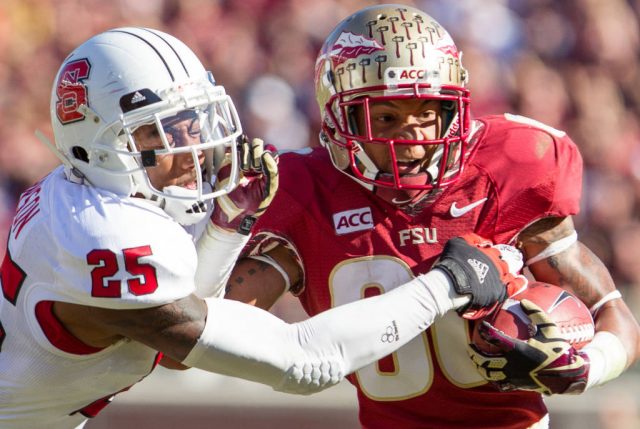 NCAAF Game of the Week: NC State vs. Florida State
Every week in this space, I have examined one college football game that's offering contrarian value to bettors. By using the tools available to Sportsbook Insider members, I have pinpointed the factors driving line movement and highlighted some of the best sharp money indicators.
My Games of the Week have provided solid value so far this season, and I'll look to build on that success this week. You can view all of my past analysis below:
This week's research indicates there's tremendous value in Saturday's ACC Atlantic showdown between the unranked North Carolina State Wolfpack (4-4) and #22 Florida State Seminoles (5-3). NC State is in the midst of a three-game losing streak, while Florida State is coming off a three-point loss to #2 Clemson.
The Seminoles opened as 7.5-point favorites at the market-setting Pinnacle sportsbook, and 75% of early spread tickets have taken the home favorite. Despite receiving overwhelming public support, Florida State has actually dropped from -7.5 to -5.5 at Pinnacle. Line movement that contradicts our ticket percentages is known as reverse line movement, and it's a strong indicator that sharp money — i.e large wagers from respected bettors or syndicates — is taking NC State plus the points.
It's also important to note that although NC State is only receiving 25% of spread tickets, they are receiving 54% of total dollars wagered. Money percentages that contradict our ticket percentages are another excellent indicator of sharp money, and it also helps explain how the line could move two-points despite the majority of bettors taking Florida State.
"It's a classic Pros vs Joes scenario," according to Scott Cooley, an Odds Consultant for Bookmaker.eu. In fact, the splits at Bookmaker have been even more dramatic than our contributing sportsbooks. "Tickets favor FSU at almost 3 to 1 and the money count favors NC State 3 to 1."
[click image below to enlarge]

As you can see from the line chart, there have been two Bet Signals triggered on NC State at several different numbers. This information is typically available exclusively to Sportsbook Insider Pro subscribers, but you can see every move on this game along with the triggering book and year-to-date record.
[click image below to enlarge]

Although BetOnline is a fairly square sportsbook, Pinnacle is one of the sharpest sportsbooks we track. Since Pinnacle accepts higher limits, they attract more professional action and therefore have sharper lines. That's why we constantly refer to them as a "market-setting" sportsbook. When Pinnacle adjusts their number, many smaller sportsbooks will "move on air," meaning they adjust their spread to fall in line with Pinnacle — even if they haven't actually taken a big bet. This season the Pinnacle NCAAF steam move has gone 129-120-5 ATS (51.8%) on the spread, and 181-138-4 (56.7%) on the total.
It's also worth noting that a lot of valuable information can be ascertained by comparing the individual betting percentages from our seven contributing sportsbooks. Although Florida State is receiving well over 80% of spread bets at the square books we track (Sports Interaction and Sportsbook.com), public betting has been far more evenly split at our sharper sportsbooks (5Dimes and BetDSI).
[click image below to enlarge]

We have conclusively proven that betting against the public is an effective strategy, particularly in the day's most heavily-bet games. NC State (+5.5) is only receiving 25% of spread tickets in one of the weekend's marquee matchups, which makes them an excellent contrarian value.
Additionally, our friends at Bet Labs published their first ever College Football Contrarian System prior to the start of the season. This strategy involves taking heavily bet teams receiving no more than 35% of spread bets in games with favorable line movement. The featured system has gone 214-156 ATS (57.8%) all-time including a 7-6 ATS record this season. NC State is a current system pick, which further validates their contrarian value.
I should also note that parlay percentage is a good indicator of square money. You won't find many sharps betting parlays since they're usually a losing proposition. At the time of publication, 90% of bettors who parlayed or teased this game had taken Florida State.
Past research has also found that bettors place too much value on the AP Top 25 poll, and it's been historically profitable to fade these ranked teams. Since 2005, unranked teams have gone 1,288-1,222 ATS (51.3%) against ranked opponents. In the rare instances that their opponent is still ranked despite losing their previous game, that record improves to 196-159 ATS (55.2%).
On the season, underdogs have gone 163-125 ATS (56.6%) against conference opponents including a 71-49 ATS (59.2%) record when they're receiving less than 35% of spread bets. The line has already moved two points at Pinnacle, which means some of the value has already been sucked out. That said, there are still several square sportsbooks hanging NC State +6 which highlights the importance of having access to multiple books and shopping for the best line.
Sportsbook Insider Pro subscribers have access to real-time odds, public betting trends, money percentages, bet signals (including steam moves and reverse line movement alerts), injury alerts, value meter, line watcher, line predictor, and many other unique features.
The only plays we officially endorse are our Best Bets, and we have seven pending NCAAF Best Bets for this weekend's games. Those are only available to Sportsbook Insider Pro subscribers, so sign up now for a 4-day trial and start winning today!
Have any questions for the staff at Sports Insights? Make sure to utilize our live chat or call us directly at 877-838-2853.