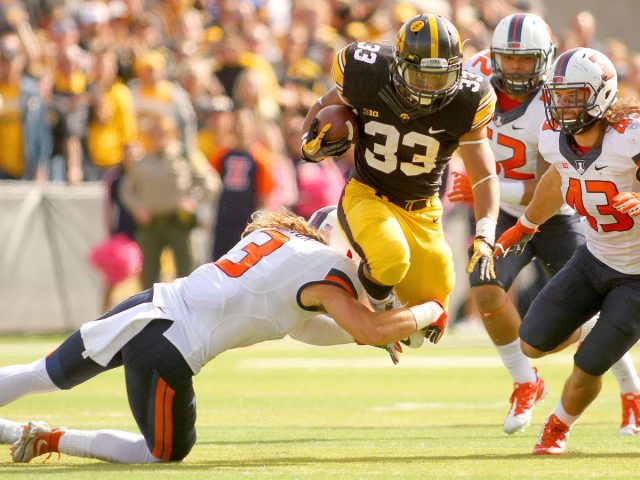 NCAAF Game of the Week: Illinois vs. Iowa
Every week in this space, I examine one college football game that's offering contrarian value to bettors. By using the tools available to Sportsbook Insider members, I have pinpointed the factors driving line movement and highlighted some of the best sharp money indicators.
My Games of the Week have provided solid value so far this season, and I'll look to build on that success this week. You can view all my past analysis below:
This week's research indicates there's tremendous value in Saturday's Big Ten showdown between the Iowa Hawkeyes (6-4, 4-3 Big Ten) and the Illinois Fighting Illini (3-7, 2-5 Big Ten). This isn't the most exciting game of the weekend, but there's excellent value for contrarian bettors.
Until recently, Iowa's season had been considered by most to be a massive disappointment. Last season the Hawkeyes were just one defensive stop away from making the College Football Playoff, and many well-respected analysts believed they were a sleeper candidate to win the 2017 National Championship. Those aspirations were crushed in Week 3 when Iowa lost at home to FCS powerhouse North Dakota State.
However, Iowa's season outlook was greatly altered last week when they knocked off the third-ranked Michigan Wolverines in one of the biggest victories in program history. Although the Hawkeyes passing game was almost non-existent, running back Adrian Wadley racked up 167 total yards and the defense held Michigan to just 201 total yards.
Conversely, Illinois has struggled tremendously under first-year head coach Lovie Smith. The Fighting Illini have been without starting quarterback Wes Lunt for nearly half the season and have managed just three wins. They're also coming off a 45-point loss to Wisconsin in which their backup quarterback, Jeff George Jr., threw four interceptions and their defense allowed 363 rushing yards.
We always encourage bettors to buy on bad news and sell on good news in order to capitalize on public perception, and this game represents the ideal opportunity to accomplish both. Coming off last week's upset victory, Iowa opened as 11.5-point favorites at the market-setting Pinnacle sportsbook. Even as large road chalk, bettors haven't been afraid to lay the points, with 71% of spread tickets taking the Hawkeyes.
Despite receiving nearly three-quarters of spread tickets, Iowa has dropped from -11.5 to -10 at Pinnacle. This reverse line movement can easily be explained by our money percentages, which indicate that Illinois has received 67% of total dollars wagered.
[click image below to enlarge]

Money percentages that contradict our ticket percentages are often an indicator of sharp money and, although Iowa is receiving the majority of spread tickets, larger bets (presumably from betting syndicates) have been placed on Illinois.
This assessment is confirmed by the line chart above, which shows there have been three Bet Signals triggered on Illinois at several different numbers. This information is typically available exclusively to Sportsbook Insider Pro subscribers, but you can see every move on this game along with the triggering book and year-to-date record.

Parlay percentage is one of the best indicators of square money. You won't find many sharps betting parlays since they're usually a losing proposition and, at the time of publication, 86% of bettors who parlayed or teased this game had taken Iowa.
It's also worth noting that a lot of valuable information can be ascertained by comparing the individual betting percentages from our seven contributing sportsbooks. Although Iowa is receiving well over 75% of spread bets at the square books we track (Sports Interaction and Sportsbook.com), public betting has been far more evenly split at our sharper sportsbooks (5Dimes and BetDSI).
[click image below to enlarge]

We have conclusively proven that betting against the public is an effective strategy, particularly in the day's most heavily-bet games. Illinois (+10) is only receiving 29% of spread tickets in one of the weekend's biggest matchups, which makes them an excellent contrarian value.
Additionally, our friends at Bet Labs published their first ever College Football Contrarian System prior to the start of the season. This strategy involves taking heavily bet teams receiving no more than 35% of spread bets in games with favorable line movement. The featured system has gone 218-158 ATS (58%) all-time including an 11-8 ATS record this season. Illinois currently fits as a system pick, which further validates their contrarian value.
My research also found that teams coming off a win against a top-five opponent have been slightly overvalued. Since 2005, teams coming off this type of upset victory have gone just 58-69 ATS (45.7%). Additionally, teams who won their previous game despite closing as an underdog of 17+ points have gone just 44-59 ATS (42.7%). Both of these trends indicate bettors should consider fading Iowa after Saturday's last-second win against Michigan.
It's also important to realize that conference games provide unique opportunities to bettors. Since 2005, home teams have covered the spread at a 51.8% clip against conference opponents but they've only covered at a 49.6% clip against non-conference opponents. Home underdogs have held an even more significant edge in conference games, covering at a 52.5% clip.
We always preach the value of betting against the public, but this season that's been an especially profitable strategy in conference games. Teams receiving less than 50% of spread bets have gone 138-130 ATS (51.5%) against non-conference opponents, but that win rate jumps substantially against familiar foes.
In conference games, NCAAF teams receiving less than 50% of spread bets have gone 217-173 ATS (55.6%) this season.

— David Solar (@TheDavidSolar) November 17, 2016
This looks like the quintessential example of "Sharps vs. Squares" or, if you prefer, "Pros vs. Joes." Although casual bettors are taking Iowa, sharp bettors are clearly taking Illinois. In one of this weekend's most heavily bet games, I love the value on the Fighting Illini as a large contrarian home 'dog.
Sportsbook Insider Pro subscribers have access to real-time odds, public betting trends, money percentages, bet signals (including steam moves and reverse line movement alerts), injury alerts, value meter, line watcher, line predictor, and many other unique features.
The only plays we officially endorse are our Best Bets, and we have six pending NCAAF Best Bets for this weekend's games. Those are only available to Sportsbook Insider Pro subscribers, so sign up now for a 4-day trial and start winning today!
Have any questions for the staff at Sports Insights? Make sure to utilize our live chat or call us directly at 877-838-2853.