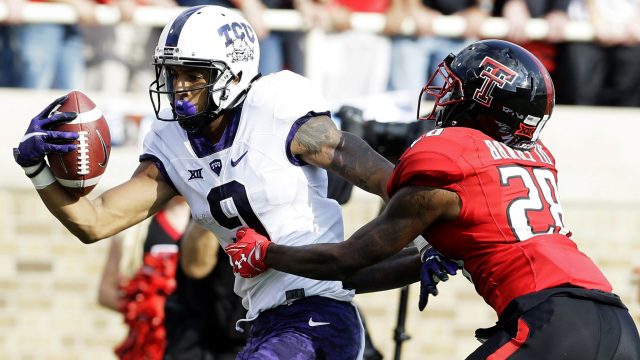 NCAAF Game of the Week: TCU vs. Texas Tech
Every week in this space, I have examined one football game that's offering contrarian value to bettors. By using the tools available to Sportsbook Insider members, I have pinpointed the factors driving line movement and highlighted some of the best sharp money indicators.
My Games of the Week have provided solid value so far this season, and I'll look to build on that success this week. You can view all of my past analysis below:
This week's research indicates there's excellent value in Saturday's Big 12 showdown between the TCU Horned Frogs (4-3) and the Texas Tech Red Raiders (3-4).
The Horned Frogs opened as 7-point favorites at the market-setting Bookmaker sportsbook and, according to our public betting trends, have received 34% of spread tickets and 50% of total dollars wagered.
Even though they're receiving just one-third of tickets and the money percentages are perfectly balanced, TCU has moved from -7 to -9.5. That reverse line movement is a strong indicator that sharp money likes the home favorite.
[click image below to enlarge]

As you can see from the line chart, there have been three bet signals triggered on TCU at several different numbers. This information is typically available exclusively to Sportsbook Insider Pro subscribers, but you can see every move on this game along with the triggering book and year-to-date record.
[click image below to enlarge]

Although SBG is a fairly square sportsbook, CRIS and 5Dimes are two of the sharper sportsbooks we track. Since those books accept higher limits, they attract more professional action and therefore have sharper lines and moves.  In fact, the 5Dimes steam move has been our most profitable bet signal during the 2016-17 college football season.
It's also worth noting that a lot of valuable information can be ascertained by comparing the individual betting percentages from our seven contributing sportsbooks. Although Texas Tech is receiving well over 70% of spread bets at the square books we track (BetUs, Sports Interaction and Sportsbook.com), public betting has been pretty evenly split at the sharper sportsbooks (5Dimes and BetDSI).
[click image below to enlarge]

Over the past several weeks, I've spoken at length about the value of fading (betting against) trendy underdogs. This strategy involves taking favorites that are being ignored by a majority of bettors — especially in the most heavily bet games where public money is more likely to artificially inflate the spread. This season college football favorites have gone just 237-264 ATS (47.3%) including a 91-133 ATS (40.6%) record in October. When they're receiving the minority of spread bets, those numbers increase substantially.
This season favorites have gone 50-39 ATS (56.2%) when receiving less than 50% of spread tickets. When we focus on the most heavily bet games — where public money is more likely to influence line movement — that record improves to 32-18 ATS (64.0%). That information further indicates TCU could be offering tremendous value.
Earlier this season, our friends at Bet Labs published their first ever College Football Contrarian System. This strategy involves taking heavily bet teams receiving no more than 35% of spread bets in games with favorable line movement. The featured system has gone 214-153 ATS (58.3%) all-time including a 7-3 ATS record this season. TCU is a current system pick, which validates their contrarian value.
Another factor to consider is the past performance of favorites in high-scoring games. Past research has conclusively shown that underdogs perform well in games with low totals while favorites perform well in games with high totals. Since the start of the 2005 season, favorites have covered the spread at a 50.1% clip. When the total is at least 60, that figure improves to 51.5%. This matchup features the highest Week 9 total at 86.5, which provides yet another reason to like the Horned Frogs.
We should also note that parlay percentage is an excellent indicator of square money. You won't find many sharps betting parlays since they're usually a losing proposition. At the time of publication, 64% of bettors who parlayed or teased this game had taken Texas Tech.
This looks like the quintessential example of "Sharps vs. Squares" with casual bettors taking Texas Tech and sharp bettors taking TCU. In one of this week's most heavily bet games, I love the value on TCU as a contrarian favorite. Most books are currently offering TCU at -9.5, but there are a few square books still hanging TCU -9. This once again highlights the value of shopping for the best line before placing a wager.
Sportsbook Insider Pro subscribers have access to real-time odds, public betting trends, money percentages, bet signals (including steam moves and reverse line movement alerts), injury alerts, value meter, line watcher, line predictor, and many other unique features.
The only plays we officially endorse are our Best Bets, and we have seven pending NCAAF Best Bets for this weekend's games. Those are only available to Sportsbook Insider Pro subscribers, so sign up now for a 4-day trial and start winning today!
Have any questions for the staff at Sports Insights? Make sure to utilize our live chat or call us directly at 877-838-2853.