NCAAF Game of the Week: West Virginia at Texas Tech
Every week in this space, I have examined one football game that's offering contrarian value to bettors. By using the tools available to Sportsbook Insider members, I have pinpointed the factors driving line movement and highlighted some of the best sharp money indicators.
The featured picks have gone 5-1 ATS this season, and I'll look to build on that success this week. You can view all of my past analysis below:
This week's research indicates that there's excellent value in Saturday's Big 12 showdown between the West Virginia Mountaineers (4-0) and the Texas Tech Red Raiders (3-2).
The Mountaineers opened as 1.5-point road underdogs at the market-setting Pinnacle sportsbook and, according to our public betting trends, they have received 39% of spread tickets and 38% of total dollars wagered. Despite this lack of public support, they have moved from +1.5 to a pick 'em.
[click image below to enlarge]

As you can see from the line chart, early public money was all over Texas Tech which caused the line to move from TT -1.5 to -2. After that initial half-point line move, a Pinnacle steam move triggered on West Virginia caused a massive three-point line movement. That's an excellent indicator that sharp money loves the Mountaineers.
It's important that bettors realize that not all bet signals are created equal, and the Pinnacle steam move has historically been our most profitable move across nearly every sport. The Pinnacle NCAAF steam move has gone 200-163-7 (55.1%) this season after going 467-419-23 (52.7%) in 2015 and 390-336-18 (53.7%) in 2014. Since Pinnacle offers the highest limits, they attract the sharpest clients and therefore offer the sharpest lines.
In the past, I have mentioned that home-field advantage is usually overvalued by bettors, and that's especially true in conference games. Since the start of the 2005 season, visitors have gone 2,711-2,523 ATS (51.8%) against conference opponents. When they're coming off a win in their previous game, that record improves to 1,487-1,354 ATS (52.3%). When they won but didn't cover, that record improves to 455-391 ATS (53.8%). All of these trends point towards value on West Virginia.
Over the past several weeks, I've spoken at length about the value of fading (betting against) trendy underdogs. This strategy involves taking favorites that are being ignored by a majority of bettors — especially in the most heavily bet games where public money is more likely to artificially inflate the spread. This season college football favorites have gone just 190-197 ATS (49.1%), but that record improves to 36-25 ATS (59.0%) when they are receiving less than 50% of spread tickets.
It's still early in the season, but early research shows that it's also profitable to bet against teams receiving a majority of the money. Teams receiving less than 50% of total dollars wagered have gone 199-182 ATS (52.2%), teams receiving less than 40% of total dollars wagered have gone 136-121 ATS (52.9%). teams receiving less than 29% of total dollars wagered have gone 81-65 ATS (55.5%) and teams receiving less than 20% of total dollars wagered have gone 40-25 ATS (61.5%).
By combining these two philosophies, I found that teams receiving less than 50% of spread tickets and 50% of total dollars wagered have gone 161-140 ATS (53.5%) and favorites receiving less than 50% of spread tickets and 50% of total dollars wagered have gone 22-11 ATS (66.7%). When we focus on the day's most heavily bet games, that record improves to 17-3 ATS (85.0%).
The screenshot below, courtesy of our friends at Bet Labs, shows how this strategy has performed this season.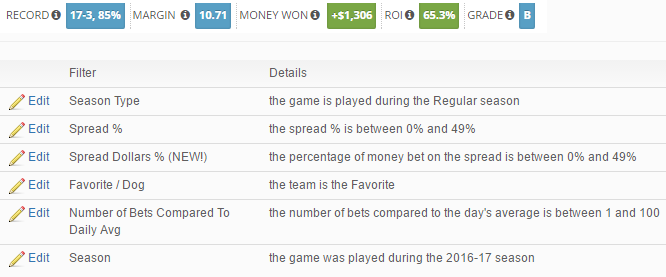 West Virginia is listed as a moneyline favorite (-115) at Pinnacle, but they're listed as 1-point favorites at most offshore sportsbooks. This is one of Saturday's most heavily bet games, which means they fit the aforementioned criteria for contrarian favorites. West Virginia hasn't played since October 1, which means they should be well-rested for Saturday's game. In fact, favorites with at least two weeks between games have gone 382-337 ATS (53.1%) since 2005.
Sportsbook Insider Pro subscribers have access to real-time odds, public betting trends, money percentages, bet signals (including steam moves and reverse line movement alerts), injury alerts, value meter, line watcher, line predictor, and many other unique features. We also have six pending NCAAF Best Bets which are only available with an active Pro subscription.
Sign up now for a 4-day trial of Sportsbook Insider Pro and start winning today!
Have any questions for the staff at Sports Insights? Make sure to utilize our live chat or call us directly at 877-838-2853.