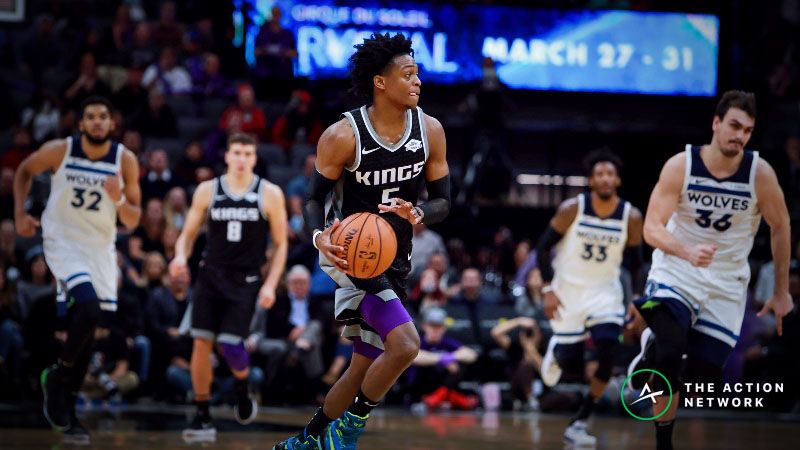 Is It Actually Profitable to Bet Overs in the NBA? Testing Bill Simmons' Theory
Scoring is up in the NBA. Teams are averaging 110.9 points per game, the most since the 1984-85 season when they averaged 110.8 points. Increased pace and efficiency are contributing factors.
Teams are also averaging 100.1 possessions per 48 minutes, which is the 16th most in NBA history. Players have never scored as efficiently as they are this season with the league's effective field goal percentage at .524 per Basketball-Reference.
If you're like Joe House, host of The Ringer's House of Carbs podcast, you probably think increased scoring would lead to overs cashing. On Monday's episode of The Bill Simmons Podcast, House and Simmons were discussing the scoring bonanza, and House was confident that given the rise in scoring per game, bettors would have turned a profit wagering on every single over this season.
So to find out whether House was right, I dove into our Bet Labs database.
And his instincts were correct: Over bettors have a winning record this season. But the win rate is not enough to overcome the juice.
Overs are 447-434-15 (50.7%) this season, which means a $100 bettor would be down $966 wagering on the over in each game.
Overs started hot, but oddsmakers adjusted. In October, bettors couldn't lose on overs with a 65-44-1 (59.6%) record. But since November, overs have gone only 382-390-14 (49.5%).
Teams are scoring at unprecedented rates, but bookmakers have increased the over/unders to account for the high-scoring environment.
I can't recommend wagering on every over, but there is a profitable strategy over bettors should follow.
Since we began tracking money percentages in 2015-16, it's been smart to follow line movement when there's more money than tickets on the over.
The over usually attracts a majority of tickets because public bettors like cheering for points. When there's more money on the over and the line increases, it's an indication that not only are recreational bettors wagering on the over, but sharps are, too. Being on the same side as the pros is a smart way to build your bankroll.
This article was originally posted on ActionNetwork.com by John Ewing. Sports Insights is part of The Action Network.