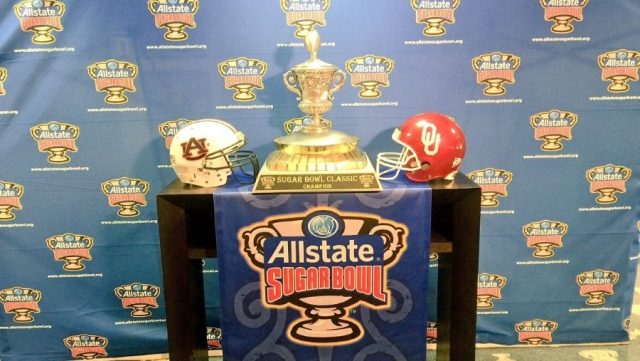 NCAAF Game of the Week: Auburn vs. Oklahoma
Every week in this space, I examine one college football game that's offering contrarian value to bettors. By using the tools available to Sportsbook Insider members, I have pinpointed the factors driving line movement and highlighted some of the best sharp money indicators.
My Games of the Week have provided solid value so far this season, and I'll look to build on that success this week. You can view all my past analysis below:
This week's research indicates there's tremendous value in Monday's Allstate Sugar Bowl, which features the 14th-ranked Auburn Tigers (8-4) and the 7th-ranked Oklahoma Sooners (10-2).
Both of these teams feature high-scoring offenses, so this should be one of the more entertaining bowl games. The Sooners, led by Heisman candidates Baker Mayfield and Dede Westbrook, finished the regular season ranked third in both scoring (44.7 points) and total offense (557.3 yards per game). The Tigers, who are led by running backs Kamryn Pettway and Kerryon Johnson, ranked sixth in rush (278.5 yards per game).
Oklahoma enters this game riding a ten-game winning streak, including an 18-point victory in their season finale against Oklahoma State. Conversely, Auburn has lost two of their past three games including an 18-point loss to Alabama in their season finale. Not surprisingly, public bettors have been hammering the Big 12 champion in early action.
The Sooners opened as 6-point favorites at the market-setting Pinnacle sportsbook and, at the time of publication, were receiving 70% of spread tickets and 61% of spread dollars. Despite this one-sided public betting, Oklahoma has actually dropped from -6 to -3. That reverse line movement is an excellent indication that sharp money has been all over Auburn.
[click image below to enlarge]

Oklahoma moved from -6 to -5 almost immediately after the line opened more than three weeks ago. You'll notice the "$" icons on the chart which represent reverse line movement alerts triggered on Auburn. Those triggers indicate smart/sharp money driving the line down from Oklahoma -5 to -3. In other words, sharp money on Auburn is responsible for this three-point line move.
As you can see from the screenshot below, there have been three Bet Signals on this game — all of which were triggered at different numbers. This information is typically available exclusively to Sportsbook Insider Pro subscribers, but you can see every move on this game along with the triggering book and year-to-date record.
[click image below to enlarge]

It's important that bettors realize that not all bet signals are created equal and that market-setting sportsbooks like CRIS and Pinnacle consistently produce the most profitable steam moves and reverse line movement alerts for nearly every major sport. Since these market-setting books offer the highest limits, they attract the sharpest clients and therefore offer the sharpest lines. This season the CRIS NCAAF reverse line move has gone 71-54-1 (56.8%) on the spread.
We have conclusively proven that betting against the public is an effective strategy but, as we have previously mentioned, the value derived from betting against the public is directly correlated with the number of bets placed on each game. Since bowl games attract between three-to-six times more bets than regular season games, there's typically more money from uninformed casual bettors entering the marketplace.
Since 2005, teams receiving less than 50 percent of spread bets have gone 4,336-4,411 ATS (49.6%) during the regular season and 213-178 ATS (54.5%) during bowl season. When we look at games with more extreme splits between the betting public, those results improve substantially.
My research found that teams receiving no more than 40% of spread tickets have gone 143-91 ATS (61.1%) and teams receiving less than one-third of spread tickets have gone 70-35 ATS (66.7%). This year, teams receiving less than 50% of spread tickets have gone 18-4 ATS while teams receiving less than one-third of spread tickets have gone 5-1 ATS. All of this points towards tremendous contrarian value on Auburn.
Following reverse line movement is an excellent strategy during bowl season, even if some of the value has already been sucked out. When there's at least one point of reverse line movement at the 33% threshold, teams have gone 18-7 ATS (72%) during bowl season.

Looking to glean some information from our newly added money percentages? Underdogs receiving less than 50% of spread dollars have gone 13-2 ATS during bowl season after posting a 301-259 ATS (53.8%) record during the regular season. No matter how you slice it, the Tigers look like an excellent value.
Additionally, our friends at Bet Labs published their first ever College Football Contrarian System prior to the start of the season. This strategy involves taking heavily bet teams receiving no more than 35% of spread bets in games with favorable line movement. The featured system has gone 220-162 ATS (57.6%) all-time including a 13-12 ATS record this season. Auburn currently fits as a system pick, which further validates their contrarian value.
Past research has found that square bettors tend to place more value on high-powered offenses than stout defenses, and this false perception can easily be exploited. Since 2005, teams who allow fewer than 18 points per game have gone 76-56 ATS (57.6%) during bowl season. When we focus solely on underdogs, that record improves to 32-16 ATS (66.7%). That bodes well for an Auburn defense that allowed just 16.7 points per game this season.
We should also note that parlay percentage is an excellent indicator of square money. You won't find many sharps betting parlays since they're usually a losing proposition. At the time of publication, 86% of bettors who parlayed or teased this game had taken Oklahoma.
This looks like the quintessential example of "Sharps vs. Squares" or, if you prefer, "Pros vs. Joes." Although casual bettors are taking Oklahoma, sharp bettors are clearly taking Auburn. In one of the most heavily bet bowl games, I love the value on the Tigers as contrarian home underdog.
Sportsbook Insider Pro subscribers have access to real-time odds, public betting trends, money percentages, bet signals (including steam moves and reverse line movement alerts), injury alerts, value meter, line watcher, line predictor, and many other unique features.
The only plays we officially endorse are our Best Bets, we'll have several picks over the upcoming days. Those are only available to Sportsbook Insider Pro subscribers, so sign up now for a 4-day trial and start winning today!
Have any questions for the staff at Sports Insights? Make sure to utilize our live chat or call us directly at 877-838-2853.