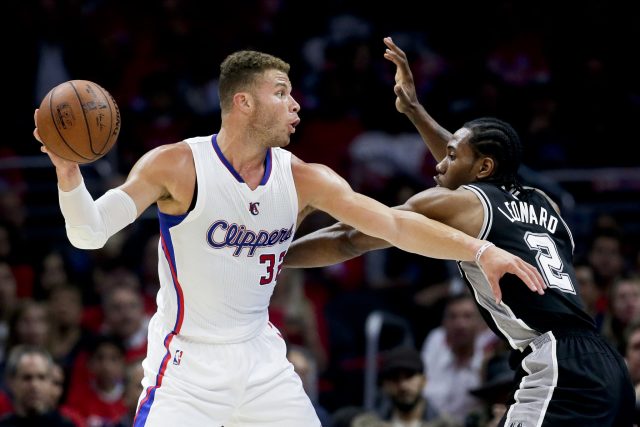 NBA Game of the Week: San Antonio Spurs at Los Angeles Clippers
Every week during the college football season, I utilized the tools available to Sportsbook Insider members in our weekly "Game of the Week" articles to examine one game in great detail. By examining historical trends, public betting trends and sharp money indicators (like steam and reverse line movement), I was able to pinpoint which team was offering contrarian value to bettors. This analysis posted solid results, going 10-4 against the spread (ATS) during the college football season.
You can view all my past analysis below:
Many of the same contrarian strategies that have been historically profitable for college football have also been profitable for NBA bettors. At Sports Insights, we practice what we preach, routinely going against the public by taking the league's least popular teams. By understanding what drives public perception, we have been able to capitalize on the market inefficiencies created by recency bias and an overly reactionary betting public.
To understand why the contrarian approach works, it's important to first understand the inner workings of a sportsbook. The point spread isn't the predicted margin of victory, nor are oddsmakers attempting to balance their book by attracting 50 percent of the action on each side, thereby mitigating any risk. The truth here is that books shade their opening lines to capitalize on public perception — allowing their most-respected clients to shape the line.
Since the start of the 2005 NBA season, a majority of spread bets have been placed on the favorite in more than 75 percent of all regular season games. Oddsmakers understand this tendency and shade their lines to account for the inevitable influx of public money on the chalk. These shaded lines have created additional value on the underdog.
Betting against the public is our cornerstone philosophy, but there are many ways to capitalize on market overreactions including taking teams on losing streaks, fading winning streaks, and backing the league's least popular teams. Investors familiar with the concept of "buy low and sell high" might be surprised to learn that sports betting is no different. Teams never offer more value than when following a loss, and there is never a more favorable time to bet against a team than after a victory. The contrarian bettor recognizes that casual bettors make extreme decisions based on small sample sizes, and takes advantages of inflated lines based on recent events.
Based on all of these factors, my research indicates there's tremendous value in tonight's showdown between the San Antonio Spurs (43-13 SU, 31-24 ATS) and the Los Angeles Clippers (35-22 SU, 30-27 ATS). This matchup features two of the best teams in the Western Conference, but one team is an excellent contrarian play.
Coming off a 10-point loss against the Golden State Warriors last night, the Clippers opened as 4-point home underdogs at the market-setting Bookmaker sportsbook. Early public betting has been extremely one-sided, with the Spurs receiving 81% of spread tickets and 83% of spread dollars. Despite this overwhelming public support, the line remains unchanged at Spurs -4.
[click image below to enlarge]
San Antonio moved from Spurs -4 to -4.5 less than one minute after opening, but sharp bettors immediately snatched up that line and hammered Clippers +4.5. That caused the line to move from Clippers +4.5 to +4 just three minutes later. The line has remained unchanged since that point despite this one-sided public betting. That's because sportsbooks have an excellent balance with casual bettors on San Antonio and sharp bettors on Los Angeles.
You may notice the "$" icon on the line graph, which indicates that a smart money alert has been triggered. These alerts, which track the optimal threshold for reverse line movement, have also been a great indicator of sharp money.
As you can see from the screenshot below, there has been one profitable reverse line movement and one profitable steam move triggered on the Clippers. This information is typically available exclusively to Sportsbook Insider Pro subscribers, but you can see every move on this game along with the triggering book and year-to-date record.

It's important to realize that not all bet signals are created equal, and the Pinnacle steam move has historically been our most profitable move across nearly every sport. This season the Pinnacle NBA steam move has gone 286-235 ATS (54.9%) on the spread and 243-201 (54.7%) on the total. Since Pinnacle offers the highest limits, they attract the sharpest clients and therefore offer the sharpest lines.
We have conclusively proven that betting against the public is an effective strategy, but that's been particularly true this season. Teams receiving at least 75% of spread tickets have gone 37-45 ATS (45.1%) while teams receiving at least 80% of spread tickets have gone just 5-19 ATS (20.8%). That's ample reason to fade the Spurs this evening, and our money percentages confirm that assessment.
It's important to know which side is receiving the majority of tickets, but it's far more crucial to understand which side is receiving a majority of the money since books are far more likely to adjust their lines if they have significant liability on one side. By waiting until public money has artificially inflated the line, bettors can often capitalize on public perception and find additional line value. My research found that teams receiving at least 70% of spread dollars have gone 118-147 ATS (44.5%) and teams receiving at least 75% of spread dollars have gone just 60-94 ATS (39.0%) this season.
The Clippers are being hammered by sharp money and fit the ideal threshold for our betting against the public criteria, but there's yet another reason to like LA's other team this evening. We highly recommend buying on bad news to capitalize on overreactions and, since 2004, NBA teams coming off a loss have gone 7,788-7,606 ATS (50.6%). When they're also being avoided by public bettors (receiving no more than 30% of spread tickets) that record improves to 1,245-1,162 ATS (51.7%).
Bettors may be skeptical about taking a team on the second night of a back-to-back, but fatigue in unlikely to play a major factor considering that it was their first game in over a week due to the All-Star break. Interestingly, teams playing on the second night of a back-to-back have gone 67-57 ATS (54%) when their opponent has had at least five days of rest.
It's also worth noting that Chris Paul has been medically cleared by team doctors to play again, and could return to the court tonight. The Clippers have gone 8-6 ATS since Paul was injured back on January 16th, but Paul is worth about 3-4 points to this spread. You can monitor the latest updates on our free NBA injury page.
Since hiring Doc Rivers, the Clippers have gone 48-37 ATS (56.5%) as underdogs including an 8-4 ATS record when they're underdogs against the Spurs. This is the rare opportunity to back a talented home team, getting points, against the public. Coming off a loss, this might be one of the best "buy low" opportunities all week.
I should also note that parlay percentage is an excellent indicator of square money. You won't find many sharps betting parlays since they're usually a losing proposition. At the time of publication, 95% of bettors who parlayed or teased this game had taken San Antonio.
It's worth noting that most sportsbooks are hanging Clippers +4, several square books (including Sportsbook.com) are offering Clippers +4.5. This highlights the importance of having access to multiple sportsbooks and always shopping for the best line.
Sportsbook Insider Pro subscribers have access to real-time odds, public betting trends, money percentages, bet signals (including steam moves and reverse line movement alerts), injury alerts, value meter, line watcher, line predictor, and many other unique features.
The only plays we officially endorse are our Best Bets, and we already have three NBA Best Bets pending for tonight's games. Those are only available to Sportsbook Insider Pro subscribers, so sign up now for a 4-day trial and start winning today!
Have any questions for the staff at Sports Insights? Make sure to utilize our live chat or call us directly at 877-838-2853.