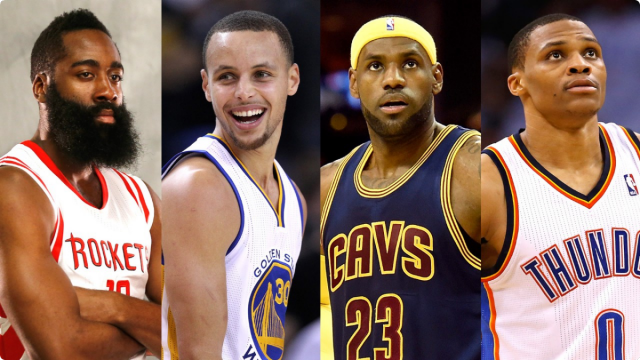 2016-17 NBA Point Spread Values
Last season during the first round of the NBA Playoffs, Golden State Warriors superstar Stephen Curry twisted his ankle in a victory over the Houston Rockets. When it was announced that Curry would be out indefinitely due to this injury, the Warriors moved from -12.5 to -8.5 in their Game 2 matchup. This line movement indicated that Curry was worth 4-points to the spread; however, he was not considered the most valuable player in the league.
"[Curry] is not worth the most points in the league as that designation still belongs to the King. We'd put LeBron's value at 5-6 points, depending on the opponent," stated Scott Cooley, an Odds Consultant for the market-setting Bookmaker.eu. "James brings a broader asset range than Curry given his rebounding and defensive acumen. You also have to assess the complimentary players and depth of the bench. Obviously, the Cavs are a completely different team without James while the Warriors can still compete at a high level without Curry."
Whenever a star player suffers an injury or sits out for rest, sportsbooks are forced to adjust the spread on the fly. Oddsmakers take many factors into consideration when adjusting the spread including the opponent, the quality of the backup and the overall talent on the roster. As an example, Anthony Davis is far more valuable to the spread than Blake Griffin even though they're comparable talents. That's because the Clippers' supporting cast includes perennial All-Stars like Chris Paul and DeAndre Jordan while the Pelicans roster is devoid of talent.
Similarly, it's interesting to note that Kevin Durant was worth 4-5 points to the spread last season, which made him one of the league's most valuable players. After signing with a loaded Warriors team, Durant's point spread value declined significantly. Even if Durant missed significant time, the Warriors would still have three All-Star caliber players in Curry, Draymond Green, and Klay Thompson. According to Cooley, Durant's departure from Oklahoma City caused his spread value to drop by roughly two points.
Before the start of the NFL season, I spoke with oddsmakers from several different sportsbooks to determine which players had the greatest impact on the spread. Not surprisingly, quarterbacks were far and away the most valuable position with elite signal callers valued at 6-7 points to the spread. In fact, there are only a handful of non-quarterbacks capable of moving the line. Evaluating basketball players is an entirely different animal, and there are dozens of NBA players capable of affecting the spread.
After speaking with oddsmakers from three different sportsbooks (Bookmaker, CG Technology, and William Hill), I was able to compile the following list of NBA point spread values. These numbers may fluctuate throughout the season, but they provide valuable insight into the methodology of oddsmakers.
Special thanks to Ryan Oakes (William Hill), Matthew Holt (CG Technology) and Scott Cooley (Bookmaker.eu) for their help.
| Player | Team | Tier | Spread Value |
| --- | --- | --- | --- |
| LeBron James | Cleveland Cavaliers | 1 | 5 points |
| Russell Westbrook | Oklahoma City Thunder | 1 | 5 points |
| James Harden | Houston Rockets | 2 | 4 points |
| Damian Lillard | Portland Trail Blazers | 2 | 4 points |
| Kawhi Leonard | San Antonio Spurs | 2 | 4 points |
| Anthony Davis | New Orleans Pelicans | 2 | 4 points |
| DeMarcus Cousins | Sacramento Kings | 2 | 4 points |
| Paul George | Indiana Pacers | 3 | 2-3 points |
| Kevin Durant | Golden State Warriors | 3 | 2-3 points |
| Draymond Green | Golden State Warriors | 3 | 2-3 points |
| Stephen Curry | Golden State Warriors | 3 | 2-3 points |
| Chris Paul | Los Angeles Clippers | 3 | 2-3 points |
| Karl-Anthony Towns | Minnesota Timberwolves | 3 | 2-3 points |
| Kyrie Irving | Cleveland Cavaliers | 3 | 2-3 points |
| Kyle Lowry | Toronto Raptors | 3 | 2-3 points |
| Jimmy Butler | Chicago Bulls | 3 | 2-3 points |
| DeMar DeRozen | Toronto Raptors | 3 | 2-3 points |
| Carmelo Anthony | New York Knicks | 4 | 1-2 points |
| Eric Bledsoe | Phoenix Suns | 4 | 1-2 point |
| Paul Millsap | Atlanta Hawks | 4 | 1-2 points |
| Isaiah Thomas | Boston Celtics | 4 | 1-2 points |
| Reggie Jackson | Detroit Pistons | 4 | 1-2 points |
| John Wall | Washington Wizards | 4 | 1-2 points |
| Kemba Walker | Charlotte Hornets | 4 | 1-2 points |
| Hassan Whiteside | Miami Heat | 4 | 1-2 points |
| Blake Griffin | Los Angeles Clippers | 4 | 1-2 points |
| LaMarcus Aldridge | San Antonio Spurs | 4 | 1-2 points |
| Klay Thompson | Golden State Warriors | 4 | 1-2 points |
| Andre Drummond | Detroit Pistons | 4 | 1-2 points |
| Al Horford | Boston Celtics | 4 | 1-2 points |
| Andrew Wiggins | Minnesota Timberwolves | 4 | 1-2 points |
| Kevin Love | Cleveland Cavalies | 5 | 1 point |
| Brook Lopez | Brooklyn Nets | 5 | 1 point |
| DeAndre Jordan | Los Angeles Clippers | 5 | 1 point |
| Marc Gasol | Memphis Grizzlies | 5 | 1 point |
| Pau Gasol | San Antonio Spurs | 5 | 1 point |
| Giannis Antetokounmpo | Milwaukee Bucks | 5 | 1 point |
| C.J. McCollum | Portland Trail Blazers | 5 | 1 point |
| Rudy Gobert | Utah Jazz | 5 | 1 point |
| Derrick Favors | Utah Jazz | 5 | 1 point |
| Nicolas Batum | Charlotte Hornets | 5 | 1 point |
| Kristaps Porzingis | New York Knicks | 5 | 1 point |
| Goran Dragic | Miami Heat | 5 | 1 point |
| Victor Oladipo | Oklahoma City Thunder | 5 | 1 point |
| Serge Ibaka | Orlando Magic | 5 | 1 point |
It's important to understand that these valuations are malleable, and can be impacted by a variety of factors. "Player's worth varies from game to game and situation to situation. There are times in the last three years that LeBron has moved a line as much as 9.5 to 10 points. There are also times when he moves the number as little as 1-2 points," according to Matthew Holt, Vice President of Business Development for CG Technology.
"[Against] a tanking Philadelphia team on the road at Cleveland last season or a tanking Brooklyn team on the road this season LeBron is likely only worth 1.5 to 3.5 points as they don't need him anyway and he likely wasn't going to play a full compliment of minutes anyway," Holt continued. "The road team is tanking in both cases so they are trying to lose."
"On the other hand, if Cleveland is at Boston in February and just a game or two separates both teams for #1 seed LeBron could easily be worth 6-8 points," Holt elaborated. "All that, of course, is assuming the rest of the players for both teams are at full strength which they seemingly almost never are."
Holt contended that attempting to give players in any sport a standardized point value is often times an exercise in futility, which is partially true. That's one of the reasons I opted to create tiers in order to evaluate which players have the greatest impact on the spread. Depending on the situation, players from Tier 1 and 2 are capable of moving the line between 2-6 points — bettors just need to be cognizant of the situation.
Based on these valuations there are four teams who don't have a single player capable of moving the spread: the Philadelphia 76ers, Los Angeles Lakers, Dallas Mavericks, and Denver Nuggets. Even though Dirk Nowitzki averaged over 18 points per game last season, his defense has been steadily declining. Books may adjust their spread to account for public perception, but Nowitzki is no longer an impact player. The same can be said about household names like Derrick Rose or Dwyane Wade.
Public perception definitely contributes to a player's spread value, and sportsbooks will often shade their number to mitigate risk and limit liability. When a superstar player is ruled out, bettors often overvalue the significance of his injury and hammer their opponent. For example, the majority of public bettors would likely fade (bet against) the Pelicans if Anthony Davis were ruled out. In that instance, oddsmakers may adjust the spread by more points than Davis is actually worth in order to force casual bettors into taking a bad number.
Throughout the season, championship contenders like the Cavaliers, Spurs and Warriors are expected to rest their veterans with limited notice. By knowing the true value of these key players, bettors can quickly determine whether oddsmakers have overreacted or underreacted. When dealing with an existing injury, bettors have additional factors to consider.
Let's pretend that Anthony Davis, who is worth 4-points to the spread, is listed as questionable for his team's upcoming game. Rather than keeping the game off the board and waiting until an announcement is made, sportsbooks may hedge their line and list the Pelicans as 6-point underdogs. If Davis plays, the Pelicans spread would likely move from +6 to +4. If Davis sits, the Pelicans spread would likely move from +6 to +8.
For what it's worth, there were some disagreements among the oddsmakers. Although every oddsmaker stated that Kevin Durant's point spread value dropped after leaving Oklahoma City for Golden State, some valued Durant at 2-3 points while others valued him at 3-4 points. There was also some debate regarding whether Klay Thompson or Draymond Green were more valuable to the Warriors.
The list below details the players with the greatest disagreement between oddsmakers:
Kyrie Irving, Cleveland Cavaliers: Two of the oddsmakers I spoke with believed that Irving was a bonafide superstar worth 3-points to the spread, while another argued his value was limited by King James' presence, thus limiting Irving's value to 1.5-points. With some arguing that Irving belongs in Tier 2 and others contending he belongs in Tier 4, I opted to split the difference with Tier 3.
DeMarcus Cousins, Sacramento Kings: Cousins was easily the most divisive player among oddsmakers, which is not surprising given Cousins' past antics. All three oddsmakers have different assessments, with arguments made for Tier 1, 2 and 3. Although there have been red flags raised about Cousins' attitude, his combination of size and skill is undeniable. Perhaps this quote offered the best summation of Cousins: "I do think he is a top 10 player in the league when everything is going right, but you never know which night that will be. So his value may be the biggest range of any player in the league, at least in my opinion…I like to call him DeMercurial Cousins."
Andrew Wiggins, Minnesota Timberwolves: The former number one overall pick was also the subject of much debate. Although two oddsmakers contended Wiggins' value was negligible to the spread, another ranked him in Tier 3. Considering that Wiggins is only 21-years old, averaged nearly 21 points per game last season, and has tremendous potential based on his elite athleticism, I'm inclined to believe that Wiggins would definitely move the line at least a point.
Reggie Jackson, Detroit Pistons: This was another player that was left off entirely by one oddsmaker, and placed in the third tier by another. After playing limited minutes as a backup in Oklahoma City, Jackson emerged as a star player in Detroit. Last season the 26-year-old point guard averaged 18.8 PPG and 6.2 APG while helping the Pistons improve their win total from 32 to 46 games. Jackson is crucial to the team's success, and he's clearly capable of moving the Pistons line.
Kevin Love, Brook Lopez, Pau Gasol, Serge Ibaka, Nicolas Batum, Giannis Antekoumpo: These five players are household names, but one oddsmaker stated that they "tend not to move the line a whole lot by themselves." While two oddsmakers valued these players at 1-2 points, the other oddsmakers stated it's only in rare situations that these players are capable of moving the line a point.
It's also worth noting that last season LeBron James was the only player worth at least 5-points to the spread, but Durant's departure caused Russell Westbrook's spread value to increase by more than a full point. In fact, Westbrook may have surpassed James as the league's most valuable player. "Without KD, I'm putting Westbrook at the top of the list now," according to Scott Cooley. "He's worth 5-6 points in my opinion, same as LeBron, but just a step ahead in totality."
Some sportsbooks can be slow to react to breaking injury news, so make sure to visit our free NBA injury page for the latest updates. Sportsbook Insider customers can receive these injury alerts instantaneously via email or text message.
Bettors can track the latest odds, betting percentages, injuries and more by visiting our free NBA odds page. Interested in receiving our highly profitable best bets, steam moves, reverse line movement alerts and contrarian plays? Sign up for a 4-day trial of Sportsbook Insider Pro.
Have any questions for the staff at Sports Insights? Utilize our live chat to speak with a customer service representative or e-mail us at help@sportsinsights.com.