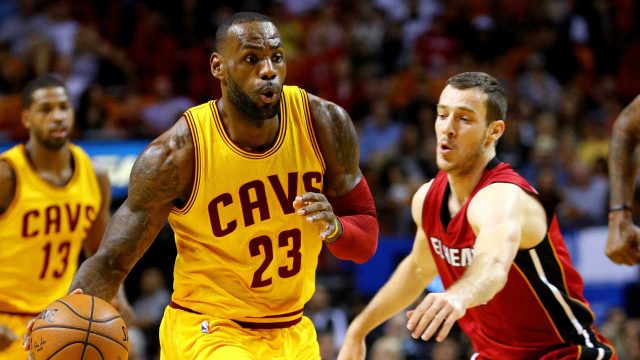 NBA Game of the Week: Miami Heat at Cleveland Cavaliers
Every week in this space, I have examined one college football game offering contrarian value to bettors. By using the tools available to Sportsbook Insider members, I pinpointed the factors driving line movement and highlighted some of the best sharp money indicators. These "Games of the Week" provided solid value, posting a 10-4 ATS during the regular season.
You can view all my past analysis below:
The Heisman Trophy winner will be announced on Saturday but, with the conclusion of the regular season, there's limited opportunity for college football contrarian betting this weekend. That means in order for bettors to find value, we'll need to shift our focus from the gridiron to the hardwood. In fact, my research indicates there's tremendous value in tonight's showdown between the defending champion Cleveland Cavaliers (15-5 SU, 8-11-1 ATS) and the struggling Miami Heat (7-15 SU, 10-12 ATS).
This will be the first time LeBron James faces his old team without Dwyane Wade on the other side, but James could already be looking ahead to Saturday's showdown with the Charlotte Hornets. In fact, it wouldn't be totally surprising if the Cavs opt to rest at least one of their starters given the increasing propensity for title contenders to rest their stars in back-to-back situations. Ironically, the Heat will face Wade and the Bulls tomorrow.
Coming off a 32-point blowout win, the Cavs opened as 13-point home favorites at the market-setting Pinnacle sportsbook and have received overwhelming public support. According to our public betting trends, Cleveland has received 81% of spread tickets and 79% of spread dollars. Despite this one-sided public betting, the Cavs have actually dropped from -13 to -12.5. This reverse line movement is an excellent indicator that sharp money likes the Heat in this matchup.
[click image below to enlarge]

You may notice several "$" icons on the line graph, which indicates that a smart money alert has been triggered. These alerts, which track the optimal threshold for reverse line movement, have also been a great indicator of sharp money.
As you can see from the screenshot below, there have been three profitable Reverse Line Movement alerts triggered on this game at two different numbers. This information is typically available exclusively to Sportsbook Insider Pro subscribers, but you can see every move on this game along with the triggering book and year-to-date record.
[click image below to enlarge]

We have conclusively proven that betting against the public is an effective strategy, but that's particularly true for road teams. Since 2005, visitors have gone 7,218-6,939 ATS (51.0%) in regular season games. Although that winning percentage isn't high enough to overcome that standard -110 juice charged by sportsbooks, it shows that home-court advantage is clearly overvalued. When the visiting team is receiving no more than 30% of spread bets at our contributing sportsbooks, that record improves to 477-408 ATS (53.9%) with +46.95 units won.
It's also worth noting that large underdogs have historically provided value for bettors. Over the past 12 seasons, double-digit 'dogs have gone 1,166-1,069 ATS (52.2%) in regular season games. That record improves to 243-193 ATS (55.7%) when the big underdog is also receiving no more than 30% of spread bets. Based on those trends, it would appear that the Heat are providing value tonight. Bettors may also be interested to know that Miami fits the criteria for our 2015-16 and 2016-17 NBA Betting Against the Public systems.
For what it's worth, our results improve slightly if we focus on slightly larger underdogs. Over that same stretch, NBA underdogs of at least 13-points have gone 404-335 ATS (54.7%). That winning percentage improves from 54.7% to 57.3% when the team is also receiving less than 35% of spread tickets.
It's important to know which side is receiving the majority of tickets, but our newly added money percentages provide another valuable piece of information. Sportsbooks are far more likely to adjust their lines if they have serious liability on one side, so identifying games with one-sided money percentages can easily be utilized to extract contrarian value.
NBA teams getting at least 75% of spread dollars have gone 16-31 ATS this season. Teams getting at least 85% of spread dollars are 1-6 ATS.

— David Solar (@TheDavidSolar) December 9, 2016
By fading every NBA team receiving at least 75% of spread dollars, $100/game bettors would have earned $1,357 this season.
We should also note that parlay percentage is an excellent indicator of square money. You won't find many sharps betting parlays since they're usually a losing proposition. At the time of publication, 83% of bettors who parlayed or teased this game had taken Cleveland.
We always recommend buying on bad news and selling on good in order to capitalize on public perception. Squares don't have the same type of drastic game-to-game overreactions for daily sports (like basketball, baseball or hockey) as they do for weekly sports (like football), but shrewd bettors can still capitalize on the recent bias of casual bettors. Since 2005, teams coming off a win have gone 6,918-7,071 ATS (49.5%) and teams coming off a blowout win (25+ points) have gone 471-488 ATS (49.1%). That's another reason to sell high on the Cavs.
Additional value can be found by looking at the Pythagorean plus/minus for both teams. For anybody unfamiliar with this metric, Pythagorean plus/minus is a formula that converts the points scored and allowed by a team into an expected winning percentage. We then compare the team's expected record with their actual record. Teams with a positive score have underperformed and are therefore likely to be undervalued. Teams with a negative score have overperformed and are therefore likely to be overvalued.
The Miami Heat (+8.6) are better than their current record indicates while the Cleveland Cavaliers (-1.2) are slightly worse than their record indicates. This information provides yet another reason to like the Heat as a large road underdog tonight — especially as they ride a three-game losing streak.
It's worth noting that most sportsbooks are still hanging Heat +13, which highlights the importance of having access to multiple sportsbooks and always shopping for the best line.
Sportsbook Insider Pro subscribers have access to real-time odds, public betting trends, money percentages, bet signals (including steam moves and reverse line movement alerts), injury alerts, value meter, line watcher, line predictor, and many other unique features.
The only plays we officially endorse are our Best Bets, and we will be releasing our NBA Best Bets later today. Those are only available to Sportsbook Insider Pro subscribers, so sign up now for a 4-day trial and start winning today!
Have any questions for the staff at Sports Insights? Make sure to utilize our live chat or call us directly at 877-838-2853.