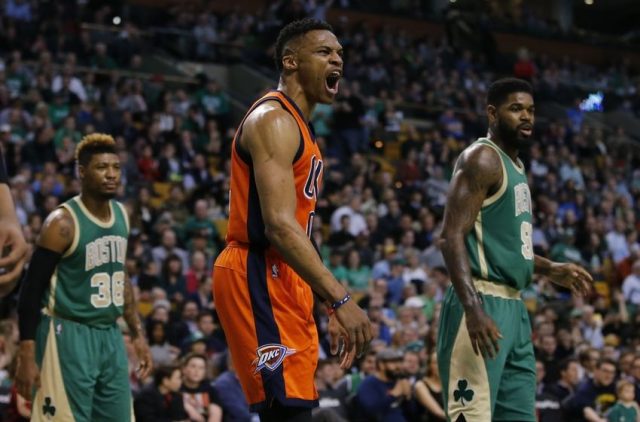 NBA Game of the Week: Oklahoma City Thunder at Boston Celtics
Every week in this space, I have examined one game offering contrarian value to bettors. By using the tools available to Sportsbook Insider members, I pinpointed the factors driving line movement, highlighted some of the best sharp money indicators and discussed several profitable historical trends.
My Games of the Week have provided solid value so far this season, and I'll look to build on that success this week. These value plays have consistently beaten the closing line, which is essential for long-term sports betting success.
You can view all my past analysis below:
This week's research indicates there's tremendous value in tonight's showdown between the Oklahoma City Thunder (17-12) and Boston Celtics (17-12). This matchup features two of the league's best point guards with Isaiah Thomas facing off against Russell Westbrook. This season Thomas is averaging a career-high 26.7 points per game while Westbrook is averaging a triple-double with 31.3 points, 10.5 rebounds and 10.8 assists per game.
It's interesting to note that these teams played in Oklahoma City earlier this month; however, Thomas missed that game due to a groin strain. Without their star player, the Celtics closed as 3-point road underdogs and received just 36% of spread tickets. Although Boston held a 13-point lead in the third quarter, they ultimately lost by 3-points, which resulted in a push for most bettors.
The screenshot below displays information from our historical archive, which allows subscribers to view betting data from all games dating back to 2005.
[click image below to enlarge]

The Celtics, who are finally healthy after overcoming early injuries to Thomas, Al Horford, and Jae Crowder, will be looking for their fifth straight victory tonight. The Thunder, who will be without starting shooting guard Victor Oladipo due to a wrist injury, are coming off a win over the Pelicans in which Westbrook tallied 42 points, 10 rebounds, and 7 assists. Not surprisingly, this is tonight's most heavily bet game at the time of publication.
Boston opened as 3.5-point favorites at the market-setting Pinnacle sportsbook; however, early action has been pounding the road underdog. According to our public betting trends, Oklahoma City has received 69% of spread tickets and 67% of spread dollars. Despite this one-sided public betting, the Celtics have moved from -3.5 to -4 at Pinnacle. That reverse line movement indicates that sharp money likes the home chalk.
[click image below to enlarge]

The Celtics opened -3.5 on Thursday evening and remained there until Friday morning. You may notice a "$" icon on the line graph, which indicates that a smart money alert has been triggered. These alerts, which track the optimal threshold for reverse line movement, have also been a great indicator of sharp money.
As you can see from the screenshot below, there has been a reverse line movement alert and steam move triggered on this game at Pinnacle. Not all bet signals are created equal, and there's more value on moves triggered at market-setting sportsbooks like CRIS and Pinnacle. In fact, Pinnacle has produced the most profitable NBA steam move since their inception in 2007.
This information is typically available exclusively to Sportsbook Insider Pro subscribers, but you can see every move on this game along with the triggering book and year-to-date record.
[click image below to enlarge]

Historically we have found that a majority of public bettors tend to hammer favorites and overs. It's easy to root for winners and high-scoring games, but this basic human tendency can easily be exploited by oddsmakers. They understand the factors driving public betting and shade their lines accordingly to force square bettors to take bad numbers when playing the popular side of a game.
My research found that the majority of spread bettors have taken the favorite in just 3,180 of 14,250 (22.3%) regular season games. This type of behavior can be seen across all six major US sports leagues, with spread bettors consistently lining up to take the favorite — sometimes regardless of the line. In these rare situations where the public is avoiding the favorite, there has been tremendous value taking a contrarian approach and fading the trendy underdog. Interestingly, large contrarian favorites have been particularly profitable.
Since 2005, home favorites receiving no more than 40% of spread bets have gone 627-552 ATS (53.2%) with +39.81 units won. When that team is playing on the second night of a back-to-back, that winning percentages increases from 53.2% to 55.8%. That bodes extremely well for Boston as a contrarian favorite.
It's worth noting that under Brad Stevens, the Celtics have gone 42-19 ATS (68.9%) on the second night of a back-to-back. In contrast, his teams have gone just 105-111 ATS (48.6%) in all other games. Stevens does an excellent job of utilizing his bench, which means his teams aren't adversely affected by fatigue in the same manner as many other teams.
We have conclusively proven that betting against the public is an effective strategy, but it's been a particularly profitable strategy this season. NBA teams receiving less than 35% of spread tickets have gone 89-72 ATS (55.3%), but it's been far more profitable to utilize our money percentages. This season NBA teams receiving less than 50% of spread dollars have gone 213-209 ATS (50.5%) and teams receiving less than 35% of spread dollars have gone 95-72 ATS (56.9%). Most of the time the line has moved with the money but, in the 35 games with reverse line movement, contrarian teams has gone 23-12 ATS (65.7%).
Finally, it's fascinating to see how the public betting trends vary between our contributing sportsbooks. Right now Boston is receiving the highest percentage of bets at BetDSI, which is the sharpest book we monitor.
[click image below to enlarge]

We should also note that parlay percentage is an excellent indicator of square money. You won't find many sharps betting parlays since they're usually a losing proposition. At the time of publication, 75% of bettors who parlayed or teased this game had taken Oklahoma City.
This looks like the classic examples of "Sharps vs. Squares" or, if you prefer, "Pros vs. Joes." Although the majority of casual bettors are taking Oklahoma City, sharp bettors have been hammering Boston. The Celtics have looked fantastic when Thomas and Horford have been on the floor together, so I'll gladly take Boston -4 in this matchup.
Sportsbook Insider Pro subscribers have access to real-time odds, public betting trends, money percentages, bet signals (including steam moves and reverse line movement alerts), injury alerts, value meter, line watcher, line predictor, and many other unique features.
The only plays we officially endorse are our Best Bets, and we will be releasing our NBA Best Bets later today. Those are only available to Sportsbook Insider Pro subscribers, so sign up now for a 4-day trial and start winning today!
Have any questions for the staff at Sports Insights? Make sure to utilize our live chat or call us directly at 877-838-2853.