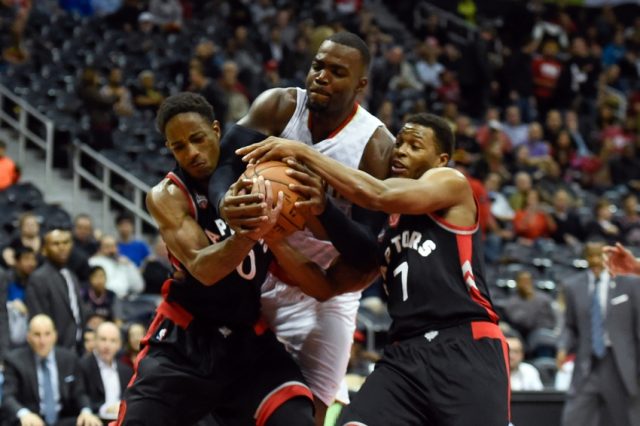 NBA Game of the Week: Atlanta Hawks at Toronto Raptors
Every week in this space, I have examined one game offering contrarian value to bettors. By using the tools available to Sportsbook Insider members, I pinpointed the factors driving line movement, highlighted some of the best sharp money indicators and discussed several profitable historical trends.
These "Games of the Week" provided solid value during the college football season, posting a 10-4 ATS record. Last week I published my first NBA Game of the Week and, although the pick lost, we beat the closing line by 1.5-points. Consistently beating the closing line can be a strong contributor to long-term sports betting success.
You can view all my past analysis below:
This week's research indicates there's tremendous value in tonight's Eastern Conference showdown between the Atlanta Hawks (12-13) and the Toronto Raptors (18-7). You would be hard-pressed to find two teams trending in more disparate directions as Toronto has won 10 of their past 11 games, while Atlanta has lost 8 of their past 10. Moreover, the Raptors won by a franchise-record 44-points when these teams faced off less than two weeks ago.
Not surprisingly, the Raptors opened as 6.5-point favorites at the market-setting Pinnacle sportsbook and they have been pounded with public money. At the time of publication, Toronto was receiving 83% of spread tickets and 85% of spread dollars. This one-sided public betting has caused the Raptors to move from -6.5 to -7.5 at Pinnacle.
[click image below to enlarge]
Since there are no major injuries and there haven't been any bet signals triggered on this game, was can safely assume that public money has been solely responsible for this one-point line move. In other words, contrarian bettors can capitalize on an artificially inflated line by taking an unpopular viewpoint and grabbing the Hawks plus the points.
We have conclusively proven that betting against the public is an effective strategy, but that's particularly true for road teams. Since 2005, visitors have gone 7,237-6,971 ATS (50.9%) in regular season games. Although that winning percentage isn't high enough to overcome that standard -110 juice charged by sportsbooks, it shows that home-court advantage is clearly overvalued. When the visiting team is receiving no more than 30% of spread bets at our contributing sportsbooks, that record improves to 479-411 ATS (53.8%).
Historically underdogs have provided additional value against conference opponents since the familiarity between teams levels the playing field, which disproportionately benefits the team getting points. In fact, underdogs receiving no more than 30% of spread bets have covered the spread at a 56.2% clip in conference games and a 50.1% clip in non-conference games.

It's important to know which side is receiving the majority of tickets, but our newly added money percentages provide another valuable piece of information. Sportsbooks are far more likely to adjust their lines if they have serious liability on one side, so identifying games with one-sided money percentages can easily be utilized to extract contrarian value. Although we're dealing with a limited sample size, it's been incredibly profitable to fade (bet against) teams receiving a majority of the money.
This season NBA teams receiving at least 50% of spread dollars have gone 192-195 ATS (49.6%), teams receiving at least 60% of spread dollars have gone 109-122 ATS (47.2%), teams receiving at least 70% of spread dollars have gone 42-58 ATS (42%), teams receiving at least 75% of spread dollars have gone 17-36 ATS (32.1%) and teams receiving at least 85% of spread dollars have gone 1-6 ATS (14.3%).
It's important to monitor these numbers since they can change dramatically in the hours before tip-off but, assuming this level of one-sided public betting continues, there is excellent value fading the Raptors this evening.
We should also note that parlay percentage is an excellent indicator of square money. You won't find many sharps betting parlays since they're usually a losing proposition. At the time of publication, 90% of bettors who parlayed or teased this game had taken Toronto.
In order to successfully implement a contrarian strategy, bettors need to buy on bad news and sell on good news. As we mentioned last week, casual bettors often overreact to recent results. They place bets purely based on instinct and often don't care about whether they're getting the best of the line. Their propensity to hammer favorites and back the league's hottest teams means oddsmakers can accurately anticipate this inevitable influx of public money.
Most sportsbooks react to this behavior by shading their lines and forcing casual bettors to take bad numbers when they play the popular side of a game. If books don't receive enough action from their sharp bettors, those lines will continue to balloon. By buying low on the Hawks and selling high on the Raptors, contrarian bettors can exploit market inefficiencies.
In their previous game, the Hawks lost to the Magic by 11 points. Since 2005, teams coming off a double-digit loss have covered at a 50.4% clip and visitors coming off a double-digit loss have covered at a 52.5% clip. When that team is also receiving less than one-third of spread tickets, that win rate jumps to 54.9%. The Hawks may be struggling and the Raptors may be surging, but that creates the perfect storm for contrarian bettors.
It's also worth noting that the Raptors have gone 18-6 ATS this season, which represents the best record in the league. Conversely, the Hawks have gone 11-14 ATS which is the eighth-worst record in the league. Past research found that bettors have historically overreacted to ATS record.
Since casual bettors are unwilling to take teams that have consistently failed to cover the spread and have consistently hammered teams with good ATS records, oddsmakers shade their lines to account for one-sided public betting. In fact, teams with an ATS win rate of 75% of higher have gone just 358-414 ATS (46.4%) overall and 140-183 ATS (43.3%) when their opponents have a losing ATS record.
It's worth noting that while most sportsbooks are offering Hawks +7.5, there are a handful of square books (including Bovada and Sports Interaction) hanging Hawks +8. This highlights the importance of having access to multiple sportsbooks and always shopping for the best line.
Sportsbook Insider Pro subscribers have access to real-time odds, public betting trends, money percentages, bet signals (including steam moves and reverse line movement alerts), injury alerts, value meter, line watcher, line predictor, and many other unique features.
The only plays we officially endorse are our Best Bets, and we will be releasing our NBA Best Bets later today. Those are only available to Sportsbook Insider Pro subscribers, so sign up now for a 4-day trial and start winning today!
Have any questions for the staff at Sports Insights? Make sure to utilize our live chat or call us directly at 877-838-2853.