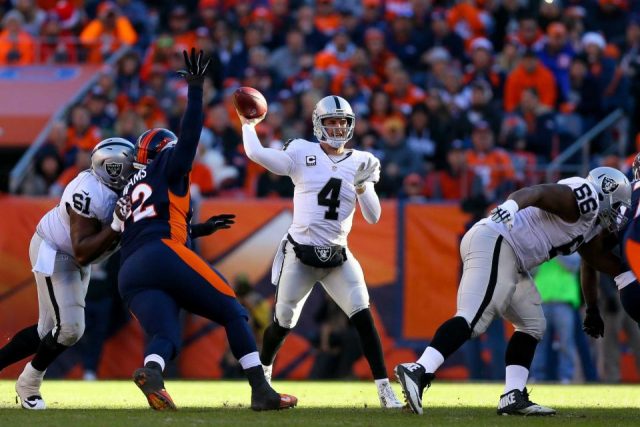 AFC West Betting Preview
Oddsmakers have pegged the AFC West as another fairly open division as we head into 2017. Though the Raiders are certainly the division favorites following their impressive 2016, bettors can take any of the four teams at plus-money to take the division title.
In addition to being divisional favorites, Oakland is also the third most likely team to represent the AFC in the Super Bowl, behind the Patriots (+165) and Steelers (+600).
2017 Futures
Team
Super Bowl
(8/3 BOL)
AFC Title
(8/3 BOL)
Division
(8/3 BOL)
Playoff Odds
(8/3 BOL)
Win Total
(8/3 BOL)
Oakland
+1200
+700
+155
Yes: -170
No: +140
9.5 (o-115)
Kansas City
+2500
+1200
+235
Yes: -145
No: +115
9
Denver
+2800
+1400
+340
Yes: +175
No: -220
8
LA Chargers
+4500
+2500
+400
Yes:+240
No: -300
7.5 (o-140)
Of all the reigning division champions across the NFL, the Chiefs (at +235) are the least likely to defend a their title, despite a 12-4 2016 season that earned a first round bye. The Broncos, just two years removed from a Super Bowl Championship, come in at +340 to take the division crown. Of course, they've had some major changes at quarterback since 2015, but the defense from that Super Bowl team, seen as one of the best ever, remains largely intact two years later.
It's possible that both KC and Denver are being slightly overlooked with the hype surrounding the Raiders.
2016 Results
Team
ATS
Moneyline
(Units)
Over Record
Oakland
10-6
12-4
(+6.5)
11-5
Kansas City
9-6-1
12-4
(+5.7)
6-10
Denver
9-7
9-7
(+0.6)
7-9
LA Chargers
7-9
5-11
(-5.8)
9-6-1
Last year was fairly profitable for those backing the AFC West.  The four teams combined for a 35-28-1 record against the spread, and earned a total of 7.0 units for moneyline bettors. Unsurprisingly, the Raiders were one of the best teams to bet on in 2016, finishing as the third-best ATS team (behind the Patriots and Saints), and second-best moneyline team (behind the Cowboys).
MVP Candidates:
Derek Carr +1600, Paxton Lynch +10000
DPOY Candidates:
Khalil Mack +400, Von Miller +400, Joey Bosa +800, Justin Houston +3300, Marcus Peters +3300, Eric Berry +8000, Casey Hayward +8000
Offensive ROY Candidates:
Kareem Hunt +3300, Patrick Mahomes +2500
League Leader Candidates:
Passing Yards: Philip Rivers +1400, Derek Carr +4000, Alex Smith +15000
Passing TDs: Philip Rivers +1200, Derek Carr +2000
Receiving Yards: Amari Cooper +1800, Demaryius Thomas +2500
Receiving TDs: Michael Crabtree +2500, Demaryius Thomas +3300, Amari Cooper +3300
Clearly, much of the star power in the AFC West comes from the defensive side of the ball, with three of the top four candidates for Defensive Player of the Year coming from within the division. After making an MVP push for much of last season, Derek Carr enters 2017 at +1600 to win the award, the seventh highest odds in the NFL.
Interested in our other divisional previews? NFC East, NFC North, NFC South, NFC West, AFC East, AFC North, AFC South
Check out some of our other articles for NFL odds updates: Super Bowl, Divisions, Win Totals, Playoff Odds
Getting ready to bet on NFL games? Try our pro membership, with which you will receive best bet picks for all major sports, bet signals, public betting and dollar percentages, and more. Follow us on Twitter @SportsInsights to make sure you are up to date on blog posts, injuries, and sports betting information.