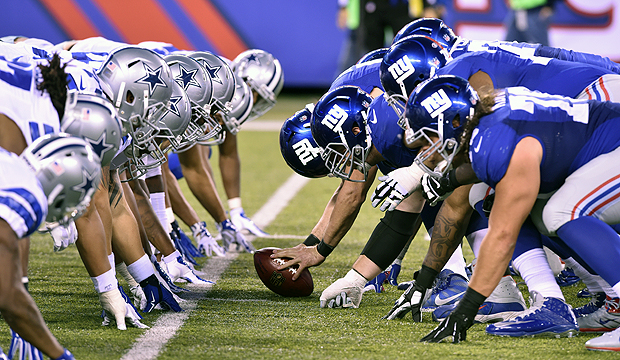 2017 NFC East Betting Preview
With the NFL season right around the corner, we will be taking a look at each division's futures odds. The NFC East should be one of the more competitive divisions in the league. Unfortunately, all the hubbub surrounding Ezekiel Elliott has led to the removal of the Cowboys' win total, as well as the props for rushing yards and touchdowns.
All odds via BetOnline unless otherwise noted.
2017 Futures
Team
Super Bowl
(7/25 BOL)
NFC Title
(7/25 BOL)
Division
(7/25 BOL)
Playoff Odds
(7/25 BOL)
Win Total
(7/25 BOL)
Dallas
+900
+450
+145
Yes: -180
No: +160
N/A
NY Giants
+1600
+800
+185
Yes: +100
No: -120
8.5 (o-155)
Philadelphia
+4000
+2500
+400
Yes: +200
No: -240
8 (o-130)
Washington
+6600
+2500
+475
Yes: +290
No: -350
7.5 (o-120)
Though the Cowboys have significantly better odds to win the Super Bowl and conference, the oddsmakers give the Giants a healthy chance at taking the division. If you're a Carson Wentz fan and expect him to make a big step forward, the Eagles win total of 7.5 may be a number you can take advantage of.
2016 Results
Team
ATS
Moneyline
(Units)
Over Record
Dallas
10-6
13-3
(+7.7)
6-10
NY Giants
9-6-1
11-5
(+6.0)
4-12
Philadelphia
8-8
7-9
(-2.1)
9-7
Washington
10-6
8-7-1
(+0.9)
12-4
All records from last year are based off of Pinnacle's closing numbers
The NFC East did quite well against the spread last year, while the Cowboys and Giants did especially well on the moneyline. Totals were a mixed bag, as the Redskins were only behind the Falcons as the "best" over team and the Giants were the only team in the league with less than six overs hitting.
MVP Candidates:
Dak Prescott +1200, Ezekiel Elliott +2000, Eli Manning +3300, Carson Wentz +3300
DPOY Candidates via Ladbrokes:
Landon Collins +2000, Jason Pierre-Paul +5000, Olivier Vernon +5000, Sean Lee +6600, Josh Norman +8000
Offensive ROY Candidates:
Evan Engram +2500, Semaje Perine +5000
League Leader Candidates:
Passing Yards: Kirk Cousins +1400, Eli Manning +1800, Carson Wentz +5000, Dak Prescott +6600
Passing TDs: Eli Manning: +2000, Kirk Cousins +4000, Dak Prescott +5000
Receiving Yards: Odell Beckham +450, Dez Bryant +3300, Alshon Jeffery +3300
Receiving TDs: Odell Beckham +650, Dez Bryant +1000, Alson Jeffery +3300
Check these articles for any odds updates. Super Bowl, Divisions, Win Totals, Playoff Odds.
Getting ready to bet on NFL games? Try our pro membership, with which you will receive best bet picks for all major sports, bet signals, public betting and dollar percentages, and more. Follow us on Twitter @SportsInsights to make sure you are up to date on blog posts, injuries, and sports betting information.