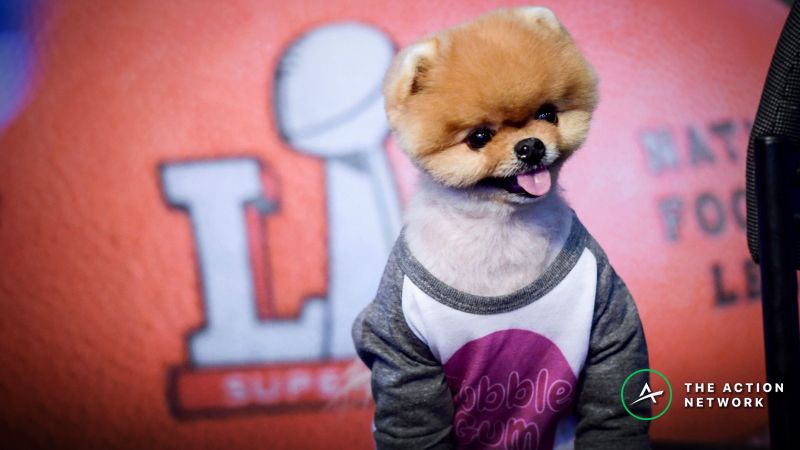 Super Bowl 53 Props: Cashing in on Over/Under 5.5 Canine Commercials
Who doesn't like canines (dogs, to the layperson)? Well, I didn't when I was a youngster because a big mean one chased me down the street once, but I've since grown out of that fear.
Man's best friend is an advertiser's best friend, too. If people like dogs, then they will of course buy a beer, cleaning product or automobile that features a dog in its commercial. It's marketing 101, folks.
With that said, one of the early Super Bowl 53 prop bets that caught my eye was, "How many commercials will have a dog in it?" The over/under is set at 5.5.
Some of the best Super Bowl commercials in history have had dogs in them.
Aww, puppy!
Oh, no! Reminds me of that classic kid's book, "The Puppy Who Lost Its Way." Thank god those Clydesdales showed up to save the puppy from that wolf.
WeGo, the namesake of one of my cats. The cat version of WeGo does not fetch, however. In fact, she doesn't do anything I tell her … because she's a cat.
I went ahead and watched every Super Bowl commercial from the past three years to find where the value lies, as would any normal person would do …
And if I don't get this one right I will be furious because watching four hours of commercials — the worst part of TV — is a hellish experience I wouldn't wish upon a mid-level enemy of mine.
2018 Super Bowl commercials
Last year was a down year for dogs. The commercial for "The Voice" was the only one of the four to even have dogs for more than a split second, albeit ironically. But that's the thing about dogs in commercials. You can just kind of toss them in the background in most scenarios and nobody bats an eye.
2017 Super Bowl commercials
Oohh baby, seven dog commercials. That's what I am talking about!
I'm not sure if the oddsmakers will count ghost dogs or not, but I suspect that won't be an issue this year.
Other than that Bud Light spot and the final Amazon Echo commercial, these are once again not centered around dogs. Just toss a pooch in here or there to spruce up your commercial.
2016 Super Bowl commercials
Ten! Ten dog commercials! Possibly just 9.33 dog commercials though, depending on what that disturbing, vile beast Puppy-Monkey-Baby counts as.
I will not try and find them all from before Super Bowl 50, so the bark stops here. There have been 21 dog commercials over the past three years which averages out to seven per year.
Last year was probably the worst year in a long time, so should we expect that to continue?
2019 Super Bowl commercials 
You may or may not be aware that some of these commercials come out early. Some are released in their entirety, while others have trailers.
That's right, trailers for commercials that are 60 seconds or less. Seems unnecessary, but they're going to help us make bank.
I've perused what's available so far on ipot.tv and have found at least three commercials that will include dogs:
Halfway to the promise land. And, please note that there's at least 50 more commercials that have not shown teasers.
Here are some other possible companies that could help us out:
Disney: It has bought some ad time, but exactly what it is advertising is unknown. What if it shows Goofy? What the hell does he count as?
Toyota: Toyota will have a commercial featuring the RAV4 —  a family-friendly vehicle that could fit a dog in the trunk.
Persil, ProClean or any other cleaning agent: Dogs get things dirty! It's science. Only the best cleaning products can help you get dirt out of those nice white rugs.
Okay, that's enough commercials for me. It's going to take a while to convince my YouTube recommended section that I'm not obsessed with commercials.
Super Bowl commercials summary
I believe last year was a fluke. We already know a few major players have their pooches at the ready. One other element I have not mentioned yet is that Feb, 3 is the final day of the Chinese Year of the Dog.
The next day becomes Year of the Pig. How are you going to fade dogs on their last big day until 2030? You'd have to be an idiot …
The pick: Over 5.5 commercials 
This article was originally posted on ActionNetwork.com by Mark Gallant. Sports Insights is part of The Action Network.