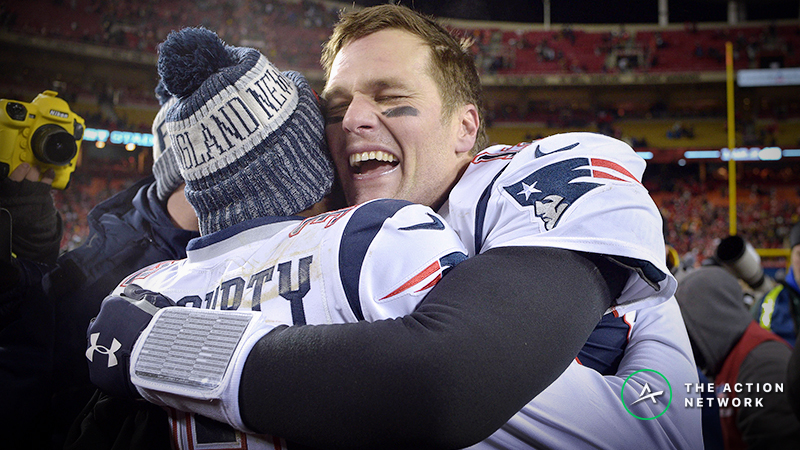 Patriots On Pace to Become Most Popular Super Bowl Bet Ever Tracked
Through the first four days of Super Bowl 53 betting, the New England Patriots have been a wildly popular spread wager among both professional and casual bettors.
According to The Action Network's public betting data, 82% of bets, accounting for 85% of actual dollars wagered, on the spread have taken the Pats.
The one-sided betting action has forced oddsmakers to move the line from a pick'em to New England -2.5.
With the Patriots garnering such a large percentage of the overall Super Bowl 53 betting handle, we turned to our Bet Labs database to compare betting trends for Rams-Patriots to every Super Bowl available in our archive.
Here's a look at closing lines, betting percentages and against-the-spread (ATS) results from Super Bowls 38-52:
Overall, Super Bowl betting has been very balanced since 2004, especially from Super Bowls 38-47.
Super Bowl 48 between the Denver Broncos and Seattle Seahawks was the first to close with one team receiving more than 60% of spread bets over our sample, starting a run of four straight years in which bettors backed one side at more than a 60% clip.
Super Bowl 48 was also the most lopsided championship game we've ever tracked, as Denver closed with 68% of all spread tickets.
Should bettors continue backing New England at such a furious pace, the Patriots will easily close as the most popular Super Bowl bet we've ever tracked.
For those wondering, NFL teams that receive at least 80% of spread bets have not performed well historically, going 94-114-9 (45.2%) ATS since 2003, per Bet Labs.
There are still more than 10 days until Super Bowl 53 kicks off, leaving plenty of time for Rams bettors to get in on the action, especially if the current one-sided betting forces oddsmakers to move this line to the key number of 3.
Be sure to download The Action Network's mobile app to track real-time betting data for Super Bowl 53, including live Patriots-Rams odds and betting percentage updates.
This article was originally posted on ActionNetwork.com by PJ Walsh. Sports Insights is part of The Action Network.