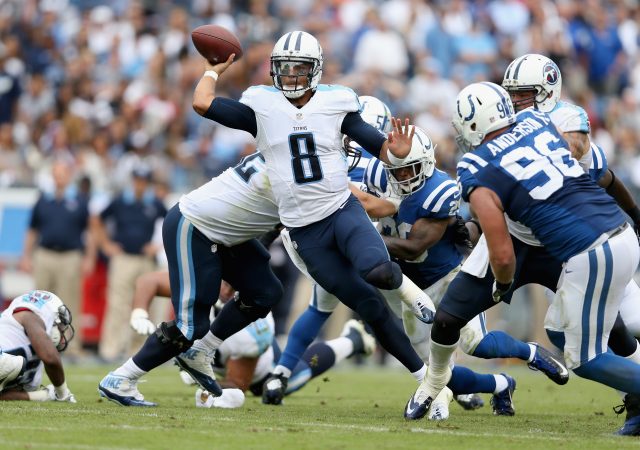 AFC South Betting Preview
The AFC South is perhaps the most unpredictable division in football as we head into the 2017 season. Oddsmakers have labeled the division as essentially a toss-up between the top three teams, with the Titans and Texans (co-favorites at +200) just ahead of the Colts (+220).
Following their impressive 9-7 season last year, the Titans have become a popular sleeper pick in the AFC, with many believing they'll be something like the 2017 version of last year's Raiders. Tennessee lost the division title by tiebreak to the Texans last year, who have questions surrounding their quarterback situation, yet still enter 2017 with +200 odds to defend their crown. The return of a healthy J.J. Watt certainly doesn't hurt Houston's chances.
2017 Futures
Team
Super Bowl
(8/3 BOL)
AFC Title
(8/3 BOL)
Division
(8/3 BOL)
Playoff Odds
(8/3 BOL)
Win Total
(8/3 BOL)
Houston
+1800
+1000
+200
Yes: +145
No: -175
8.5
Tennessee
+4000
+2000
+200
Yes: +115
No: -145
9 (u-125)
Indianapolis
+4000
+1600
+220
Yes: +170
No: -215
9 (u-140)*
Jaguars
+8000
+4000
+600
Yes: +325
No: -450
7
*via Bovada (8/3)
Looking at the table above, the uncertainty in the AFC South becomes even more clear. In general, the odds of these futures tend to line up, meaning the team with the highest chance to win the division also has the highest chance to win the make the playoffs, win the conference, win the Super Bowl, and has the highest win total. That's not the case here. Of the top three teams in the division, Houston has considerably higher odds than either Tennessee or Indy to win the Super Bowl, yet they have the lowest win total. The Titans, despite having the best odds to make the playoffs, have the worst odds to win the AFC.
Perhaps bettors don't trust the young Titans once the postseason comes around, and feel more comfortable backing a strong defensive team like Houston.
2016 Results
Team
ATS
Moneyline
(Units)
Over Record
Houston
6-9-1
9-7
(+1.4)
6-10
Tennessee
7-9
9-7
(+2.7)
10-6
Indianapolis
7-8-1
8-8
(+2.3)
9-7
Jacksonville
7-9
3-13
(-9.1)
10-6
2016 was not a great year for betting AFC South teams. No team was able to scrape together a winning season against the spread, and the highest moneyline unit total belonged to the Titans at just 2.7. Betting the over was slightly profitable, however, going 35-29 across the whole division.
MVP Candidates: 
Andrew Luck +2500, Marcus Mariota +5000
DPOY Candidates:
J.J. Watt +250, Jadaveon Clowney +2500, Jalen Ramsey +6600
Offensive ROY Candidates:
Leonard Fournette +250, Deshaun Watson +600, Corey Davis +1400, D'Onta Foreman +5000, Dede Westbrook +5000
League Leader Candidates:
Passing Yards: Andrew Luck +1400, Marcus Mariota +10000, Deshaun Watson +20000
Passing TDs: Andrew Luck +900, Marcus Mariota +3300
Receiving Yards: T.Y. Hilton +500, DeAndre Hopkins +2500, Allen Robinson +3300
Receiving TDs: Allen Robinson +1600, T.Y. Hilton +3300, DeAndre Hopkins +3300
The AFC South dominates the Offensive Rookie Year prop, with three of the top four candidates coming from within the division (McCaffrey is the other at +350). Two years removed from his 40-touchdown season, Andrew Luck sits at an enticing +900 to lead the league in passing TDs, behind Brady, Rodgers, Brees, and Ryan.
Interested in our other divisional previews? NFC East, NFC North, NFC South, NFC West, AFC East, AFC North
Check out some of our other articles for NFL odds updates: Super Bowl, Divisions, Win Totals , Playoff Odds
Getting ready to bet on NFL games? Try our pro membership, with which you will receive best bet picks for all major sports, bet signals, public betting and dollar percentages, and more. Follow us on Twitter @SportsInsights to make sure you are up to date on blog posts, injuries, and sports betting information.