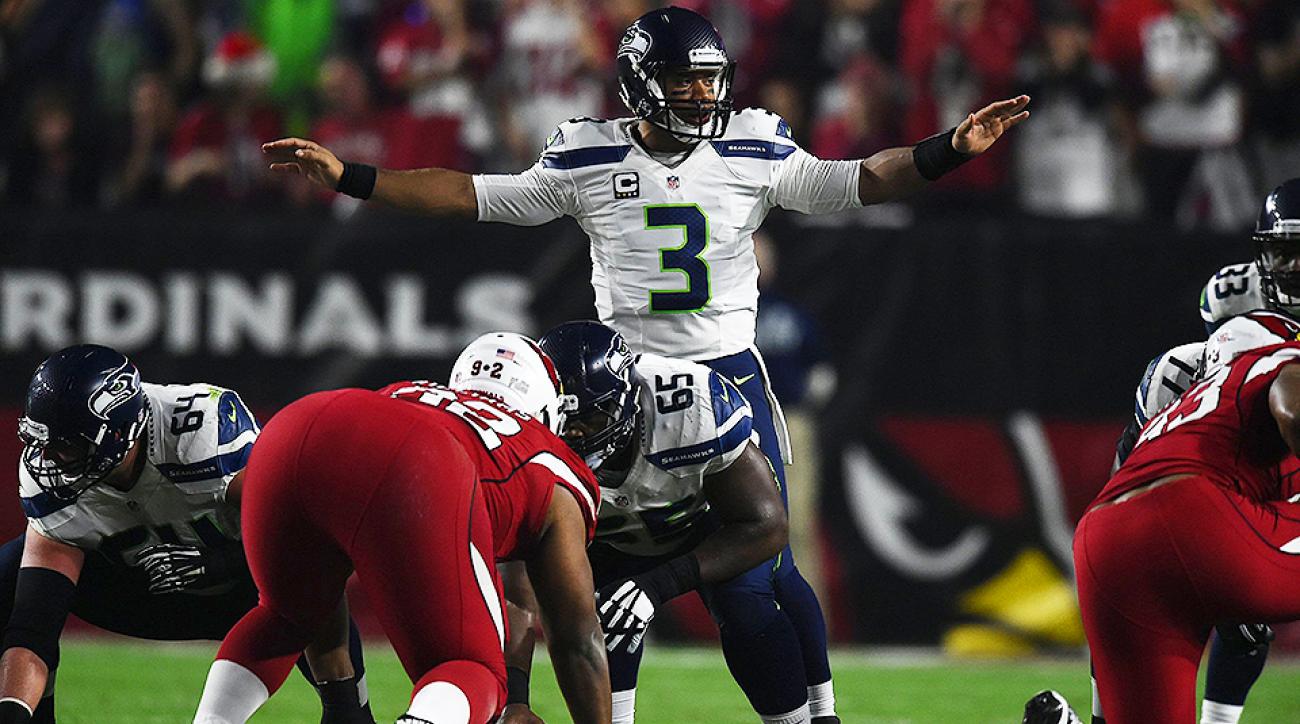 NFC West Betting Preview
The Seahawks have been NFC West favorites for the past three seasons, a pattern that continues in 2017. Seattle comes in at -260 to take the division crown, with Arizona (+225) being the only potential contender according to oddsmakers. With recent line movement in the NFC North (Green Bay falling to -250), the Seahawks now have the second best odds to win their division, behind only a certain team in the AFC East. At -450, they also have the second best odds in the NFL to make the playoffs.
Team
Super Bowl
(7/28 BOL)
NFC Title
(7/28 BOL)
Division
(7/28 BOL)
Playoff Odds
(7/28 BOL)
Win Total
(7/28 BOL)
Seattle
+1000
+475
-260
Yes: -450
No: +360
10.5 (o-125)
Arizona
+4000
+1600
+225
N/A
8.5 (u-115)
LA Rams
+17500
+5000
+2000
Yes: +700
No: -1000
5.5 (o-130)
San Francisco
+30000
+12500
+3300
Yes: +800
No: -1250
4.5 (o-155)
Coming off a two-win season, the 49ers find themselves at the bottom of the barrel, with not only the worst odds to win the West, but the worst odds in the entire conference to reach the Super Bowl. San Francisco's terrible year also contributed to the NFC West being the worst ATS division in football in 2016. Let's take a look at just how bad it was. All records are based off Pinnacle's closing numbers.
Team
ATS
Moneyline
(Units)
Over Record
Seattle
7-8-1
10-5-1
(+0.7)
9-7
Arizona
6-10
7-8-1
(-2.4)
10-6
LA Rams
4-11
4-12
(-3.9)
10-6
San Francisco
4-11
2-14
(-10.6)
7-9
Unless you were betting the over, 2016 was not a fun year for those backing the NFC West. Even the Seahawks, despite their 10-5-1 overall record, couldn't pull together a winning record for their bettors.
MVP Candidates: Russell Wilson +1000, David Wilson +3300, Carson Palmer +5000
DPOY Candidates via LadBrokes: Aaron Donald +1400, Tyrann Mathieu +2000, Alec Ogletree +4000, Richard Sherman +4000, Bobby Wagner +5000, Earl Thomas +5000, Navorro Bowman, Patrick Peterson +5000, Robert Quinn +5000, Kam Chancellor +8000, DeForest Buckner +10000,
Offensive ROY Candidates: None
League Leader Candidates:
Passing Yards: Carson Palmer +3300, Russell Wilson +3300, Jared Goff +20000
Passing TDs: Carson Palmer +3300, Russell Wilson +3300
Receiving Yards: Doug Baldwin +3300
Receiving TDs: Doug Baldwin +2000
In line with the identity that the NFC West has taken, there's a long list of players with a shot at the Defensive Player of the Year award…and that's about it. Russell Wilson aside, there's not a lot of flash on the offensive side of the ball within the division, which is perhaps the driving force behind low totals, and thus a decent over record across the division.
Interested in our other divisional previews? NFC East, NFC North, NFC South
Check these articles for any odds updates. Super Bowl, Divisions, Win Totals, Playoff Odds
Getting ready to bet on NFL games? Try our pro membership, with which you will receive best bet picks for all major sports, bet signals, public betting and dollar percentages, and more. Follow us on Twitter @SportsInsights to make sure you are up to date on blog posts, injuries, and sports betting information.