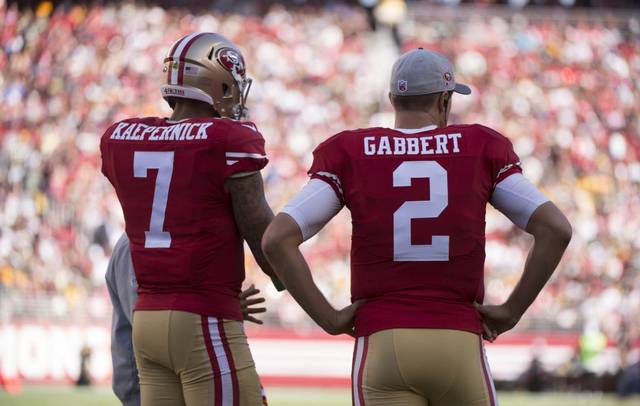 NFL 2016: What Should NFL Bettors Know for Week 6?
For all of you weekend warriors out there looking at this weekend's NFL slate for the first time, here is what you need to know when making your bets.
To see how the lines have moved over the week, take a look at our opening line report. Also, refer to our free odds page to see which lines have moved.
LINE MOVES
Despite suffering their first loss last week, the Philadelphia Eagles continue to be a trendy team to bet on. After opening at +1.5 in Washington, they quickly moved to -2 and have gone up to -3 over the week. They're still receiving almost 70% of bets.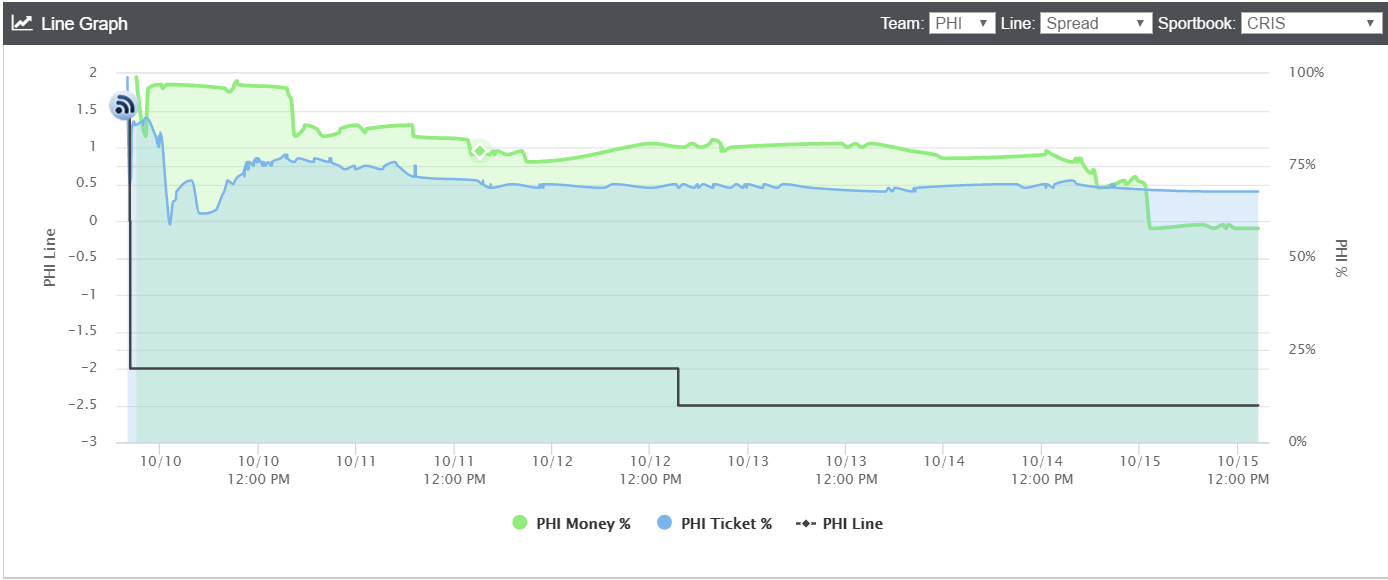 In Tom Brady's return to Foxboro, the Patriots are receiving three quarters of the bets, but their line dropped from -9 to -7 at CRIS on Saturday afternoon. Despite getting only 25% of bets, the Bengals are getting over 40% of the dollars, which helps explain that reverse line movement.

It was announced earlier this week that Colin Kaepernick will be starting his first game of the season on Sunday in Buffalo. The 49ers QB has had a very controversial season due to his national anthem protests, but has yet to see any game action on the football field. So far, spread bets are split down the middle for the game, but the Bills have moved from -7.5 to -9 thanks to some early sharp action. For full analysis of this game, check out this piece.
https://www.sportsinsights.com/blog/how-are-bettors-reacting-to-colin-kaepernicks-season-debut/
Click here for our in-depth key line moves piece.
KEY INJURIES
Cam Newton- Concussion- Probable. The Panthers star QB is set to be back after missing one week with a concussion. The Panthers lost to the Bucs last week with Derek Anderson in Newton's place. With Carolina off to a 1-4 start, Newton will need to look like the MVP he was last year if they want a chance of making the playoffs.
Carson Palmer- Concussion- Probable. As was the case with Newton, Palmer will return after missing one week with a concussion. The Cardinals, who had big expectations entering the season, are just 2-3. Their odds of winning the division are down to +305.
Updated Division Odds (BookMaker)

NFC South#Falcons -300#Panthers +375

NFC West#Seahawks -250#Cardinals +305#Rams +675

— Sports Insights (@SportsInsights) October 12, 2016
Rob Gronkowski- Illness- Probable. Despite being listed as questionable on the injury report, Gronkowski is expected to play this weekend vs. the Bengals.
Tyler Eifert- Ankle- Out. On the other hand, the Bengals star tight end will not play in New England on Sunday. Eifert who has been dealing with ankle and back injuries, has still not played this season.
Jordan Reed- Concussion- Doubtful. Yet another big tight end's status is up in the air this weekend. Reed suffered a concussion during practice this week and is not expected to play vs. the Eagles.
Steve Smith Sr. and Dez Bryant- Doubtful. Two popular wide receivers are expected to miss their games this weekend. Smith injured his ankle during last week's game, while Bryant suffered a hairline fracture in his knee a few weeks back.
Eric Decker- Shoulder- Out for the season. The Jets suffered a big loss this week when it was announced that Eric Decker would require season-ending surgery.
OTHER INJURIES
Probable- T.Y. Hilton, Kelvin Benjamin, Justin Gilbert, Mike Wallace, Randall Cobb, Ezekial Ansah, LeGarrette Blount, Mark Ingram, Eddie Lacy, Rashad Jennings, Julius Thomas, Arian Foster, Jonathan Stewart, Jeremy Hill.
Questionable- Kam Chancellor, Stefon Diggs, Sheldon Richardson, Joey Bosa, Anquan Boldin, Gerald McCoy, Leodis McKelvin, Robert Quinn, Gary Barnidge, Darrelle Revis, Nick Mangold.
Doubtful/Out- Elvis Dumervil, Markus Wheaton, Marcell Dareus, Haloti Ngata, Eric Ebron.
ODDS AND ENDS
Bovada updated their NFL MVP odds this week. Surprisingly enough, Matt Ryan is the current favorite at +450. For the full list and previous updates, read our full article.
Dak Prescott has done a fine job as Tony Romo's replacement and is causing some to ask whether or not he should remain the QB when Romo returns.
https://www.sportsinsights.com/blog/should-dak-prescott-remain-the-cowboys-starter-when-tony-romo-returns/
Dan and David discuss some of the week's hottest topics in the latest Smarter Bets Podcast.
According to Bet Labs Sports, the Vikings have the best change at winning the Super Bowl at just over 20%. See their full simulation here.
Purchase a Sportsbook Insider PRO membership and get NFL picks, contrarian plays, dollar percentages and bet signals, along with a fully customizable live odds page, line watcher, line predictor, the number of bets on every game, and more.
If you have any thoughts or questions, feel free to reach out to the Sports Insights staff by utilizing our live chat feature, commenting below, or emailing us at help@sportsinsights.com