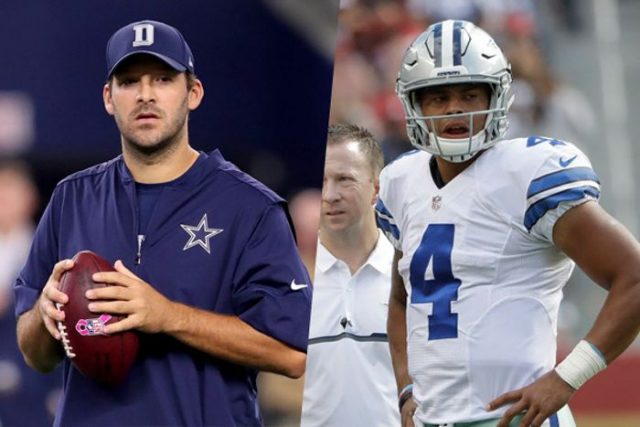 Should Dak Prescott Remain the Cowboys Starter When Tony Romo Returns?
This has been an emotional season for Dallas Cowboys fans. After missing most of the 2015 season due to a broken left collarbone, starting quarterback Tony Romo suffered a compression fracture of his L1 vertebra during the Cowboys' third preseason game. Medical experts initially expected the four-time Pro Bowler to miss 6-10 weeks, which caused the Cowboys futures to plummet.
Following Romo's injury, the Cowboys' odds of winning the Super Bowl dropped from 20/1 to 28/1 at the offshore sportsbook BetOnline. Similarly, their odds of winning the NFC dropped from 10/1 to 14/1 while their odds of winning the NFC East dropped from +160 to +225. Over at the Westgate Superbook, their win total dropped from 9.5 to 8.5. Many analysts wrote off the Cowboys, although there were some who believed they were still the cream of the crop in the NFC East.
Rookie Dak Prescott, who completed 39 of 50 attempts for 454 yards with seven total touchdowns and no interceptions during the preseason, was installed as the new starting quarterback. Despite those impressive numbers, oddsmakers still viewed Romo's injury as a significant blow to the Cowboys. "Romo's value to a spread is 5-6 points," stated Scott Cooley, an Odds Consultant for the market-setting Bookmaker.eu. "His value has not changed based on Dak Prescott's preseason performance."
Just five weeks into the season, it looks like oddsmakers were wrong to question Prescott's breakout preseason performance. After losing their season opener against the Giants, the Cowboys have rattled off four straight victories, with Dak displaying poise beyond his years. The Mississippi State product has completed 69% of his passes, and his active streak of 155 attempts without an interception is a rookie record.
Following the team's 4-1 start, the Cowboys have seen their odds of winning the Super Bowl skyrocket. The table below displays how the Cowboys futures have changed since Romo went down in the preseason.
| Odds to Win | Preseason | Current |
| --- | --- | --- |
| Super Bowl | +2800 | +1600 |
| NFC Championship | +1400 | +800 |
| NFC East | +225 | +150 |
Since the odds were initially released back in May, Prescott's odds of being named Offensive Rookie of the Year have moved from 300/1 to 3/1. Still, it looks unlikely that he will retain the starting job after Romo returns — likely soon after the team's Week 7 bye. "This is Tony's team," Prescott said in an interview on Wednesday. "I knew that going into the situation. I think everybody knew that. I'm just trying to do the best I can to give my team a chance to win week in and week out."
Oddsmakers agree that Romo will reclaim his role as the Cowboys starting quarterback after returning from injury and, on Friday morning, Bovada posted odds on whether Romo would replace Prescott for non-injury related reasons.
Will Tony Romo start a game for the Cowboys during the 2016 regular season? (via @BovadaLV)

Yes -200
No +150

— Sports Insights (@SportsInsights) October 14, 2016
Dallas Cowboys owner Jerry Jones has also maintained that Romo will be the starting quarterback once he's healthy. "Tony is our number one quarterback," said Jones. "But I welcome the opportunity of having Dak playing at this level and Tony back in excellent health. It's going to be really special for the Cowboys."
While there's no definitive timetable on Romo's return, many have speculated that Week 9 (at CLE) is a reasonable target date. That said, it's tough to imagine Dallas would replace their starting quarterback if they win their next two games ( at Green Bay, vs. Philadelphia) and boast a 7-1 record without Romo. That would be vaguely reminiscent of the 2001 New England Patriots where backup Tom Brady replaced nine-year starter Drew Bledsoe following a Week 2 injury. As you may already know, Brady did not relinquish that role.
I could spend all day speculating about which quarterback will start when Romo returns, but I wanted answers to the more pressing question…who should start? Before the season I spoke with Scott Cooley who stated that the downgrade from Romo to Prescott was worth 5-6 points to the spread. In light of Prescott's emergence, I wanted to determine whether that number had dropped significantly. I also wanted to find out whether Romo was still considered the superior quarterback.
"[The value] has changed based on Prescott's performance," according to Cooley. "At this point, I'd say the difference is worth about 2-3 points. Dak has looked better than we would have imagined, Russell Wilson-esque in his rookie year, but there is a lot to be said about the job the offensive line and offensive play-calling. Cody Kessler would look pretty good behind that O-line."
Clearly Cooley believes that Romo is the superior player, but sometimes it's best not to mess with a good thing. "When healthy, Tony Romo is still a better quarterback than Prescott. He's one of the best QBs in the league, but the Cowboys will have a difficult decision to make when that time comes due to the chemistry and flow of the team."
This weekend the Cowboys (+4) are receiving 48% of spread bets and 45% of total dollars wagered against the Green Bay Packers. They're also +175 on the moneyline at Pinnacle. If Dallas pulls off the upset win at Lambeau Field, it will be extremely difficult for the team to replace Prescott — especially if he maintains his current levels of efficiency.
We will continue to monitor these lines and trends, and it will be interesting to see whether the Cowboys make an official announcement in the upcoming weeks. For the latest odds, betting trends, injury updates and more, bettors can check out our free NFL odds page.
Have any questions for the staff at Sports Insights? Utilize our live chat to speak with a customer service representative or e-mail us at help@sportsinsights.com.