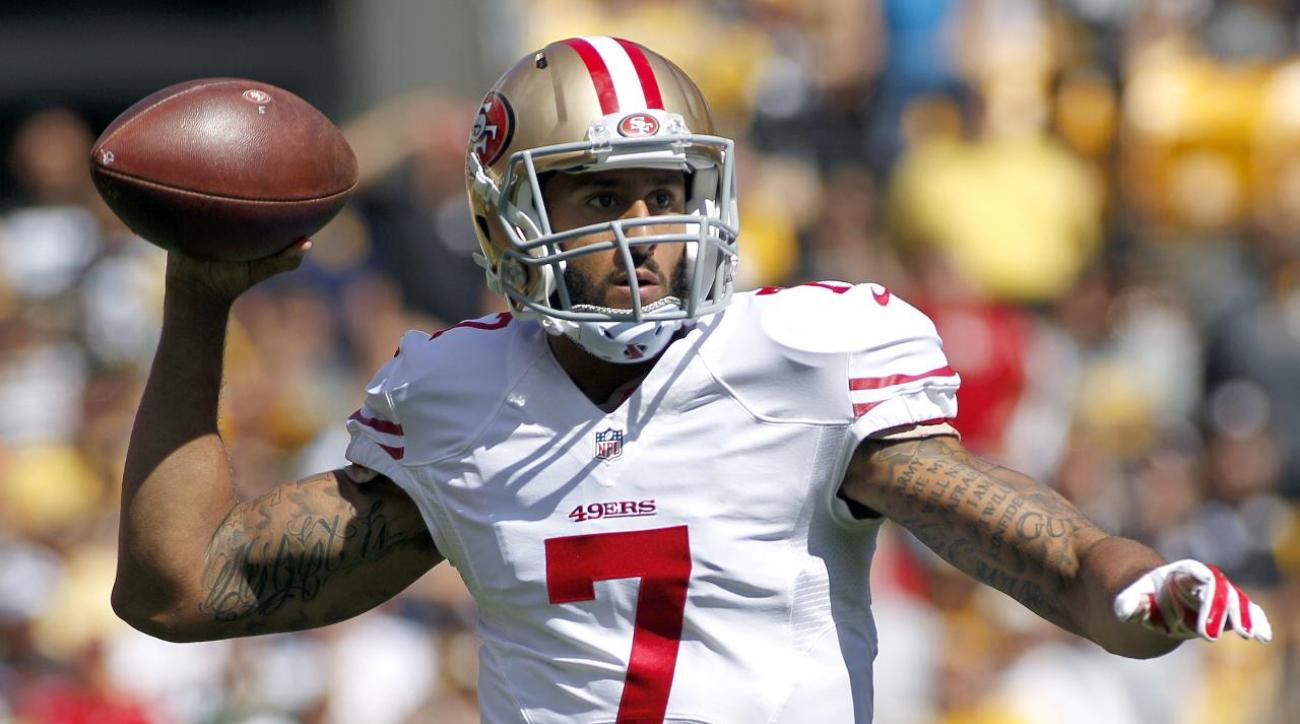 How Are Bettors Reacting to Colin Kaepernick's Season Debut?
San Francisco 49ers' backup quarterback Colin Kaepernick has been arguably the most polarizing player in football this year. The sixth-year signal caller has been taking a knee during the national anthem in order to bring attention to inequality and racial bias in the United States. His silent protests have sparked national conversation and debate, but they have also inspired widespread condemnation from a large segment of the population.
"I am not going to stand up to show pride in a flag for a country that oppresses black people and people of color," Kaepernick said during interview back in August. "To me, this is bigger than football and it would be selfish on my part to look the other way."
On Tuesday morning, 49ers head coach Chip Kelly announced that the team would bench Blaine Gabbert and give the starting job back to Kaepernick. This decision wasn't particularly surprising given the team's 1-4 start and Gabbert's 9-31 career record as a starting quarterback. Conversely, Kaepernick has gone 31-22 as the 49ers starter while guiding the team to an appearance in Super Bowl 47. That said, oddsmakers maintain that the difference between Kaepernick and Gabbert is negligible to the point spread.
Despite Kaepernick's return, there's been fairly limited action on Sunday's game in Buffalo. At the time of publication, this was only the eighth most popular Week 6 game in terms of number of bets. That observation was confirmed by Scott Cooley, an Odds Consultant for Bookmaker.eu. "We haven't seen any surge of public action due to Kaepernick starting," said Cooley. "I never really got the inclination that the general football fan base overly liked or rooted for [Kaepernick]. And I'd imagine through this anthem saga he's gained some fans, but lost just as many."
For what it's worth, Kaepernick has gone 27-24 ATS in his career and has received a majority of public bets in two-thirds of his starts. It's also interesting to note that Kaep has struggled mightily against divisional opponents (5-13 ATS), but he's been fantastic (22-11 ATS) outside of the NFC West.
Although the decision to start Kaepernick hasn't prompted an increase in betting volume, there has been some interesting line movement on this game. The 49ers opened as 7.5-point underdogs at Bookmaker and public sentiment has been evenly split. San Francisco received 45% of early spread tickets and 53% of total dollars wagered, yet they moved from +7.5 to +8.
[click image below to enlarge]

You may notice the line moved from Bills -7.5 to -9 on Monday morning and, according to Cooley, that was caused by early sharp money. "We saw some wiseguy money on Buffalo early, which prompted the move. They have been on the Bills the last three weeks."

Following that initial line movement caused by sharp money, the 49ers have dropped from +9 to +8, but it's worth noting that both "8" and "9" are considered dead numbers.
Considering that public betting is evenly split and this is one of the least popular games on Sunday, it will be nearly impossible to capitalize on contrarian value in this matchup. That said, it's worth pointing out that West Coast teams traveling east have covered the spread at a high rate over the past few seasons.
Since football bettors overwhelmingly place their wagers on the spread, there are additional betting trends worth noting in this game. The parlay percentage is typically an excellent indicator or square money, and Buffalo is receiving 81% of parlay and teaser bets. This makes me suspect that the Bills will likely receive a higher percentage of spread bets as we approach game time.
Public betting has been evenly split on the spread, but that hasn't been the case for Sunday's total. Although 54% of tickets and 97% of total dollars wagered have taken the over, the total has actually dropped 1.5-points. In fact, a steam move triggered on the under caused the total to move from 45.5 to 44.5 immediately after opening.
[click image below to enlarge]

We will continue to monitor these lines and trends, and it will be interesting to see whether the Bills receive more public support as the week continues. For the latest odds, betting trends, injury updates and more, bettors can check out our free NFL odds page.
Have any questions for the staff at Sports Insights? Utilize our live chat to speak with a customer service representative or e-mail us at help@sportsinsights.com.