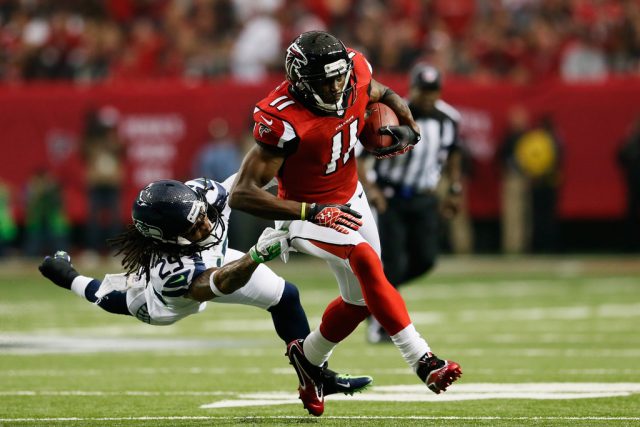 2016 NFL Week 6 Line Moves That Matter
Every week in this space we highlight the most interesting line moves at the market-setting offshore sportsbooks — typically Bookmaker and Pinnacle — which take the highest limits and therefore attract the sharpest bettors. By contrasting the opening and current lines with the public betting trends from our seven contributing offshore sportsbooks, we're able to determine how public betting has affected the line.
We are also proud to announce that in addition to our public betting percentages, we now offer real money percentages, which reflect the percentage of total dollars wagered at one of the sharper offshore sportsbooks. This allows bettors to easily monitor all the factors influencing line movement, but it's also a valuable tool for employing a contrarian betting strategy.
It's important to know which side is receiving the majority of tickets, but it's far more crucial to understand which side is receiving a majority of the money since that's books are far more likely to adjust their lines if they have lots of liability on one side. By waiting until public money has artificially inflated the line, bettors can capitalize on public perception and find additional line value.
Since this is the first year we have tracked money percentages we are working with a limited sample size, but the early betting against the public results have been overwhelmingly positive. Teams receiving less than 50% of total dollars wagered have gone 42-33 ATS (56.0%), teams receiving less than 35% of total dollars wagered have gone 12-9 ATS (57.1%) and teams receiving less than 20% of total dollars wagered have gone 2-1 ATS (66.7%).
Using the data available to Sportsbook Insider subscribers, I have examined three NFL Week 6 matchups involving lopsided money percentages.
Cincinnati Bengals at New England Patriots (Sunday at 1:00 PM eastern)
In Sunday's most heavily bet game, the Patriots opened as 8-point favorites at the market-setting Pinnacle sportsbook. Coming off a dominant performance by Tom Brady in his return from suspension, bettors have been lining up to take the home chalk. According to our trends, New England has received 78% of spread tickets and 75% of total dollars wagered. This one-sided public betting has caused the Patriots to move from -8 to -8.5.
[click image below to enlarge]

It's worth noting that before the start of the season, the Patriots were only listed as 4-point favorites in the lookahead line at the Westgate Superbook. Although the Bengals are just 2-3 on the season, all three of their losses came against capable opponents (at PIT, vs. DEN, at DAL). It seems like casual bettors are overreacting to recent events, and this influx of public money has caused the line to move from NE -8 to -8.5.
This half-point line movement isn't particularly significant since "8" is considered a dead number but, since this will likely close as Sunday's most heavily bet game, it will be fascinating to see whether public money continues to inflate this line. There hasn't been any buyback on Cincinnati yet, so that's something we will continue to monitor as game time approaches.
Philadelphia Eagles at Washington Redskins (Sunday at 1:00 PM eastern)
After losing their first two games of the season, the Redskins have rattled off three straight victories including last week's 16-10 win against the Baltimore Ravens. Conversely, the Eagles won their first three games of the season before suffering their first defeat last week against the Detroit Lions. With two team's trending in different directions, this week's matchup has seen some interesting movement.
Following their recent hot streak, Washington opened as 1.5-point favorites at Pinnacle but bettors don't believe this momentum will continue. Although home favorites usually get overwhelming public support, the Redskins have received just 31% of spread tickets and 20% of total dollars wagered. This one-sided public betting has caused the line to drop from Washington -1.5 to +2.5.
[click image below to enlarge]

You can see there was a steam move triggered on Philadelphia +1.5 immediately after the line opened, which caused the Eagles to jump from +1.5 to -2. With the market steadily pounding Philly all week, oddsmakers have been forced to adjust their number from Eagles -2 to -2.5.
It's also worth noting that several square sportsbooks (including Bovada and Sportsbook.com) have already moved to Eagles -3. As kickoff approaches and public money continues to pour in on Philadelphia, it will be interesting to see whether some of the sharper sportsbooks (like CRIS and Pinnacle) follow in kind.
Atlanta Falcons at Seattle Seahawks (Sunday at 4:25 PM eastern)
In a potential preview of the NFC Championship, the Seattle Seahawks (3-1) will host the upstart Atlanta Falcons (4-1). One of the more intriguing storylines involves whether Pro Bowl cornerback Richard Sherman will shadow Julio Jones, who currently ranks third in the NFL in receiving yards (517) and second in yards per catch (21.5). Either way, this should be one of the weekend's most exciting games.
The Seahawks opened as 6-point favorites at Pinnacle, but they have only received 27% of spread tickets. Despite this limited public support, Seattle has moved from -6 to -6.5. This can easily be explained by our money percentages, which indicate the 'Hawks are receiving 71% of total dollars wagered.
[click image below to enlarge]

Reverse line movement refers to betting line movement that contradicts the public betting percentages, and it's an excellent indicator of sharp money. The Seahawks have moved from -6 to -6.5 despite receiving just 27% of tickets which indicates that large wagers placed by wise guys or betting syndicates have come in on Seattle. This is confirmed by our newly added money percentages. Both ticket percentages and money percentages provide useful information, but they're far more valuable when used in conjunction with each other.
The Falcons have defeated both Super Bowl teams (Carolina and Denver) in consecutive weeks, so casual bettors are more than happy to take them plus the points. This appears to be the perfect example of "Pros vs. Joes," with Pros taking Seattle and Joes taking Atlanta. It's also important to realize the preseason lookahead line was Seattle -10, so oddsmakers have already adjusted the spread 3.5-points based on Atlanta's early performance.
It's also intriguing to see that two of the most "square" books we monitor (Sports Interaction and Sportsbook.com) have tracked more than 75% of public bets on Atlanta, while public betting has been more evenly split at the sharper books (5Dimes and BetDSI).

Interested in checking out our new money percentages and line charts for every Week 6 game? Sign up now for a 4-day trial of Sportsbook Insider Pro.
Pro subscribers have access to real-time odds, public betting trends, money percentages, bet signals (including steam moves and reverse line movement alerts), injury alerts, value meter, line watcher, line predictor, and many other unique features. We have already released two NFL Best Bets for Week 6 including:
San Diego Chargers at Seattle Seahawks
Kansas City Chiefs at Oakland Raiders
Have any questions for the staff at Sports Insights? Make sure to utilize our live chat or call us directly at 877-838-2853.