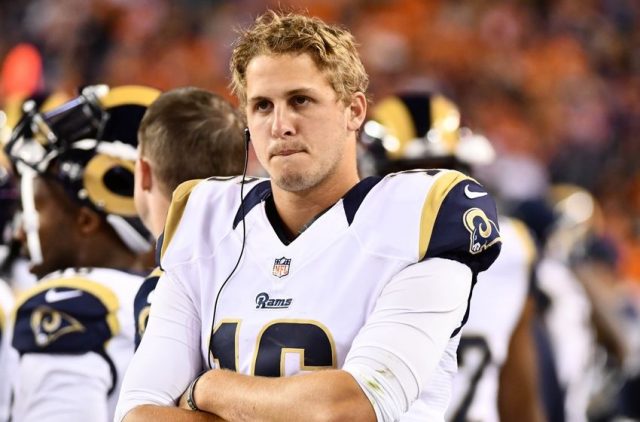 NFL 2016: What Should Bettors Know for Week 11?
For all of you weekend warriors out there looking at this weekend's NFL slate for the first time, here is what you need to know when making your bets.
To see how the lines have moved over the week, take a look at our opening line report. Also, refer to our free odds page to see which lines have moved.
LINE MOVES
One of the bigger line moves this week is in a game with heavy playoff implications. After opening as a PK, the Vikings have moved to -2.5 at home against the Cardinals. They are only receiving about one third of the spread bets, but are getting more than 40% of the spread dollars. If you look at the graph below, you can see that the line jumped after a steam move (shown by the radar signal) was placed on the Vikings on Thursday. They have stayed at that line the past two days.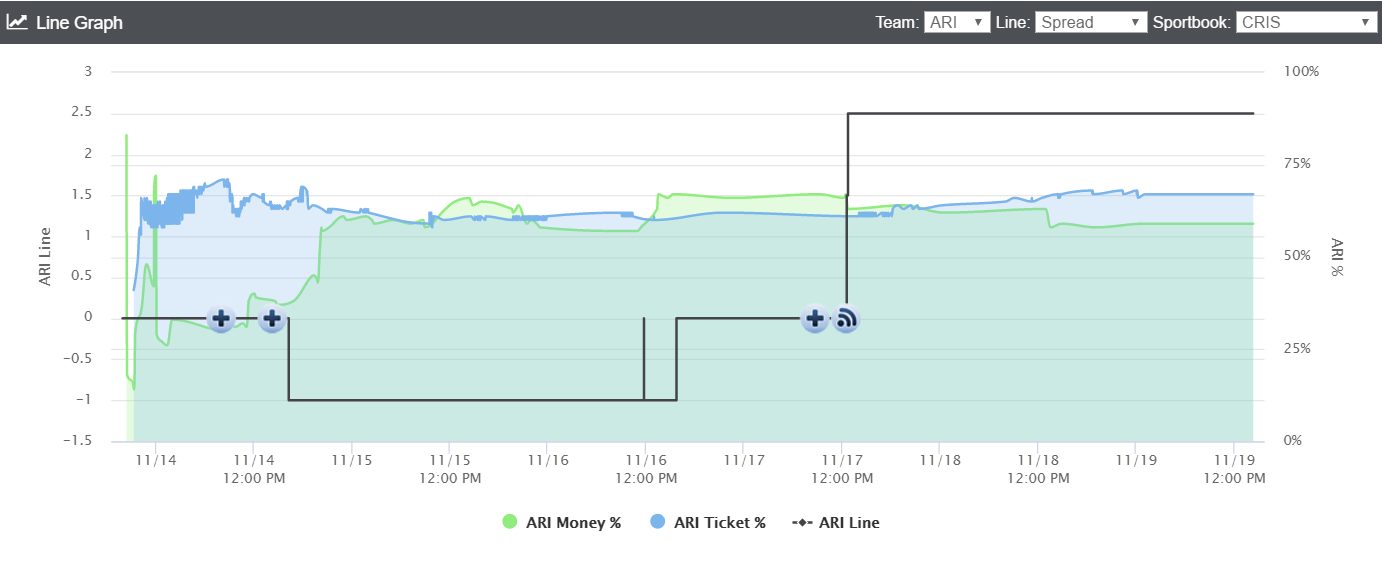 The Colts are hosting the Titans in their second matchup of the season. A few weeks back, the Colts beat Tennessee on the road, but the Titans appear to be improving as the season rolls on. Last week, they dominated the Packers, which is likely why they are getting the majority of the spread tickets and dollars this week in Indianapolis. The Colts opened as three point favorites, but that has dropped to -2.5. If you take a look at the graph, you can see that the Titans money% (green line) was sitting slightly above 50%, but jumped to about 60% and caused that line to drop from +3 to +2.5.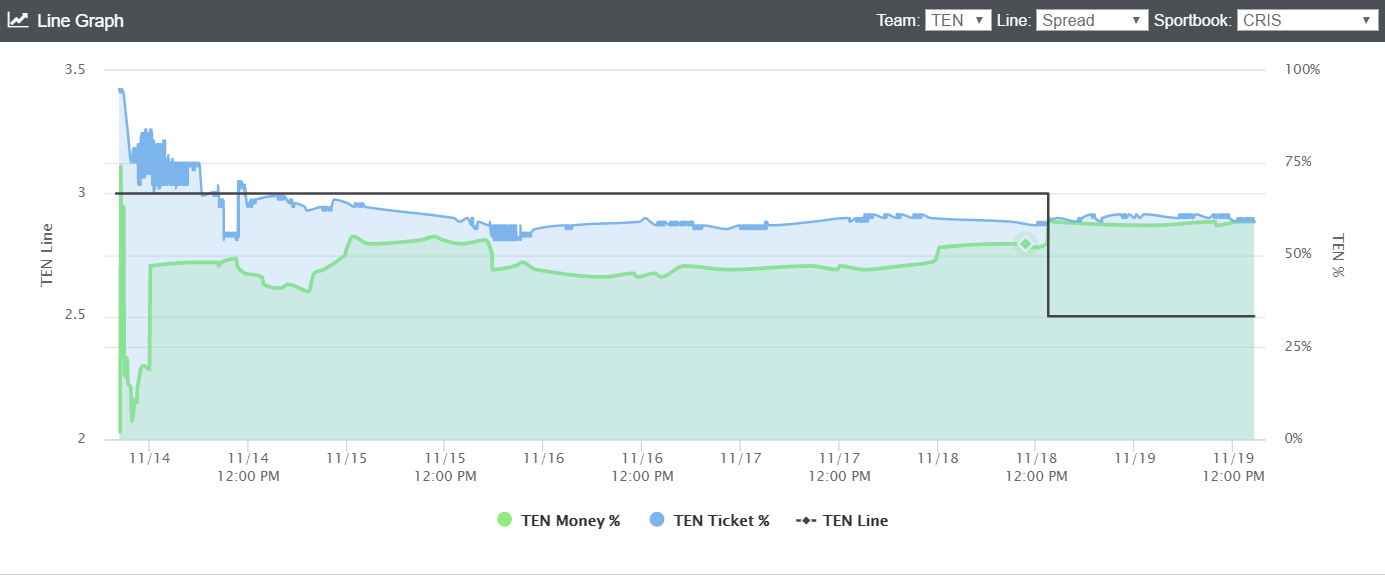 One total that has seen a lot of movement is in Cleveland. The Browns will be hosting the Steelers in some rough conditions which will include 20+ mph winds and temperatures in the 30s. The total for this game opened at 49.5, but has gradually dropped to 44.5 over the week. The under for this game is getting 54% of bets, but 70% of dollars, which has caused that line to sharply drop. Since 2003, the under has hit in about 56% of games in which the wind has averaged 10 MPH or greater. If you look at the weather feature below, you can see why bettors feel that not many points will be scored in this one.

For a more in-depth look at this week's key line moves, read our Line Moves That Matter piece.
KEY INJURIES
Rob Gronkowski- Lung- Out. The Patriots will be without Gronk when they head to San Francisco this weekend. On Monday, it was reported that Gronkowski's lung was punctured on a play against the Seahawks last Sunday. He isn't expected to miss a large chunk of time, but he did not make the trip this weekend.
DeSean Jackson- Shoulder- Probable. The Redskins will have one of their best offensive weapons back this Sunday when they host the struggling Packers. Jackson missed last week with the injury, but appears ready to go.
Larry Fitzgerald- Ankle/Knee- Probable. After missing some practice at the beginning of the week, Fitzgerald returned Thursday and was taken off the injury report.
Alshon Jeffery- Suspension- Will miss 4 games. The Bears will be without their star wide receiver for the bulk of their remaining games. Jeffery failed a PED test and his four game suspension was announced earlier this week.
Jordan Matthews- Probable- Back. Matthews missed most of the week with a back injury, but was a full participant in Friday's practice. Though listed as questionable on the injury report, we expect him to play against the Seahawks.
Other Notable Injuries:
Probable: Tom Brady, Dez Bryant, Justin Houston, Will Fuller, Robert Quinn, Victor Cruz, Jared Cook, Zach Ertz, Torrey Smith, Thomas Rawls.
Questionable: Tyrann Mathieu, Marcus Peters, Mario Williams, Dion Lewis, Clay Matthews.
Doubtful/Out: Jeremy Maclin, Chris Hogan, Jacquizz Rodgers, Mike Pouncey, Desmond Trufant.
ODDS AND ENDS
Jared Goff will be making his first career start this week against the Dolphins. With Case Keenum playing poorly, people have been wondering when Goff would be called upon. The number one overall pick could very well be their quarterback of the future, however, when the move was announced, the Rams fell from a PK to +1.5.
The Monday Night game between the Texans and Raiders will be played in Mexico City, Mexico. The Raiders are currently receiving about 75% of spread bets and have moved from -5.5 to -6.
We received our first odds update for the Defensive Player of the Year since the season began. Von Miller leads the way, with Marcus Peters, Lorenzo Alexander, and Dee Ford not too far behind him.
Earlier in the week, I took a look at the Browns' chances of winning a game this season. They are currently eight point dogs against the Steelers.
At the beginning of the week, Dave looked at Ezekiel Elliott's chances to win both the Offensive Rookie of the Year and MVP awards.
If you have an ESPN insider account, you can check out Dave's latest contrarian strategy article.
There have been some big moves in the Super Bowl odds provided by Westgate over the past few weeks. The Packers, who were 5/1 just five weeks ago, are now a 30/1 longshot. The Steelers have also dropped big time over that time span, moving from 6/1 to 20/1.
Dan and David discuss some of the week's hottest topics in the latest Smarter Bets Podcast.
Purchase a Sportsbook Insider PRO membership and get NFL picks, contrarian plays, dollar percentages and bet signals, along with a fully customizable live odds page, line watcher, line predictor, the number of bets on every game, and more.
If you have any thoughts or questions, feel free to reach out to the Sports Insights staff by utilizing our live chat feature, commenting below, or emailing us at help@sportsinsights.com.
Join us live Sundays at noon ET
We're now holding our members-only live Sports Betting Hangouts Sunday mornings to prepare you for a full day of NFL games. Members, simply log into your account Sunday morning to access the hangout.
Not a member? Start a trial today to join our Sports Betting Hangouts held six days a week, plus all the other Sportsbook Insider Pro benefits.