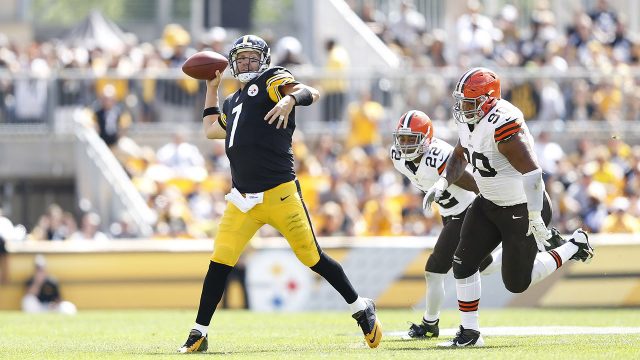 2016 NFL Week 11 Line Moves That Matter
Every week in this space we highlight the most interesting line moves at the market-setting offshore sportsbooks — typically Bookmaker and Pinnacle — which take the highest limits and therefore attract the sharpest bettors. By contrasting the opening and current lines with the public betting trends from our seven contributing offshore sportsbooks, we're able to determine how public betting has affected the line.
We are also proud to announce that in addition to our public betting percentages, we now offer real money percentages, which reflect the percentage of total dollars wagered at one of the sharper offshore sportsbooks. This allows bettors to easily monitor all the factors influencing line movement.
It's important to know which side is receiving the majority of tickets, but it's far more crucial to understand which side is receiving a majority of the money since books are far more likely to adjust their lines if they have significant liability on one side.
By waiting until public money has artificially inflated the line, bettors can often capitalize on public perception and find additional line value. That's why I wanted to examine three games where public money was responsible for moving the line at least a half-point.
Using the data available to Sportsbook Insider subscribers, I have examined three Week 11 games featuring extremely lop-sided public betting.
Chicago Bears at New York Giants (Sunday at 1:00 PM eastern)
Following a 26-point loss to the Tampa Bay Buccaneers on Sunday, the Bears are tied for the league's worst ATS record at 2-7. To make things worse, star wide receiver Alshon Jeffery was suspended four games for violating the league's policy on performance-enhancing substances. After accounting for those factors, it's hardly surprising that bettors are steering clear of the Bears this weekend.
Chicago opened as 7-point road underdogs at the market-setting Bookmaker sportsbook, and has received just 21% of spread tickets and 23% of total dollars wagered. With the majority of bettors taking their opponent, the Bears have dropped from +7 to +7.5.
[click image below to enlarge]

The line for most NFL games are released on Sunday night but, because the Giants played on Monday Night Football, this line was released on Tuesday morning. Bettors traditionally overreact to recent results, so it's not surprising to see bettors hammering the Giants following their victory in a nationally-televised game.
It's also worth noting that parlay percentage, which is available exclusively to Sportsbook Insider subscribers, is an excellent indicator of square money. You won't find many sharps betting parlays since they're usually a losing proposition and, at the time of publication, 88% of bettors who parlayed or teased this game had taken the Giants.
With bettors taking the Giants on the spread, moneyline, and in teasers, sportsbooks have adjusted the spread from NYG -7 to -7.5 in order to encourage action on the Bears. Sharp money still hasn't taken a side in this game, so it will be interesting to see whether this line continues to increase as the week progresses.
Pittsburgh Steelers at Cleveland Browns (Sunday at 1:00 PM eastern)
The Browns are looking to avoid the first winless season since the 2008 Detroit Lions, but it seems unlikely that's going to happen this weekend. Cleveland opened as 10-point underdogs at Bookmaker, and they have been largely avoided by public bettors. At the time of publication, the Browns were receiving just 17% of spread bets and 6% of total dollars wagered.
Despite this limited public support, the Browns have actually moved from +10 to +7.5. That reverse line movement is an excellent indicator that sharp bettors like home 'dog in this AFC North rivalry.
[click image below to enlarge]
Balanced books are a myth, and oddsmakers are willing to have liability if they believe they're on the right side. Sportsbooks aren't in the business of minimizing risk; they're in the business of maximizing profits. Even though most of the money has taken Pittsburgh, well-respected bettors hammered Cleveland +10 which caused this 2.5-point line move.
Miami Dolphins vs. Los Angeles Rams (Sunday at 4:05 PM eastern)
Although it's not the most thrilling game, there has been some interesting line movement in this matchup. The Dolphins opened as 1-point road underdogs at Bookmaker, but they have received 82% of spread tickets and 91% of total dollars wagered. Although it may appear that public money is responsible for moving the line from Miami +1 to -1.5, there are other factors at play.
[click image below to enlarge]

Early Monday afternoon, Rams head coach Jeff Fisher announced that Jared Goff, the #1 overall pick in April's NFL Draft, would be supplanting Case Keenum as the team's starting quarterback.
#NFL #Rams – Jared Goff, None – will start Sunday (11/20) vs. Miami

— Sports Insights (@SportsInsights) November 15, 2016
This announcement triggered several Bet Signals, including a Steam Move on Miami +1 which caused the line to move to a pick 'em. Although many fans may be anxious to see Goff's debut, sharp bettors clearly believe this move represents a downgrade — even if it's in the best long-term interests of the franchise.
With the market steadily pounding Miami all week, oddsmakers have been forced to adjust their number multiple times, eventually landing at the current line of Dolphins -1.5. Assuming the majority of spread money continues hammering Miami, it will be interesting to see what happens when sportsbooks increase their limits later in the week.
Interested in checking out our new money percentages and line charts for every Week 11 game? Sign up now for a 4-day trial of Sportsbook Insider Pro. 
Pro subscribers have access to real-time odds, public betting trends, money percentages, bet signals (including steam moves and reverse line movement alerts), injury alerts, value meter, line watcher, line predictor, and many other unique features.  We have already released two NFL Best Bets for Week 11, with several additional plays coming in the upcoming days:
Arizona Cardinals at Minnesota Vikings
Chicago Bears at New York Giants
Have any questions for the staff at Sports Insights? Make sure to utilize our live chat or call us directly at 877-838-2853.