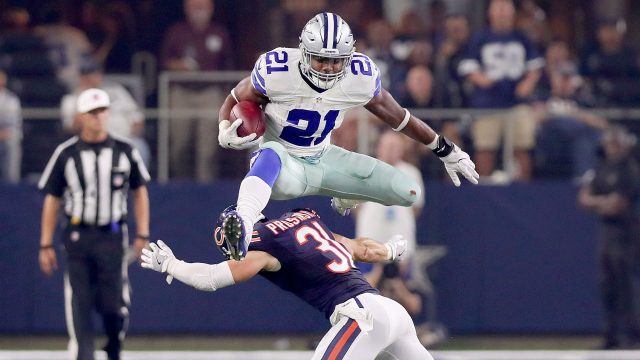 Can Ezekiel Elliott Make History by Winning the NFL MVP and Rookie of the Year Award?
On Sunday, the Dallas Cowboys defeated the Pittsburgh Steelers based largely on the performance of running back Ezekiel Elliott. The fourth overall pick in the 2016 NFL Draft, Elliott ran for 114 yards and two scores while adding 95 yards and a touchdown through the air. That included an 83-yard touchdown catch and a game-winning run with just nine seconds remaining.
In nine games this season, Elliott has racked up a league-leading 1,005 rushing yards while tallying 10 total touchdowns. Former Rams star Eric Dickerson owns the rookie record for rushing yards (1,808) and Elliott is currently on pace for 1,787 rushing yards. In the midst of this historic season, Elliott is being discussed as a shoe-in for Offensive Rookie of the Year, but is he also a legitimate MVP candidate?
After missing most of the 2015 season due to a broken left collarbone, Cowboys quarterback Tony Romo injured his back during the team's third game of the preseason. With their Pro Bowl quarterback expected to miss 6-10 weeks, the Cowboys' futures plummeted across the board. Their odds winning the Super Bowl dropped from +2000 to +2800, their odds of winning the NFC dropped from +1000 to +1400, their odds of winning the NFC East dropped from +160 to +225 and their win total dropped from 9.5 to 8.
Starting alongside another untested rookie, Dak Prescott, there were very few analysts who anticipated a winning season from the Cowboys. After nine games "America's Team" boasts a league-high eight wins, they're a lock to go over their season win total, and they own the second-best odds (+600) of winning the Super Bowl. By helping the team defy expectations, Elliott's odds of winning the Offensive Rookie of the Year and MVP Award have steadily improved.
Elliott opened the season as the odds-on favorite (-140) to be named Offensive Rookie of the Year, but he struggled, at least comparatively, in the early going. Elliott tallied 134 yards on 41 carries (3.3 YPC) in his first two games of the season while another rookie, Carson Wentz, came out strong. In his first two games, the second overall pick in April's draft threw for 468 yards and three touchdowns — leading the Philadelphia Eagles to a 2-0 record in the process.
Entering Week 3, Wentz was +160 to be named Offensive Rookie of the Year with Elliott listed at +350. In the subsequent two games, Elliott gained over 300 total yards and three touchdowns, which caused his odds of being named Rookie of the Year to improve from +350 to -150. It also caused Elliott to emerge as an MVP possibility.
Although the odds vary from sportsbook to sportsbook, Elliott was listed at 135/1 to win the NFL MVP Award at 5Dimes back in late August. Those odds were longer than players like J.J. Watt, Blake Bortles, Kirk Cousins and Jay Cutler. Following his Week 3 performance, Elliott's odds of being named the league's MVP improved from 50/1 to 16/1 at Bovada. That tied him for the seventh-best odds.
Matt Ryan, Ben Roethlisberger +500
Aaron Rodgers +600
Russell Wilson +700
Tom Brady, Julio Jones +1200
Cam Newton, Von Miller, Sam Bradford, Ezekiel Elliott +1600
Over the following weeks, Elliott's odds of being named Rookie of the Year and MVP have continued to improve. At the time of publication, the former Ohio State standout was -450 to win Offensive Rookie of the Year, however, no sportsbook is currently hanging MVP odds. The table below displays Elliott's odds of winning each of these awards entering the week.
| Date | Rookie of the Year | MVP |
| --- | --- | --- |
| Week 11 | -450 | N/A |
| Week 10 | -250 | +900 |
| Week 9 | -225 | +750 |
| Week 8 | -250 | +600 |
| Week 7 | -160 | +800 |
| Week 6 | -200 | +800 |
| Week 5 | -150 | +1600 |
| Week 4 | +175 | +5000 |
| Week 3 | +350 | +5000 |
| Week 2 | +300 | +6000 |
| Week 1 | -140 | +13500 |
Although there's some dispute over the term "MVP" versus "Player of the Year," most people agree that Jim Brown is the only player to ever win the NFL MVP Award in his rookie season. That said, it's worth noting that Earl Campbell was named Offensive Player of the Year as a rookie, while Lawrence Taylor won the Defensive Player of the Year Award during his first year.
The Cowboys offensive line deserves a great deal of the credit for Elliott's success but it's also important to note that Dallas wouldn't be a trendy Super Bowl pick without the play of Prescott.  Despite completing 39 of 50 passes for 454 yards and seven total touchdowns during the preseason, oddsmakers viewed Prescott as a significant downgrade from Tony Romo. According to Scott Cooley, an Odds Consultant for the market-setting Bookmaker.eu, "Romo's value to a spread [was] 5-6 points." That valuation has changed dramatically over the past few months, but it says a lot about Prescott's performance.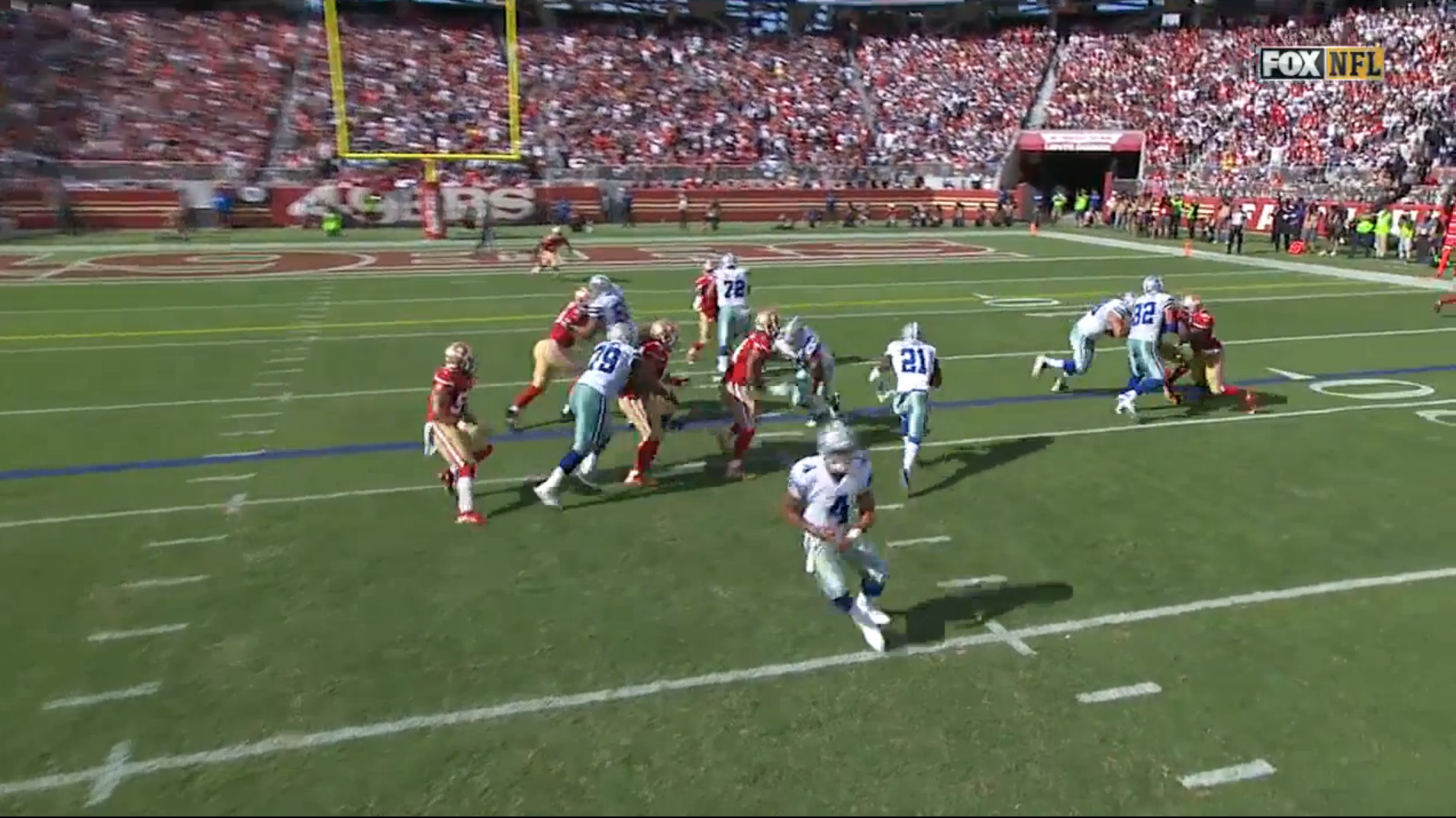 [ Elliott may receive the accolades, but the offensive line deserves all the credit ]
Bettors may be shocked to learn that Prescott's odds of being named Offensive Rookie of the Year were 500/1 prior to Romo's injury. Once Prescott was named the Week 1 starter, his odds of winning the award jumped from +50000 to +1100. That tied Prescott with number one overall pick, Jared Goff, for the third-shortest odds. In recent weeks, Prescott has consistently trailed Elliott for the best OROY odds.
It's also interesting to note that, despite questions about whether Romo will reclaim the starting job, Prescott has emerged as a top candidate to win the MVP Award. In the aftermath of Romo's injury, 5Dimes listed Prescott at 100/1 to win the MVP Award. His odds were taken off the board until Week 7, which was ironically the Cowboys bye week.
On the season, Prescott has thrown for 2,339 yards with 14 touchdowns and just one interception. Although he doesn't rank within the Top 10 for passing yards or passing touchdowns, Prescott currently owns the league's fourth-best QB rating at 106.2. The table below displays Prescott's odds of winning the Offensive Rookie of the Year and MVP Awards.
| Date | Rookie of the Year | MVP |
| --- | --- | --- |
| Week 11 | +275 | N/A |
| Week 10 | +200 | +2000 |
| Week 9 | +200 | +1200 |
| Week 8 | +220 | +1800 |
| Week 7 | +120 | +1600 |
| Week 6 | +300 | N/A |
| Week 5 | +600 | N/A |
| Week 4 | +500 | N/A |
| Week 3 | +900 | N/A |
| Week 2 | +1000 | N/A |
| Week 1 | +1100 | +10000 |
| Pre-Romo Injury | +50000 | N/A |
Although it's been a terrific storyline, I don't think Prescott has a realistic chance of winning either one of these awards. Voters have historically placed more weight on production as opposed to winning, which doesn't bode well for an efficient passer like Prescott. That said, Elliott has a very compelling case for the MVP Award — especially considering the flaws of some other candidates.
Tom Brady will be adversely affected by his four-game suspension. Matt Ryan and Matthew Stafford both play for four-loss teams and seem due for statistical regressions. Russell Wilson has posted just 10 touchdowns this season. The one potential dark horse candidate is Raiders quarterback Derek Carr, who has posted impressive numbers while leading an unlikely resurgence in Oakland.
Since the MVP was first awarded in 1957, 39 of 60 recipients have been quarterbacks including eight of the last nine winners. That doesn't bode well for the rookie, nor does it bode well that the league is still investigating domestic abuse allegations against Elliott. Nonetheless, oddsmakers clearly believe the Cowboys are a legitimate Super Bowl contender and Elliott is a viable MVP candidate.
We will continue to monitor this storyline and will be updating Offensive Rookie of the Year and MVP odds throughout the season. For the latest odds, betting trends, injury updates and more, bettors can check out our free NFL odds page.
Have any questions for the staff at Sports Insights? Utilize our live chat to speak with a customer service representative or e-mail us at help@sportsinsights.com.