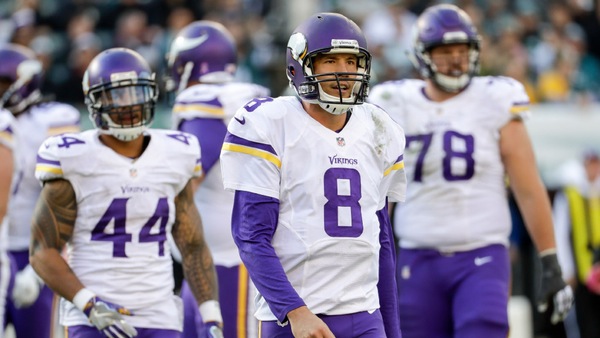 2016 NFL Week 11 Opening Line Report
It's going to be tough for Week 11 to live up to Week 10 for a few reasons.
A) Yesterday was pretty insane. From the Broncos and Chiefs' whacky victories, to Ezekiel Elliott leading the Cowboys over the Steelers, to the Seahawks winning the Super Bowl rematch, we had crazy action from one in the afternoon until almost midnight.
2) The slate just isn't very compelling. There are a few good matchups next week, including what could be one of the better Monday Night Football games, but it doesn't top yesterday's lineup.
D) I don't think it's possible for that many games to come down to the wire two weeks in a row. I could be wrong, but I sense some ugly/boring games next week. Then again, this isn't Gray's Sports Almanac.
There are some big discrepancies this week if you look at the opening lines compared to the lookahead lines from CG Technology posted back in April. Six of the games have at least a three point difference between the opening line and lookahead line, including a six-point swing in Carolina and 7.5-point swing in San Francisco.
It isn't exactly must-win territory just yet, but a few teams need to turn it around down the stretch. The Packers, Steelers, and Colts are all siting at 4-5 right now despite being listed as preseason favorites to win their respective divisions. They aren't out of the running yet, but they all need to go at least 4-3 (or possibly 5-2) down the stretch to make the playoffs.
The Steelers should have an easy win in Cleveland, where they are favored by more than a touchdown, but the Packers and Colts will have a tougher time. The Packers have already moved from +2.5 to +3 at Washington on Sunday night. They are coming off of three straight losses including a very ugly loss yesterday in Tennessee.
The Colts are coming off a bye, but will have to face that hot Tennessee offense at home. The Colts opened as three-point favorites, but were favored by eight points this spring. They beat the Titans in Tennessee a few weeks back and could really use another win to ensure they stay close in the standings.
Another important game with playoff implications on both sides will take place in Minnesota, where the Vikings are hosting the Cardinals. After starting the year 5-0, the Vikings have lost four straight. In the process, their Super Bowl odds have dropped from +600 to +2500 at the Westgate Superbook. Meanwhile, the Cardinals need to start living up to their preseason expectations and distance themselves from the pack of NFC teams sitting around the .500 mark.
Here is the full game list. Odds from Bookmaker are used for the opening and current lines unless otherwise noted. The lookahead lines come from CG Technology.
| MATCHUP | CURRENT LINE | OPENING LINE | LOOKAHEAD LINE (4/21) |
| --- | --- | --- | --- |
| NO @ CAR | CAR -4 | CAR -4 | CAR -10 |
| TEN @ IND | IND -3 | IND -3 | IND -8 |
| JAX @ DET | DET -6.5 | DET -7 | DET -3.5 |
| TB @ KC | KC -7.5 | KC -7.5 | KC -7 |
| CHI @ NYG* | NGY -6 | NYG -6 | NYG -4 |
| ARI @ MIN | PK | PK | MIN -1.5 |
| BUF @ CIN* | CIN -4.5 | CIN -4.5 | CIN -5.5 |
| BAL @ DAL | DAL -7 | DAL -6.5 | DAL -4.5 |
| PIT @ CLE | PIT -8.5 | PIT -10 | PIT -8.5 |
| MIA @ LA | LA -1 | LA -1 | LA -2 |
| NE @ SF | NE -13.5 | NE -13.5 | NE -6 |
| PHI @ SEA | SEA -6 | SEA -6 | SEA -9 |
| GB @ WAS | WAS -3 | WAS -2 | GB -2.5 |
| HOU @ OAK | OAK -5.5 | OAK -5.5 | OAK -2 |
* Originally off the board at Bookmaker, consensus line used
Bye Week: Atlanta, Denver, New York Jets, San Diego
Coming Off Bye: Buffalo, Detroit, Indianapolis, Oakland
If you are not a Sportsbook Insider member, take a look at our free odds page throughout the week to see up-to-date line movement.
Purchase a Sportsbook Insider Pro membership and get NFL picks, contrarian plays, dollar percentages and bet signals, along with a fully customizable live odds page, line watcher, line predictor, the number of bets on every game, and more.
If you have any thoughts or questions, feel free to reach out to the Sports Insights staff by utilizing our live chat feature, commenting below, or emailing us at help@sportsinsights.com.