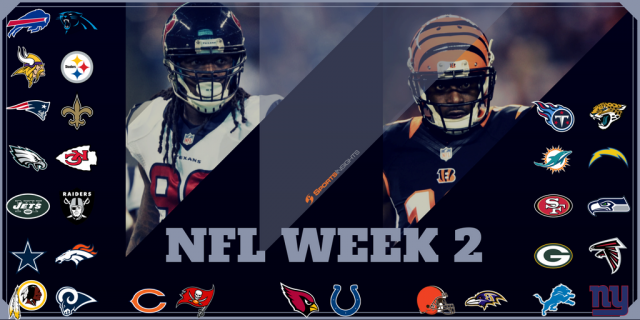 2017 NFL: What Should Bettors Know for Week 2?
Getting ready to bet on the Week 2 NFL action? Here are some key line moves and injuries to consider before placing those bets.
Line Moves
New Orleans moves from +6.5 to +6 vs. New England
Both the Saints and Patriots are looking to avenge their Week 1 losses, but the vast majority of bettors expect the Pats to be the team to do so. New England has received 80% of spread bets and 84% of the money. Despite that, they've fallen from -6.5 favorites down to -6 this week.

Both teams are generally profitable coming off a loss. The Pats are 33-11 ATS off a loss since 2005, and the Saints are 39-21 in the same spot under Sean Payton.
Indianapolis moves from +7 to +6.5 vs. Arizona
Many books are still listing this one at Indy +7, but the lack of line movement is almost equally as telling. With 72% of bets coming in on the Cardinals, one would expect to see the line move towards Arizona. Obviously, that has not been the case, as sharps appear to be all over the Colts this week, with 70% of the money falling on Indy.

Jacoby Brissett will be making his third career start, and first in a Colts uniform.
Miami moves from +5 to +3.5 at Los Angeles Chargers
Bettors are fairly evenly split on this one, with 52% taking Jay Cutler's Dolphins, but Miami has received 69% of the money, causing the spread to fall by a point and a half. The Dolphins did not play last week due to Hurricane Irma, and the Chargers are coming off a Monday night loss in Denver.

New York Jets move from +13.5 to +13 at Oakland
The Jets opened as the biggest underdogs of the week, but are now second to San Francisco. Despite only 19% of bets, New York fell a half point to +13. They have accounted for 40% of the money however, indicating some sharp action on New York.

At 19%, the Jets are also the least popular pick this weekend.
Key Injuries
Odell Beckham Jr. (Ankle) is probable Monday (9/18) vs. Detroit
Richard Sherman (Hamstring) is probably Sunday (9/17) vs. San Francisco
Dont'a Hightower (Knee) is out Sunday (9/17) at New Orleans
Sam Bradford (Knee) is probable Sunday (9/17) at Pittsburgh
Marcus Peters (Calf) is probably Sunday (9/17) vs. Philadelphia
John Brown (Quad) is out Sunday (9/17) at Indianapolis
Aaron Donald (Personal) is probable Sunday (9/17) vs. Washington
Other Notable Injuries
Prince Amukamara (Ankle) is questionable Sunday (9/17) at Tampa Bay
Danny Amendola (Knee, Concussion) is out Sunday (9/17) at New Orleans
Adam Jones (Arm) is probable Sunday (9/17) at Green Bay
Mike Iupati (Triceps) is out Sunday (9/17) at Indianapolis
Check out our free injuries page for the complete list.
Weekly Roundup
How Rare are Early Season Underdogs?
Week 2 a Prime Spot to Fade the Public
Aaron Rodgers is the New MVP Favorite