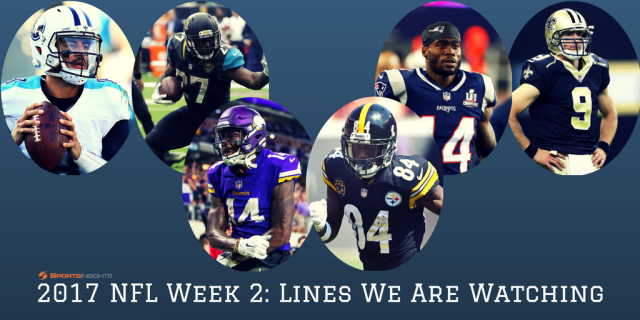 2017 NFL Week 2: Lines We Are Watching
With this week's NFL lines up for a few days now, we have a good idea of how the early trends are influencing the betting market. However, we're still a ways away from Sunday and a lot can still happen in the interim. Here are a few games that have caught our eye so far and that you should pay close attention to if you are planning on betting on them.
Titans @ Jaguars
In this divisional showdown, we have one team, the Titans, who were rather underwhelming in their first game taking on the Jaguars, who played surprisingly well. Although bettors tend to overreact and take the teams who impressed in week 1, they have not bought into the Jaguars to this point.
This game opened as a PK Sunday night, but bets and dollars have been flowing in on the Titans ever since.

With 75% of bets and 90% of early dollars, the Titans have moved all the way to -2.5. Keep an eye on this one because if you are looking to take the Jaguars if it reaches +3, you may only have a short window to do so. With 3 being such a key number in the NFL and the line having already moved so much, Jacksonville is a solid buyback candidate in this particular situation.
Bonus game
Patriots @ Saints
Vikings @ Steelers
This game may be the most surprising of the week in my mind. The Steelers, who are generally a very publicly bet team, are getting just 27% of the bets early on against the Vikings. In fact, they only received 30% of bets or less once last year and it was against the Patriots.

Thanks to bettors going gangbusters on Sammy "Sleeves" Bradford and the Vikes, the line has dropped from 7 to 5.5 at Pinnacle since opening. With bettors now able to get the Steelers -5.5 at home, I expect the percentages to begin to level off. If you were dazzled by Bradford, Dalvin Cook, and Stefon Diggs and were planning on betting on them this week, much of the value is already gone.
This is a rare opportunity to go contrarian while also taking one of the better teams in the league. The line may have already bottomed out so if you are looking to take the Steelers, there's no time like the present. If you like Minnesota, either shop around and get +6 now or try to wait and get +6.5 if you can.
If you're interested in all of these fancy betting tool, try out our sportsbook insider pro membership. You'll get money percentages, best bets, bet signals, nightly hangout access, line watcher and line predictor alerts, and much more.