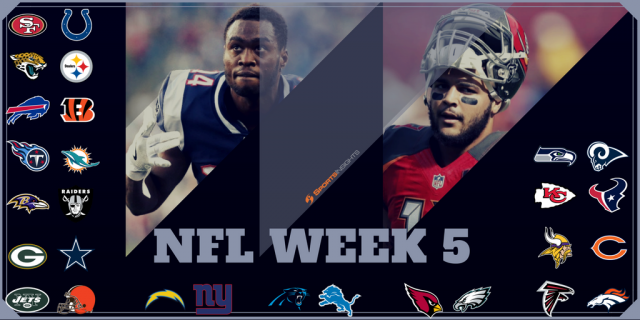 2017 NFL: What Should Bettors Know for Week 5?
Depending which side of the line you had Thursday night, you might've been kicking yourself as you watched Stephen Gostkowski's 48-yard field goal put the Patriots up 5 with 1:10 to go. New England opened as -4 favorites and reached -6 before falling back to -3.5 at kickoff.
Let's now take a look at the rest of the Week 5 slate to make sure you're on the right side of the lines this Sunday.
Line Moves
Cincinnati moves from -1 to -3 vs. Buffalo
The first place Bills have caught the eye of the public after consecutive wins vs. Denver and at Atlanta. They're getting 57% of spread tickets to this point, and 60% of moneyline bets. Despite that, the line has moved towards the Bengals, in large part because of the money that has come in on Cincy at -3.

After a Week 3 overtime loss in Lambeau, and a 31-7 win in Cleveland last Sunday, the Bengals seem to be trending upward despite their rocky start. It should also be noted that this is the second most heavily bet game of the weekend so far, increasing the value of fading the public.
Pittsburgh moves from -8.5 to -7 vs. Jacksonville
Pittsburgh's edge is down to a touchdown this week against the Jaguars despite receiving 59% of bets. But again, take a look at the difference in ticket percentage and money percentage.

With 76% of dollars landing on the side that's getting less than 50% of bets, you can safely assume that the bigger, sharper wagers are coming in on Jacksonville, especially when you factor in the 1.5 point line move towards the Jags.
Dallas remains at -2.5 vs. Green Bay
Maybe this one shouldn't be filed under line "moves", but often a line freeze (when the line stays the same) can be just as telling. With 60% of bets on Green Bay, you might expect the line to inch in that direction, especially when you add in the fact that this is the most heavily bet game of the weekend.
But the story here is consistent with the theme this week, as 63% of the money wagered on this game is with the Cowboys. There's also a chance this line falls around the market, as several books are juicing up the Cowboys' side, and a couple have already listed them at -2.
Houston remains even vs. Kansas City
Yes, you can get the undefeated Chiefs as a pick'em tomorrow night in Houston. But as we've learned, if a line looks to good to be true, it probably is.
The Texans (2-2) are getting 59% of the money, and have moved to -1 at Pinnacle. They're coming off a 57-14 rout of Tennessee and now that they've found what seems to be a viable quarterback option in Deshaun Watson, sharps are all over Houston.
Key Injuries
Sam Bradford (Knee) is questionable Monday (10/9) at Chicago
Derek Carr (Back) is doubtful Sunday (10/8) vs. Baltimore
Marcus Mariota (Hamstring) is questionable Sunday (10/8) at Miami
Michael Crabtree (Chest) is probable Sunday (10/8) at Baltimore
Ezekiel Elliott (Ribs) is probable Sunday (10/8) vs. Green Bay
Tyron Smith (Back) is probable Sunday (10/8) vs. Green Bay
Jason Pierre-Paul (Shoulder) is questionable Sunday (10/8) vs. Los Angeles Chargers
Check out our free injuries page for the complete list.
Weekly Roundup
The Steelers are Super Bowl Favorites
Does Derek Carr's Injury Back Raiders into a Corner?
Aaron Rodgers Retakes Sole Possession of Best MVP Odds
Watson on the Hunt for Offensive ROY
What to Expect from Mitchell Trubisky in His First NFL Start