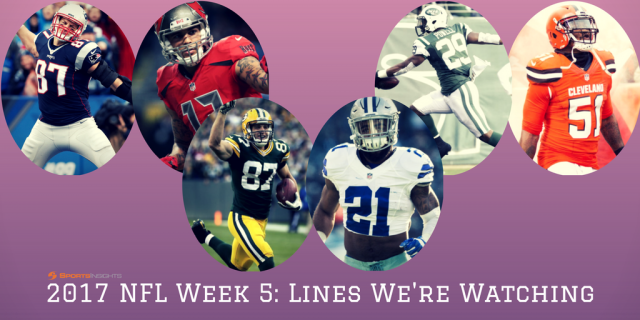 2017 NFL Week 5: Lines We're Watching
With our first scheduled bye weeks on tap, we'll have some smaller slates going forward. Still plenty of games to keep an eye on, though. Here are three that we'll be paying close attention to.
Jets at Cleveland
The New York Jets are getting 71% of spread bets.
Digest that for a moment.
I guess that can only mean one thing…they're playing the Browns! With a 2-2 record, the Jets may not be as bad as everyone originally thought. As for the Browns, well…they still suck.
This lined opened with Cleveland -1/1.5  around the market, but with bettors hammering the Jets, it has since moved to NYJ -1 at Bookmaker.

This line has the potential to flip back in Cleveland's favor again, but it may continue to move towards the Jets. This is a solid spot to go contrarian considering teams getting less than 30% of spread bets this season are 14-5 ATS. And let's face it…fading the Jets is never a bad option.
Bonus game
Patriots at Bucs
Packers at Cowboys
Packers. Cowboys. This is football, baby!
After losing to the Rams, bettors are afraid of taking Dallas. They're getting right around 1/3 of both spread and moneyline bets which had caused their line to move from -2.5 to -1.5 by last night. However, there was some buyback that took place just about an hour ago at CRIS (Bookmaker), one of the sharpest offshore books around.

That caused the line to move back to -2 (-114). The Cowboys were also covered in our ESPN Chalk system this week. The Packers are coming off a big win and covered their spread by over 13 points in the process. Historically, fading teams in the Packers situation this week has been a profitable endeavor. I believe that this line could float back up towards a field goal so if you are planning on taking Dallas, now would be a fine time to do so.
Check our free odds page to see the latest lines and data and follow us on Twitter @SportsInsights for all your sports gambling news.