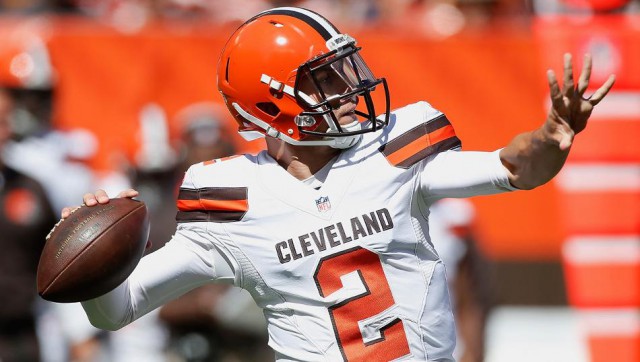 2015 NFL Season: Week 2 Betting Recap
Every Tuesday morning, the team at Sports Insights will examine some of the most interesting trends and results from the past week's NFL action. We'll also look at our betting systems, prop bets, bad beats and more before looking ahead to the following week.
– In Week 2, underdogs were 9-7 ATS, home teams were 9-7 ATS, and home underdogs were 3-1 ATS. On the season, underdogs are 16-16 ATS, home teams are 17-15 ATS and home underdogs are 7-6 ATS.
– Contrarian betting was exceptionally profitable last week, and much of that value comes from bettors overreacting to Week 1 results. Teams receiving less than 50% of spread bets were 11-5 ATS and teams receiving less than 30% of spread bets were 5-1 ATS. On the year, teams receiving less than 50% of spread bets are 17-13 ATS while teams receiving less than 30% of spread bets are 7-3 ATS.
– In Week 2, the over went 7-8 which dropped the season record to 16-15. Contrarian betting has also been profitable on the total this season. When receiving less than 33% of public bets, the under has gone 10-5 while the over has gone 1-0.
– Teams who made the playoffs last season were 8-4 ATS last week while teams who missed the playoffs were just 8-14 ATS.
– For the second straight week, bettors potentially took a bad beat in the Thursday night game. The Chiefs (closed -3) scored a touchdown with just 2:27 remaining in the 4th quarter to take a 24-17 lead. However, a TD pass from Peyton Manning to Emmanuel Sanders tied the score with just 36 seconds left. Only 9 second later, Jamaal Charles fumbled the ball and Bradley Roby returned it for a touchdown as the Broncos went on to win 31-24. This was also a heartbreaking loss for anybody who had the under (opened 44.5, closed 42).
– In the biggest upset of the week, the Tampa Bay Buccaneers (closed +10 on the spread, +365 on the moneyline) defeated the New Orleans Saints, 26-19. New Orleans was the largest Week 2 favorite, meaning this game likely ended many survival pools as well.
– Weekly Leaders: Tom Brady (466 passing yards), Adrian Peterson (134 rushing yards) and Antonio Brown (195 receiving yards).
– Season Leaders: Tom Brady (754 passing yards), Carlos Hyde (211 rushing yards) and Antonio Brown (328 receiving yards). Brady was +2500 to lead the league in passing, Hyde was +3500 to lead the league in rushing and Antonio Brown was the favorite to lead the league in receiving at +600.
– On Wednesday, we posted an article explaining why bettors were overreacting to Marcus Mariota's hot start. That belief was verified on Sunday when the Browns (closed -1) defeated the Titans by 14-points. This was all the more impressive when you consider that Johnny Manziel tallied just 172 passing yards and 1 rushing yard — far short of his oddsmaker projection.
ICYMI: In Sunday's game against the #Titans, the O/U for #Browns QB Johnny Manziel has been set at 199.5 passing yards & 40.5 rushing yards.

— Sports Insights (@SportsInsights) September 18, 2015
– Bettors may also be interested to know that Manziel entered the season with -330 odds of starting at least three games this season. – Before the season the Raiders (+500), Titans (+600), Jaguars (+800), Browns (+900), Buccaneers (+900) and Redskins (+1000) had the best odds of posting the worst record in football. Five of those teams won on Sunday.
Moneylines were Raiders +226, Jags +205, Browns -113, Bucs +354, Redskins +159. A $100 parlay paid out $21,938. https://t.co/KppgAakD2G — Sports Insights (@SportsInsights) September 21, 2015
– Last week's biggest storyline was the rash of injuries to starting quarterbacks. Cowboys QB Tony Romo (Clavicle) will miss 8-10 weeks and will be replaced by Brandon Weeden. Bears QB Jay Cutler (Hamstring) will miss 2-3 weeks and will be replaced by Jimmy Clausen. Saints QB Drew Brees (Shoulder) is questionable for Sunday's game in Carolina and could be replaced by backup Luke McCown. Lions QB Matthew Stafford (Ribs) is also listed as questionable and could be replaced by backup Dan Orlovsky.
– The Patriots and Bills combined to score 72 points on Sunday, which helped continue Tom Brady's successful track record on the over.
Since 2003, the over has gone 99-75 (+20 units) when Peyton Manning starts. That record is second only to Tom Brady (101-75, +20.7 units).

— Bet Labs Sports (@Bet_Labs) September 18, 2015
– On Monday night, the Colts lost to the Jets by a final score of 20-7. That drops Indy to 0-2 on the season, which is interesting because the Colts (-700) entered the year with the best odds of making the playoffs.
– In early Week 3 betting action, the Jets have already moved from a pick 'em to -2.5 against the Eagles despite evenly split public betting. (via Pinnacle)
– Our 2015 NFL Betting Against the Public system had its first system matches of the season and posted a 2-0 ATS record (Oakland +6 and Jacksonville +5). Overall, this system has gone 113-66 ATS (63.1%) with +40.09 units won and a 22.4% return on investment.
– Last week the five most commonly selected teams in the Super Content went undefeated. This week they were 3-2 ATS.
Last week, #SuperContest most selected teams went 5-0 ATS; this week's Top 5:
PIT -5.5
CIN -3
BAL -5.5
AZ -1.5
TEN -1http://t.co/oT2xvEud1w

— Dave Tuley (@ViewFromVegas) September 19, 2015
– Yesterday we posted a Week 3 opening line report which examines early line movement and the contrast with look ahead lines from back on April 25th. Right now four games (NO/CAR, IND/TEN, CHI/SEA and DEN/DET) are off the board.
– Updated Super Bowl Futures (via 5Dimes)
Green Bay Packers +425
New England Patriots +475
Seattle Seahawks +730
Denver Broncos +1400
Indianapolis Colts +1500
Arizona Cardinals +1650
Pittsburgh Steelers +2000
Cincinnati Bengals +2400
Atlanta Falcons +2600
Dallas Cowboys +2600
Kansas City Chiefs +3200
Philadelphia Eagles +3300
San Diego Chargers +3700
Buffalo Bills +4500
Carolina Panthers +4500
Miami Dolphins +4500
New York Jets +4500
Baltimore Ravens +6000
Minnesota Vikings +7000
New York Giants +8000
St Louis Rams +8000
Houston Texans +11500
San Francisco 49ers +12500
Detroit Lions +15000
New Orleans Saints +15000
Tennessee Titans +22500
Washington Redskins +25000
Cleveland Browns +30000
Tampa Bay Buccaneers +30000
Oakland Raiders +38500
Chicago Bears +52500
Jacksonville Jaguars +57500
Have any questions for the staff at Sports Insights? Utilize our live chat to speak with a customer service representative or e-mail us at help@sportsinsights.com.