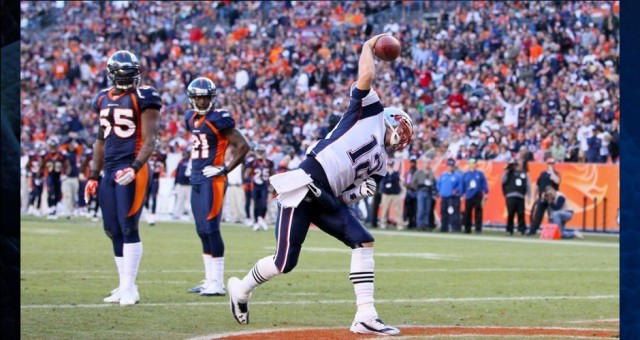 2015 NFL Betting: Week 12 Line Moves That Matter
Every week in this space we highlight the most interesting line moves at the market-setting offshore sportsbooks — typically CRIS, Pinnacle and 5Dimes which take the highest limits and therefore attract the sharpest bettors. By contrasting the opening and current lines with the public betting trends from our seven contributing offshore sportsbooks, we're able to explain what factors are influencing line movement.
In recent weeks we have started to compare our offshore trends with ticket count and total dollars wagered at William Hill — one of the most prominent Las Vegas sportsbooks. This gives us a more complete overview of the sports betting marketplace.
Although the only picks we fully endorse are our Best Bets, sharp money indicators like reverse line movement help offer insight into which teams are offering value and whether public perception is creating artificial line value.
Earlier this week we examined some of the top betting trends for Thursday's slate of Thanksgiving Day games, but there are a number of games on Sunday that are also offering value for contrarian bettors.
Tampa Bay Buccaneers at Indianapolis Colts (Sunday at 1:00 PM eastern)
This has been an extremely curious season for the Colts. Quarterback Andrew Luck, who opened the season as the favorite to win the MVP Award, has struggled with injuries all year. Even more peculiar? Indy has been a significantly better team with backup Matt Hasselbeck behind center. In three starts this season, the 17-year veteran has gone 3-0 straight up and 2-1 ATS. On the flip side, Luck has gone just 2-5 straight up and 3-4 ATS.
With Hasselbeck expected to make his fourth start of the season, the Colts opened as 2.5-point favorites at CRIS but they have received just 29% of spread bets at our contributing sportsbooks. Despite this limited public support, Indy has actually moved from -2.5 to -3. This reverse line movement indicates that early sharp money likes the home favorite.

These public betting trends and line movement are fascinating for countless reasons. For starters, there has only been one instance in which the Bucs received at least 70% of spread bets as an underdog — November 4, 2012 when they were a 1-point road 'dog against the Raiders.
This change in public perception is largely due to the recent performance of rookie quarterback Jameis Winston, who threw for 246 yards and 5 touchdowns in last week's blowout victory over the Eagles. In fact, this one outing caused oddsmakers to significantly alter their Rookie of the Year odds.
In the past week, Jameis Winston's odds of winning NFL Rookie of the Year have improved from 20/1 to 2/1. #Bucs

— Sports Insights (@SportsInsights) November 24, 2015
Public underdogs have been extremely rare, with more than half of all bettors taking the 'dog just 18.6% of the time. Although there hasn't been an edge in these games, we have found in other sports that it can be quite profitable to fade the trendy underdog.
Over at William Hill, the public betting trends are significantly different as the Colts are receiving a majority of public bets. According to Michael Grodsky, the Colts have received 62% of all tickets but a whopping 87% of total dollars wagered. This information also points towards sharp money on Indy.
This seems like an excellent opportunity to sell high on Tampa Bay after their blowout win and buy low on the Colts with an underrated backup quarterback.
Pittsburgh Steelers at Seattle Seahawks (Sunday at 4:25 PM eastern)
In the most interesting afternoon game, the Pittsburgh Steelers opened as 4-point road underdogs at CRIS but have received overwhelming public support with 67% of spread bets at our contributing books. That makes Pittsburgh the fourth public dog this week alongside Tampa Bay (+3), San Diego (+4) and Minnesota (+2).
This is particularly noteworthy because the 12th man has given Seattle the league's best home field advantage. Since 2003, the Seahawks have gone just 45-58 ATS (43.7%) in road games but 65-42 ATS (60.7%) in home games. While this would appear to point towards contrarian value on Seattle, there are some mitigating factors.
At William Hill, the Steelers are receiving 70% of tickets and 92% of total dollars wagered which implies that both sharps and squares are hammering the road 'dog. We have also found that home favorites tend to be overvalued following a double-digit win, and Seattle fits that criteria after beating San Francisco 29-13 last week.
New England Patriots at Denver Broncos (Sunday at 8:30 PM eastern)
In the Sunday night game, the Patriots opened as 3-point favorites against Brock Osweiler and the Broncos. In early betting New England has received overwhelming support with 68% of spread bets and 68% of moneyline bets, but the line remains unchanged at Pats -3.
Over at William Hill, 65% tickets have taken New England, but 61% of total dollars wagered are taking Denver. This would indicate that sharp bettors like the Broncos as a home underdog.
Bettors may be surprised to see that sharp action is taking the Broncos, especially considering that Peyton Manning will be out and that Tom Brady has gone 53-34 ATS (60.9%) as a visitor. That said, bettors tend to overreact to recent events and winning streaks which makes the undefeated Patriots an interesting fade opportunity.

While Denver could offer bettors contrarian value, the far more interesting line movement involves the total. Although most fans would have anticipated a high-scoring game before the start of the season, Sunday's total opened at 44.5 and 79% of bettors have taken the under. This public betting has caused the total to drop from 44.5 to 44 at CRIS, which could be creating potential value.
There also seems to be a belief that cold weather leads to low-scoring games, but our past research has disproved that theory. In fact, the over has gone 110-80 ATS (57.9%) when the temperature is below freezing. When the closing total is 46 or lower, that win rate improves to 61.7%.

We all know that meteorologists are about as accurate as Buffalo Bills field goal kickers in the Super Bowl, but they are expecting freezing temperatures for Sunday night's game. It's also worth noting that "44" is the second most important key number for over/unders, which is why bettors should be sure to shop for the best line before placing a wager.
---
Want our official Best Bet picks for NFL Week 12?
For a limited time, sign up for a Sportsbook Insider Pro trial and get 6-days instead of 4! You'll receive all of our picks for NFL, NCAAF, NBA, NCAAB and NHL. Schedule a one-on-one demo with our customer service manager and we'll tack four free days onto your subscription.
These numbers are subject to change before kickoff, so bettors should be sure to visit our free NFL odds page for the latest lines, injuries, public betting trends and more.
Have any questions for the staff at Sports Insights? Utilize our live chat to speak with a customer service representative or e-mail us at help@sportsinsights.com.
David Solar is the Content Manager for Sports Insights and can be reached directly at David@sportsinsights.com