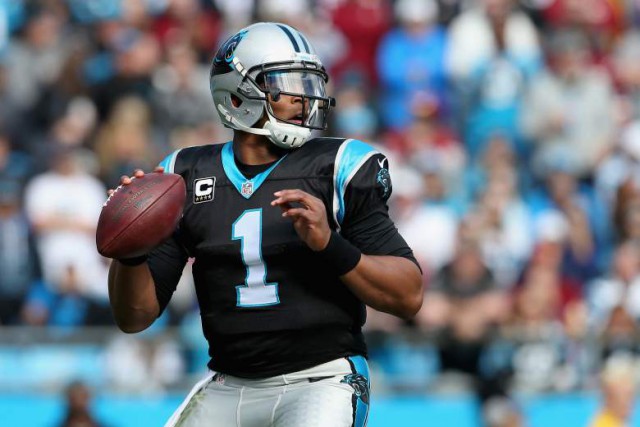 2015 NFL Season: Thanksgiving Day Trends
Much like eating too much, tolerating insufferable relatives, and mid-afternoon tryptophan-inspired naps, watching football has become ingrained as an essential part of Thanksgiving Day. We have all spent regrettable mornings in the frigid cold watching High School football, going home to warm up, and anxiously awaiting the first NFL game of the day.
Thursday's slate of action features three exciting games including:
12:30 PM eastern: 

Philadelphia Eagles at Detroit Lions (PK)
4:30 PM eastern: Dallas Cowboys at Carolina Panthers (PK)
8:30 PM eastern: Chicago Bears at Green Bay Packers (-9)
Regardless of whether you're enjoying Thanksgiving Day football with friends and family or using it as an escape from those very same people, we've got you covered with everything that you need to know about Thursday's games.
1) Favorites Have Been Vastly Underrated
Our past research has found that when two teams face each other on short rest, the favorite has been historically undervalued. According to our Bet Labs software, favorites are 62-48 ATS (56.4%) when there are only four days between games. This trend has continued on Thanksgiving Day, with favorites consistently covering the spread.
Since 2005, NFL favorites have gone 20-9 ATS (+10.49 units won) on Thanksgiving.

— Sports Insights (@SportsInsights) November 24, 2015
When we take this analysis one step farther, we find that favorites of at least 6-points have gone 12-2 ATS on Thanksgiving Day. Although this is admittedly a small sample size, it does seem to indicate that Green Bay (-9) could be offering value.
2) Quarterback Analysis
Thursday's games feature some of the biggest QB mismatches you will ever find. This season Aaron Rodgers (73-48 ATS, +22.46 units) surpassed Peyton Manning (112-86 ATS, +21.89 units) as the second most profitable quarterback in our database. This week will be facing off against Jay Cutler — the worst quarterback in our database. In his career Cutler has gone just 52-75 ATS (40.9%). In fact, $100/game bettors would have earned over $2,000 simply by betting against Cutler in all of his starts.
Rankings the QB's
Aaron Rodgers (73-48 ATS, +22.46 units)
Cam Newton (43-31 ATS, +11.10 units)
Mark Sanchez (37-39 ATS, -2.99 units)
Tony Romo (63-66 ATS, -5.56 units)
Matthew Stafford (35-51 ATS, -16.97 units) — second worst in our database
Jay Cutler (52-75 ATS, -25.93 units)
This factor seems to indicate that Green Bay (-9) is once again offering value.
3) Winning Teams
Historically we have found that it's profitable to buy on bad news and sell on good, but many of these trends have been flipped upside down on Thanksgiving. In our database, teams with a winning record have gone 21-13 ATS. When teams with a winning record face off against teams with a losing record, our system improves to 12-4 ATS.

4) Betting Against the Public
Betting against the public is one of the most crucial components to our contrarian strategy, but it hasn't been profitable in our limited Thanksgiving Day sample. Since 2003, teams receiving less than 50% of spread bets have gone 1,600-1,581 ATS, teams receiving less than 40% of spread bets have gone 1,029-1,017 ATS, teams receiving less than 30% of spread bets have gone 486-461 ATS and teams fitting out 80/20 betting rule have gone 105-54 ATS.
On Thanksgiving Day, teams receiving less than 50% of spread bets have gone 11-18 ATS, teams receiving less than 40% of spread bets have gone 5-12 ATS and teams receiving less than 30% of spread bets have gone 1-7 ATS. No team has ever received less than 21% of spread bets on Thanksgiving.
If you plan on betting these games, don't overreact to the small sample size for Thanksgiving Day games. This is a common mistake — especially among less experienced bettors. We frequently see bettors place more value in cherry-picked stats based on small sample sizes than consistently profitable sharp money indicators like reverse line movement.
5) Divisional Totals
Earlier analysis has revealed that divisional games tend to be low scoring, in large part due to the familiarity between teams. That edge is amplified late in the season when there is more game film and the teams have previously played each other.
The Bears and Packers are NFC North rivals, which makes this total particularly interesting. In early betting, the over/under has dropped from 48 to 46.5 across the sports betting marketplace despite evenly split public money. This information would seem to indicate that early sharp money likes the under in this matchup.
6) Buy on Bad News
We preach the importance of buying on bad news and one of the best ways to accomplish this is by taking teams after a loss. Since 2003, teams coming off a loss have gone 1,508-1,469 (50.7%) but that record improves dramatically when we look at larger deficits. Teams who lost their previous game by at least 20-points have gone 344-297 ATS (53.7%) which would points towards value on the Eagles after their 28-point loss against the Bucs.
7) Intriguing Line Movement
The Carolina Panthers are one of just two remaining undefeated teams while the Dallas Cowboys currently own a 3-7 record. Perhaps that explains why the sports world was shocked when Dallas opened as a 1-point favorite at the market-setting Pinnacle sportsbook. Needless to say, this was an extremely rare occurrence.
Since 03 there have been 46 undefeated teams to open as dogs vs teams with a losing record — none later than Week 6 pic.twitter.com/8YUUKghrLP

— Sports Insights (@SportsInsights) November 24, 2015
In early betting, the Panthers have received 79% of spread bets which has moved their line from +1.5 to -1 at Pinnacle. What's particularly interesting is that there have been no sharp money indicators triggered on Carolina, which means that public money is solely responsible for this line move.
There is a famous saying which can frequently be applied to sports betting: "If something seems too good to be true, it probably is." The truth is that the Cowboys are better than their record and the Panthers have been one of the most overachieving teams this season. Dallas may have 7-losses this season, but they're undefeated with Tony Romo behind center.
Jason Garrett has gone 23-13 ATS in his career as an underdog, and historically there has been tons of value taking lines that have been artificially inflated by public betting. It's still early in the week, but this game is poised to be the ultimate "Pros vs. Joes" with sharps taking Dallas and squares taking Carolina.

---
This weekend only we're extending our Sportsbook Insider Pro trial from 4 to 6 days, so sign up today and receive two additional days of real-time odds from 50+ sportsbooks, public betting trends, Best Bet picks, Bet Signals and more. 
These numbers are subject to change before kickoff, so bettors should be sure to visit our free NFL odds page for the latest lines, injuries, public betting trends and more.
Have any questions for the staff at Sports Insights? Utilize our live chat to speak with a customer service representative or e-mail us at help@sportsinsights.com.
David Solar is the Content Manager for Sports Insights and can be reached directly at David@sportsinsights.com