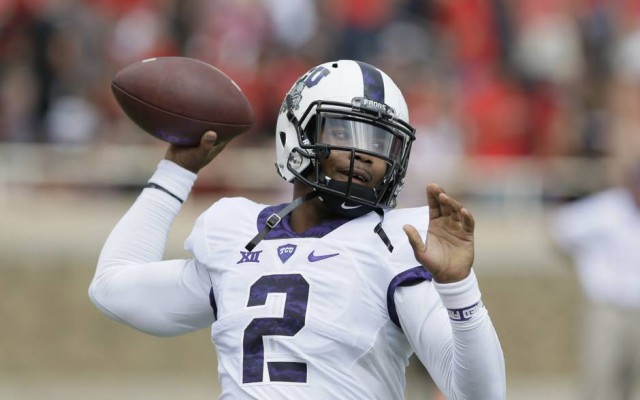 2015 College Football: Week 5 Line Moves That Matter
Last week in this space, we highlighted sharp money on Duke (+9), San Diego State (+15) and Texas (+4). Although San Diego State lost by 16-points and barely missed covering the spread, Texas lost by just 3-points to cover their spread and Duke surprised many people by defeating Georgia Tech 34-20.
We also pointed out the rising Heisman prospects of LSU running back Leonard Fournette. Just two weeks ago, Fournette rushed for 228 yards and 3 touchdowns in a win over Auburn to move from +1300 to +500. After rushing for 244 yards and 2 touchdowns in a win over Syracuse, Fournette saw his odds skyrocket once again.
Will #LSU running back Leonard Fournette win the Heisman Trophy? (via 5Dimes)

Yes +125
No -165
Implied Probability 40.82%

— Sports Insights (@SportsInsights) September 30, 2015
It's still very early in the season, but it would appear that bettors are greatly overreacting to Fournette's hot start. Georgia's Nick Chubb has put up comparable numbers, but is still available at +900. TCU's Trevone Boykin has 1,660 total yards and 16 touchdowns already, but is still available at +1000. Ohio State's Ezekiel Elliott, views as the front runner before the season, is still available at +1300. In other words, there is likely value on "the field" at -165.
These players have all posted big numbers this season for high-powered offenses, and those high-scoring games have been an interesting storyline this year. Through the first four weeks, the over has gone 148-134 (52.5%) and oddsmakers can't seem to set the over/under high enough for the nation's top offenses.
Books can't make the highest NCAAF totals high enough this year. Overs are now 17-4 when O/U closes 70+, and four more games this week.

— Sports Insights (@SportsInsights) September 28, 2015
As we look forward to this week's slate of games, there are three interesting line moves that we can use to help identify potential value.
Texas Tech vs. Baylor (Saturday at 3:30 PM eastern)
In the introduction we mentioned that oddsmakers haven't been able to set the total high enough this season, and perhaps no game corroborates that statement better than Saturday's Texas Tech/Baylor game.
The Bears feature the nation's top scoring offense (64.0 ppg) while the Red Raiders offense (53.0 ppg) ranks third in scoring. With two potent offenses squaring off, the total opened at 88.5 yet 76% of bettors have taken the over. This one-sided public betting has moved the total to 89, which would be the highest closing total in our database.
What's interesting is that the highest total recorded prior to Saturday also involved Baylor. Back on December 1, 2012, Baylor defeated Oklahoma State 41-34 in a game where the total closed at 88.
We did track a reverse line movement alert from Pinnacle on "Under 88.5", and that move has gone 26-16 ATS (+6.4 units) on the season. Our research also shows that when at least 70% of public bettors take the over in a games with a total of 75+, the under has gone 17-11.
Although it has been profitable to take the over in high-scoring games this season, this does not line up with historical trends that we have identified over the past decade. If you're going to take a side, all indications are that sharp money likes the under in this matchup.
Boston College at Duke (Saturday at 3:30 PM eastern)
Last Saturday, Duke defeated Georgia Tech in one of the week's largest upsets. On the flip side, Boston College managed just 17-points in a 3-point win over a MAC opponent (Northern Illinois). Two weeks ago the Eagles also lost their starting quarterback, Darius Wade, to a season-ending ankle injury. Last week they lost their starting running back, Jon Hilliman, to a season-ending foot injury. Could this be the opportunity to buy low on BC and sell high on Duke?
The Blue Devils opened as 7-point home favorites at the market-setting Pinnacle sportsbook and have received 71% of early spread bets. Despite this overwhelming public support, Duke has actually dropped from -7 to -6.5. This reverse line movement indicates that sharp money likes BC this weekend.

This reverse line movement isn't the only reason bettors should be optimistic about the Eagles on Saturday. BC fits the criteria for both our 2014 and 2015 College Football Betting Against the Public reports. With the over/under currently sitting at 36.5, they also fit our system regarding good rushing teams in low-scoring games.
The Eagles may not heave a wealth of offensive skill players, but they feature a fantastic offensive line and a stout defense. In a low-scoring game, Boston College should be able to run the ball effective and limit the number of Duke possessions. Although BC is currently +6.5 at Pinnacle, a number of prominent books are still offering BC +7 which further exemplifies the importance of shopping for the best line.
Mississippi at Florida (Saturday at 7:00 PM eastern)
In one of Saturday's most bet games, Mississippi opened as 6.5-point favorites and have received 74% of spread bets. With a majority of public bettors backing them, the Rebels moved from -6.5 to -7.5. This would indicate that public money is responsible for this 1-point line move across the key number of 7.
Although we would typically recommend taking a contrarian approach and taking the free point created by public money, there are a few potential mitigating factors. Since 2003, the favorite has gone 243-203 ATS (54.5%) when two ranked teams face off. In the latest AP Top 25, Ole Miss is ranked #3 while Florida is ranked #25.
Bettors may also be interested to know that there has only been one game in our database in which Florida receiving such limited public support at home — an October 1, 2011 matchup against Alabama in which they received just 22% of spread bets.
The screenshot below shows the current public betting breakdown at six of our seven contributing sportsbooks:

These numbers are subject to change before kickoff, so bettors should be sure to visit our free College Football odds page for the latest lines, injuries, public betting trends and more.
Looking for picks? We have 10 pending College Football Best Bets which bettors can access by signing up for a 4-day Pro trial. Interested in adding more time to your subscription? Schedule a one-on-one demo with our customer service manager and receive an additional four days for free!
Have any questions for the staff at Sports Insights? Utilize or live chat to speak with a customer service representative or e-mail us at help@sportsinsights.com.