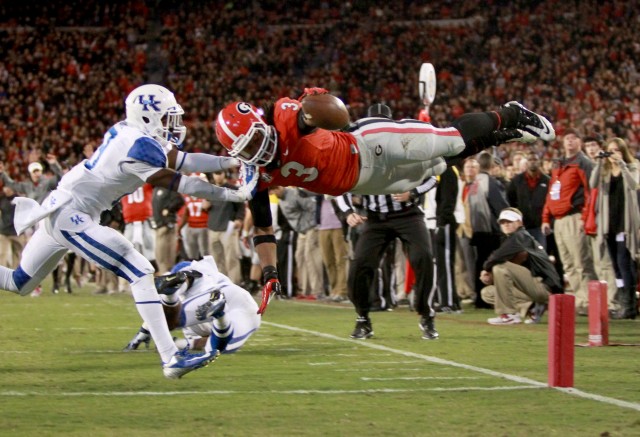 Are Good Rushing Teams Undervalued in Low Scoring College Football Games?
For a long time I've theorized that underdogs with an effective ground game are typically undervalued — especially in low scoring games. The logic behind this hypothesis was simple enough: If teams are able to rush the football effectively then they are able to continually move the chains, eat clock, and stay within striking distance of their opponent.
The nation's top ranked rushing attacks are adept at keeping opposing offenses off the field and limiting the number of plays run in a given game. This typically leads to less scoring, which disproportionately benefits the underdog.
For years we had no way of testing this theory, however, over the off-season we added a number of new filters to our Bet Labs software including a number of statistical filters. Using this brand-new data we were able to finally test this philosophy.
Our first step was to narrow our focus to look at visiting teams as road teams have been historically undervalued with a 50.6% winning percentage since 2005. Next, we used our recently acquired statistical data to examine teams who average at least 125 rushing yards per game. Simply using these two filters led to a 2,072-1,947 ATS record (51.6%) with 29.37 units won and a 0.7% return on investment (ROI).
Although these results were very encouraging, we still wanted to know whether this system was particularly strong when focusing on underdogs in low-scoring games. To accomplish this we utilized the "closing total range" filter to examine games with an Over/Under of 47 or less. This led to a massive improvement to our system with a 499-408 ATS record with +68.61 units won and a 7.6% ROI.
Finally we wanted to narrow our focus to look at all underdogs, however, my belief that this system would be effective in pick 'ems as well. For this reason, we opted to use the "spread range" filter as opposed to the "favorite/dog" filter. As you can see from the screenshot below, by increasing our units won while cutting down on the number of past results we were able to nearly double the system's ROI.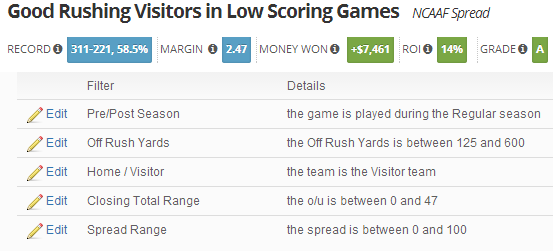 Bettors can also utilize the "rank" filter, and if the visiting team is unranked the system produces a 265-179 record with +72.95 units earned and a slightly higher 16.4% ROI. Bettors may be interested to know that if you focus on road underdogs with an over/under of 44 or less the return on investment jumps to 19.2%, however, the number of past matches is more than cut in half resulting in a profit of just 49.16 units.
Bet Labs customers can copy this system and receive all current game matches from our new and improved Think Tank by clicking here.
Interested in creating your own winning betting system for the upcoming College Football season? Try a 6-day unlimited Bet Labs trial for just $50 and make sure to view all of our latest Bet Labs Guides and Tutorials. Have any questions for the staff at Sports Insights? Make sure to leave your thoughts and opinions in the comment section below.
9/30/14 Update: This system has gone 2-2 ATS in 2014 and is now 267-181 with +72.8 units won and a 16% ROI.