2015 College Football Betting Against the Public Report
Prior to the start of each season, the team at Sports Insights publishes a series of Betting Against the Public reports. Our philosophy is basic yet lucrative — whichever team the public is loading up on, simply bet the other side. This strategy has been profitable historically, but there are a number of factors that can help optimize returns.
[ Save 40% off our Pro subscription by purchasing the Early Bird Special ]
Over the past decade, it has become far easier for casual sports bettors to access information which means merely betting against the public isn't as profitable as it once was. This is especially true in College Football, where the number of bets varies tremendously from game to game. When the public pounds one team, the line is typically artificially inflated for their opponent. If the line moves against those public betting percentages, it's known as reverse line movement which is an excellent indicator of sharp money.
A hypothetical matchup between Florida State and Ohio State will receive substantially more bets than a conference game between two mid-majors, which amplifies the impact of contrarian betting. In order for betting against the public to be an effective strategy, oddsmakers need to take enough action on one side to warrant a line move.
Since 2005, teams receiving less than 40% of public bets have gone just 2,472-2,563 ATS (49.1%) with -215.01 units lost and a -4.3% return on investment (ROI). If we spotlight games featuring major conference teams (which receive a much higher number of bets), our system improves to 1,050-1,049 ATS (-51.07 units). Although this strategy still loses money due to the juice/vig charged by sportsbooks, it highlights the importance of focusing on highly bet games when fading the public.
Our past research has revealed a number of profitable filters and trends for College Football bettors. We've discussed at length how square bettors typically overvalue ranked teams, how bettors can diagnose sharp money indicators like reverse line movement, and how good rushing teams are typically undervalued in low-scoring games. Using that data along with our Bet Labs software, we aimed to pinpoint the sweet spot for College Football Betting Against the Public.
Historically underdogs have been undervalued in major conference contests and that value increases exponentially in games with low totals. This is because the less scoring there is; the more significant each point on the spread becomes and that disproportionately benefits the team getting points. By adding these two basic filters, we're able to push our system from the red to the black.

By focusing on underdogs in games with low totals (defined as any game where the over/under closes at 48 or less), our system moves from -51.07 units to +37.17 units — a swing of +88.24 units. Knowing that bettors massively overvalue home field advantage, our next step was to narrow our focus to visitors. In fact, the home/road splits were even more dramatic than we antipated.

After filtering out all home teams and neutral site games and focusing solely on visitors, our profits increased by +23.02 units. Since the sample size decreased by 315 games, our return on investment more than tripled from 6.2% to 20.8%.
The last criteria we wanted to encompass was reverse line movement. This is one of the easiest sharp money indicators to diagnose, since it only requires the opening spread, closing spread, and public betting trends.
As an example, let's pretend that Alabama (-7) is receiving 80% of public bets against Auburn. Based on this information, you would expect that sportsbooks would move Alabama to -7.5 to encourage more action on Auburn as they attempt to mitigate their risk. However, if the line drops to Alabama -6.5 it is a surefire sign that smart money, or large wagers made by individuals or betting syndicates, has come in on Auburn, causing reverse line movement.
This addition to our system causes the units won to drop from +60.19 to +44.14, however, it also caused the ROI to leap from 20.8% to 29.2%.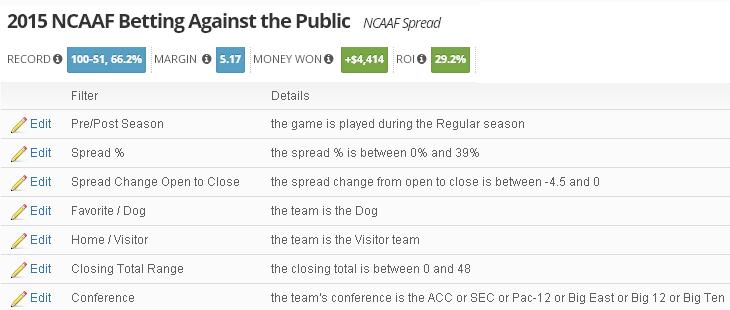 This system has the large sample size, strong driving hypothesis and consistent year-to-year results that we look for in a winning betting system. It's also worth nothing that our system has been particularly profitable in recent years with a 64-21 ATS record (+39.91 units, 46.9% ROI) since the start of the 2008 season. Unfortunately, it only averages about 15 plays per season.
Those looking for additional picks should know that our College Football Best Bets posted a 66-54 ATS record last season (+5.9 units won) and a 53-38 ATS record (+10.97 units won) during the 2013-14 season. Bettors can access these picks along with Bet Signals, real-time odds, public betting trends, value meter, line watcher, email alerts and more by purchasing our Pro subscription.
Bettors can view the latest College Football odds, scores, injuries, public betting trends and more by visiting our free NCAAF odds page. 
Interested in our College Football and NFL Bet Bet picks for this weekend's games? Get them instantly with a 4-day trial of our Sportsbook Insider Pro Membership.
Have any questions for the staff at Sports Insights? Utilize our live chat to speak with a customer service representative or e-mail us at help@sportsinsights.com.
David Solar is the Content Manager for Sports Insights and can be reached directly at David@sportsinsights.com.