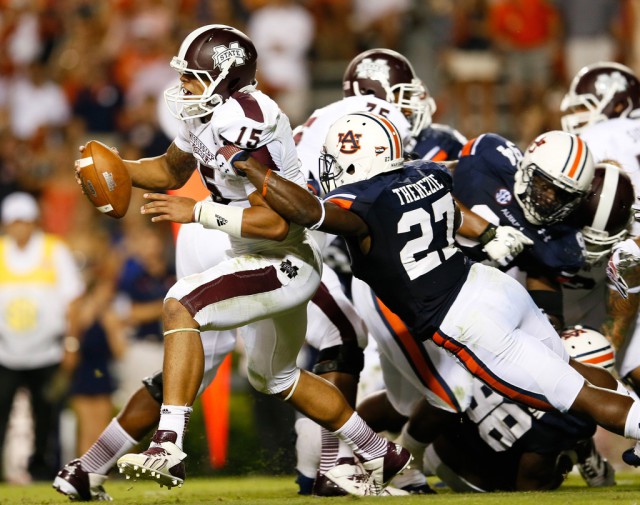 2015 College Football: Week 4 Line Moves That Matter
As we enter the fourth week of College Football action, the nation's top teams are finally getting into the heart of their schedule having typically played against cupcakes in their first few games. That said, many small conference schools fared well last week.
As mentioned in our Week 3 recap, road teams were 38-29 ATS while underdogs were 37-29 ATS. We also saw major upsets including Furman (+1400) over Central Florida and Southern Alabama (+702) over San Diego State. The MAC was the best conference to bet last week, with teams posting a 10-2 ATS record.
We also saw major changes in the Heisman odds, with LSU running back Leonard Fournette rushing for 228 yards and 3 touchdowns in a win over Auburn. This impressive performance caused Fournette to shoot up from +1300 to +500 to become the new front runner.
#LSU RB Leonard Fournette (+500) has jumped Elliott, Boykin, Chubb, Kessler, Jones and Russell to become the new Heisman favorite at 5Dimes

— Sports Insights (@SportsInsights) September 22, 2015
As we look forward to this week's slate of games, there are four interesting line moves including three major conference showdowns.
Georgia Tech at Duke (Saturday at 12:00 PM eastern)
In this ACC showdown, Georgia Tech opened as a 9-point road favorite and have received 75% of spread bets. Despite this lopsided public betting, Georgia Tech has actually dropped from -9 to -8.5 at Pinnacle. This reverse line movement indicates that sharp money has been favoring Duke +9.
The screenshot below displays how the line and public betting trends have moved since opening on Sunday morning.
Before the start of the season, we explained how bettors tend to overvalue ranked teams and detailed a system that had posted a 353-271 ATS record with +64.06 units won. Since Georgia Tech is receiving overwhelming public support and are ranked 20th in the most recent AP poll, Duke could be offering value to bettors this weekend.
San Diego State at Penn State (Saturday at 3:30 PM eastern)
Penn State opened as a 13.5-point favorite for Saturday's game against San Diego State, and the Nittany Lions have received 76% of spread bets. This one-sided public betting has moved the line from PSU -13.5 to -15 at Pinnacle.
It's hardly difficult to understand why bettors are flocking towards Penn State in this matchup. The Aztecs have lost their past two games including a shocking overtime loss to South Alabama. However, this may be the perfect time to buy low on SDSU.
We always encourage that bettors buy on bad news, and this game exemplifies why we hold that philosophy. Public perception has moved the line 1.5-points across the key number of 14. Additionally, the over/under for this game is extremely low (39.5) which disproportionately benefits the underdog — especially a double-digit dog like San Diego State.
Finally, we have previously discussed a betting system that focuses on good rushing teams in low-scoring games. On the season, SDSU is averaging 149.7 rushing yards per game which makes them a current system match.
We would like to stress that the only picks that we endorse are our Best Bet picks, but between the contrarian value and betting system matches we would definitely lean towards the road underdog in this matchup.
Oklahoma State at Texas (Saturday at 3:30 PM eastern)
Texas lost in one of the most heartbreaking fashions last week as their kicker missed an extra point with 1:11 remaining and the Longhorns lost to Cal 45-44. This week they opened as a 4-point home underdog and have received just 33% of spread bets. Even with a majority of public bettors taking Oklahoma State, Texas dropped from +4 to +3 at Pinnacle. Once again, this reverse line movement indicates that sharp bettors have been pounding Texas.
It's interesting to note that this will be just the 10th time in the past decade in which Texas has been an underdog at home. The Longhorns are typically one of the most popular teams for bettors, so it's shocking to see that so few wagers have been placed on Texas — especially since they're getting points at home.
Perhaps bettors are once again overvaluing the Cowboys, who are ranked 24th in the most recent AP poll. This means that Texas fits the aforementioned betting system which looks to fade ranked teams receiving overwhelming public support.
Mississippi State at Auburn (Saturday at 7:00 PM eastern)
In one of the most highly anticipated games of the weekend, Mississippi State will face off against Auburn. In recent weeks, Auburn's stock has been plummeting following a near loss to Jacksonville State (who opened as a 675:1 underdog on the moneyline) and last week's 24-point loss against LSU. The Tigers, who opened the season ranked 6th in the AP Poll, have dropped from the rankings entirely.
Despite this string of poor performances, Auburn opened as 3-point favorites at Pinnacle but have received just 31% of spread bets. This public betting has moved Auburn from -3 to -2. It's interesting to note that, at the time of publication, there have been no bet signals triggered on this game. That indicates that public perception is purely responsible for this one-point line move.
One storyline to monitor is the Auburn quarterback situation. Redshirt freshman Sean White, who was ranked as the nation's 2nd best pocket passer coming out of high school, will be replacing Jeremy Johnson behind center. In three games this season, Johnson has thrown six interceptions, taken five sacks and posted a QBR of just 45.7.
The screenshot below shows the public betting breakdown at six of our seven contributing sportsbooks:

These numbers are subject to change before kickoff, so bettors should be sure to visit our free College Football odds page for the latest lines, injuries, public betting trends and more. Looking for picks? We have 11 pending Best Bets which bettors can access by signing up for a 4-day Pro trial. Interested in adding more time to your subscription? Schedule a one-on-one demo with our customer service manager and receive an additional four days for free!
Have any questions for the staff at Sports Insights? Utilize or live chat to speak with a customer service representative or e-mail us at help@sportsinsights.com.
David Solar is the Content Manager for Sports Insights and can be reached directly at David@sportsinsights.com.