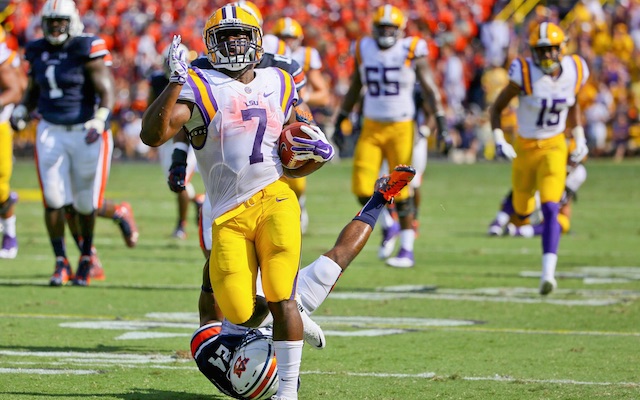 2015 College Football: Week 3 Betting Recap
Week 3 of the 2015 season saw both Alabama and USC fall at home to Ole Miss and Stanford respecitively, leaving conference titles and playoff chances wide open for a number of other teams.
Biggest NCAAF moneyline upsets:
Furman +1400 at UCF
So Ala +702 at SDSU
Stanford +305 at USC
TTU +298 at Ark
Road teams were more successful ATS this week, going 38-29 ATS. Underdogs were also a successful 37-29 ATS.
The MAC went an impressive 10-2 ATS this past week. The worst conference ATS this week was the Big Ten, going 5-9 ATS and nearly losing double-digit spreads outright with Minnesota and Ohio State.
The lowest Over/Under of the week was Mizzou-UConn 41 points. This game did not disappoint for under bettors, as it finished just 9-6, going under the total by 26 points.
There were four Over/Unders listed at 70 or above this past week. All four games went Over the total by an average of 10 points per game.
It was a great week for Overs in general, going 41-26 on the closing total.
Stanford has been a 7+ point underdog seven times since 2009 and have won five of them outright, including Saturday's win over USC as a +305 moneyline dog.
To find your own trends for free, check out the in-depth database over at BetLabsSports.com.
Bad Beats/Crazy Endings:
Central Michigan-Syracuse (total closed at 47.5): Syracuse held a 24-17 lead towards the end, just under the closing total of 47.5. CMU was able to score a TD on a rollout pass with 7 seconds left to force overtime, sending the game over the closing total.
California-Texas (Texas closed +5.5): Texas scored 20 unanswered points in the 4th quarter but missed the game-tying extra point to lose 45-44. However, bettors on Texas +5.5 were absolutely fine with the missed PAT as it avoided overtime and sealed the improbable backdoor cover for the Longhorns.
Nebraska-Miami Florida (Nebraska closed +3): Nebraska was able to put up 23 straight points in the 4th quarter to force overtime, but unfortunately for Cornhusker bettors the miracle ended when they lost by 3, pushing the closing spread.
Temple-UMass (UMass closed +374 on moneyline): UMass scored a TD to take the lead with less than a minute remaining, but had the extra point blocked and returned for 2 points. Temple then kicked a field goal with 12 seconds remaining to win the game by 2.
Heisman Trophy Watch:
LSU RB Leonard Fournette: LSU demolished Auburn at home with the help of Fournette, who now has 387 yards and 6 TDs this year.
UGA RB Nick Chubb: Chubb is likely behind only Fournette in the Heisman race right now after racking up 159 yards and 2 TDs vs. South Carolina.
UCLA RB Paul Perkins: Perkins gained 219 yards against a solid BYU team and continues to steadily perform out west.
UGA QB Greyson Lambert: He'll still be a longshot but he set an NCAAF completion percentage record, hitting 24 of 25 passes in the romp over South Carolina.
Vine of the Week:
Michigan State's Aaron Burbridge with a sensational catch vs. Air Force
#MichiganState WR Aaron Burbridge with an early catch of the year nominee https://t.co/Cer8WBDJva

— Sports Insights (@SportsInsights) September 19, 2015
Major Injuries:
Boston College QB Darius Wade is out for the season with a broken ankle.
Notre Dame S Drue Tranquill is out for the season with a knee injury. It's already the 6th ND starter lost for the year.
There are a number of starting QBs and linemovers who are questionable for this week, so check out all the latest updates from our brand new Injuries page in the link above.