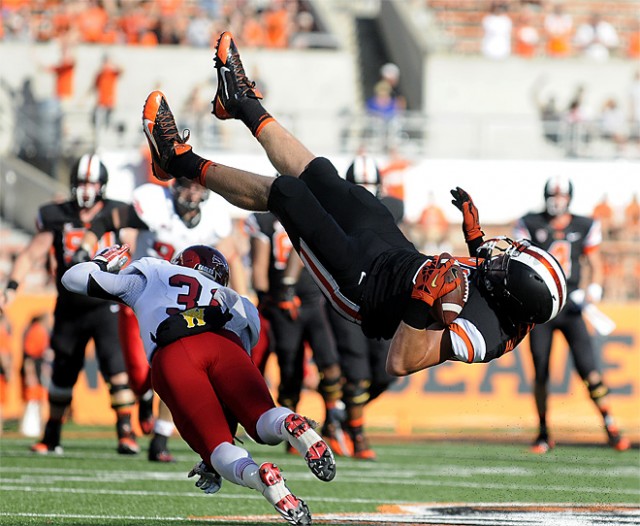 How do Sharp NCAA Football Bettors Take Advantage of Top 25 Rankings?
For years, I have been of the belief that ranking systems are exceptionally flawed across all the major college sports. Fans and media alike will consistently tout the talent of a team based on their standings in the national rankings, but what do these rankings really tell us?
[ Save 40% off our Pro subscription by purchasing the Early Bird Special ]
In College Football, the rankings for the Associated Press (AP) Top 25 are formulated by surveying 65 sportswriters and broadcasters across the country. Most fans believe that based on the knowledge and insight of these media members, the ranking systems must be accurate. I am not one of those individuals. I am of the belief that these writers are focused on a specific team or conference and can't possibly watch every other team across the nation.
More specifically, I believe that these coaches could be familiar with the top schools in the country, but that the tail end of the top 25 is highly inaccurate and fans tend to overrate these teams when they see any type of ranking next to a school. In fact, we know these rankings are highly flawed because we consistently see unranked schools favored against ranked schools.
With this belief as the driving force, I decided to consult with our Bet Labs software to determine whether or not ranked teams were actually being overrated by bettors and, moreover, whether there was historical value to betting against ranked teams. In order to do this, I located the "opponent rank" filter, located under the matchup info tab within Bet Labs.
Immediately, I saw that simply betting against any ranked team had produced a 1495-1465 ATS (against the spread) record since the start of the 2005 season. While this record shows a slight bias, this system did not win frequently enough to cover the juice. However, my original belief was that it was borderline teams that would offer real value, so I set the "opponent rank" filter to examine only teams ranked in the back end of the top 25 (specifically between 15 and 25). These results were much more promising as this system produced a record of 672-617 — good for +22.73 units won and a 1.8% return on investment (ROI).
Simply betting against every single borderline top 25 team had been revealed to be slightly profitable, but I still had a number of theories to test. Betting against the public has been one of the cornerstones of our company philosophy and I believed that going against very public teams would yield an even higher return. Networks like ESPN will usually focus solely on top 25 teams, and this exposure can oftentimes lead bettors into believing the hype as opposed to rationally dissecting the matchup. This is where shrewd sports bettors can jump in and take advantage of an artificially inflated line.
To check this hypothesis, I went back to my Bet Labs system and added the "spread percentage" filter to look only at teams receiving between 0 and 35% of public bets. These results confirmed my beliefs as this system has accumulated a 329-259 record while the units earned (+53.69) and ROI (9.1%) both rose considerably.
The screenshot below shows the results graph for this system within Bet Labs.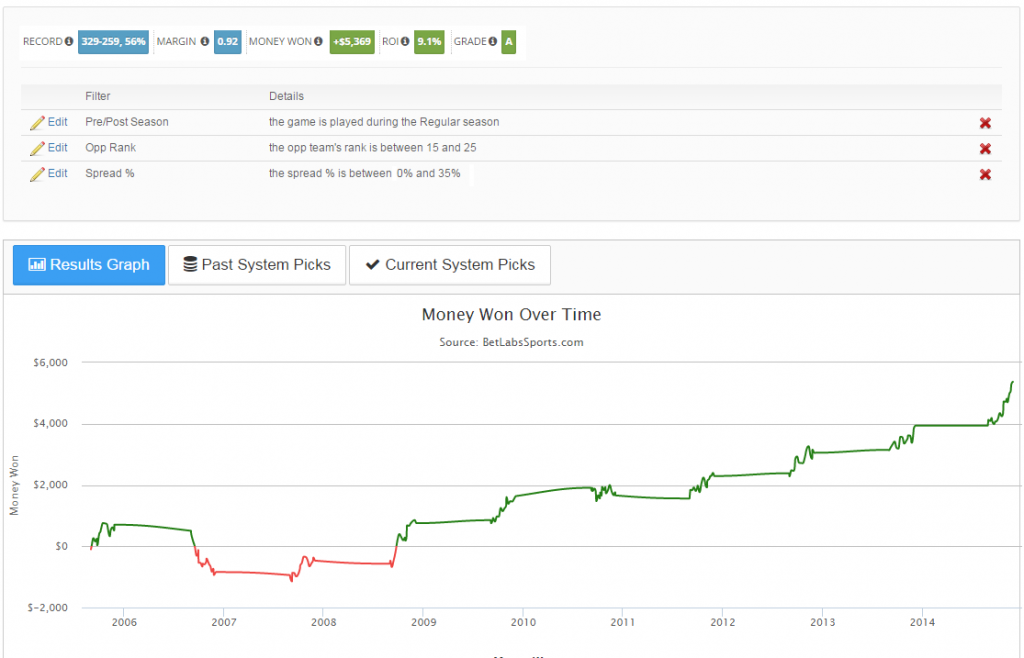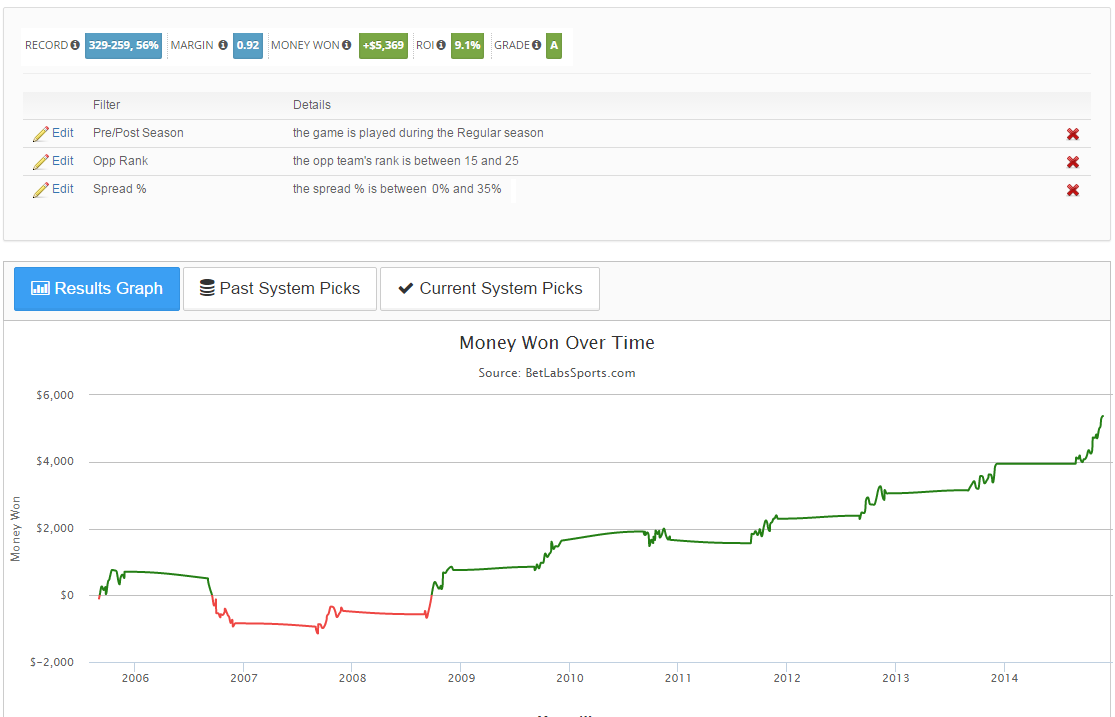 We do not recommend betting against every single ranked team, but knowing that these rankings can artificially inflate the line based on public perception can help add value for sharp bettors. We'd also encourage bettors to follow this system during Bowl Season since this strategy has actually posted a higher ROI during the postseason.

Based on this research, four Week 1 teams are being overvalued based on their current standings in the Associated Press (AP) Top 25 poll. Bet Labs users can receive all current game matches by copying this system from our Bet Labs Think Tank. Bettors can also view the latest College Football odds, scores, injuries, public betting trends and more by visiting our free NCAAF odds page.
Have any questions for the staff at Sports Insights? Utilize our live chat to speak with a customer service representative or e-mail us at help@sportsinsights.com.
David Solar is the Content Manager for Sports Insights and can be reached directly at David@sportsinsights.com.