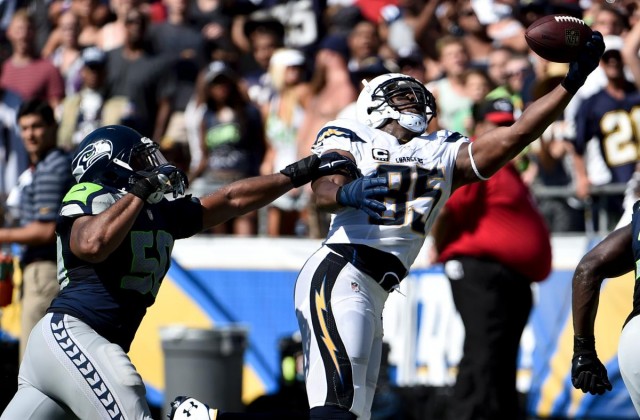 NFL Week 2 Betting Recap
– Last week the Vikings moved from +3 to +6 at 5Dimes following news of Adrian Peterson's deactivation. It was also interesting to see sharp sportsbooks (i.e. Pinnacle) post New England -5 while square sportsbooks (i.e. Sportsbook.com) posted -7.
– Last weekend's most popular NFL parlay bets:
Denver Broncos 86%
New Orleans Saints 84%
Green Bay Packers 83%
– Last weekend's most lopsided bet games on the spread:
New Orleans Saints (-4.5 at CLE) 83%
New England Patriots (-3.5 at MIN) 82%
Green Bay Packers (-7 vs. NYJ) 75%
– Via Bet Labs: Teams that won by 10+ on Monday Night Football have gone 58-36 ATS in their next game. #Lions
– There were a number of notable injuries this week highlighted by Robert Griffin's dislocated ankle, which is expected to cost the dynamic quarterback half of his season. Other notable injuries include:
Chiefs RB Jamaal Charles, Ankle, Doubtful
Chargers RB Ryan Mathews, Knee, Expected to miss 4-5 weeks
Vikings RB Adrian Peterson, Legal, Probable
Buccaneers RB Doug Martin, Knee, Questionable
Broncos WR Wes Welker, Disciplinary, Probable
49ers TE Vernon Davis, Ankle, Questionable
Redskins WR DeSean Jackson, Shoulder, Questionable
Bengals WR A.J. Green, Toe, Questionable
Cardinals QB Carson Palmer, Shoulder, Questionable
Browns TE Jordan Cameron, Shoulder, Questionable
Panthers DE Greg Hardy, Disciplinary, Questionable
– For the latest player news and updates make sure to view our free NFL injuries page.
– Before kick-off every Sunday, former Caesars oddsmaker Todd Fuhrman lists the most popular sharp bets (Pros) and square bets (Joes):
PROS: Lions, Cowboys, Giants (pre injury), Vikings, Bengals, Chargers, Jets, Chiefs JOES: Patriots, Saints, Seahawks, Pack, Broncos, 49ers — Todd Fuhrman (@ToddFuhrman) September 14, 2014
– Last weekend the five most popular SuperContest picks went 3-2 ATS:
Top 5 Consensus SuperContest Picks for Week 2: New England (-3), San Diego (+6), Buffalo (+1), San Fran (-6.5) and Detroit (+3). — WagerMinds (@WagerMinds) September 13, 2014
– Many experts have already called 2014 the "Year of the Dog" in the NFL, and so far that looks like an accurate prediction. Underdogs went 11-5 ATS in Week 1 and 8-7 ATS in Week 2. Overall dogs have gone 19-12 (+5.94 units) during the 2014 NFL season.
– In Week 2 the under went 9-7 bringing the season record to 18-14 (+3.35 units won). – Want more proof that the NFL rules all? Just look at the popularity of football versus baseball:
There are more bets on tonight's Monday Night Football game than all 12 MLB games combined. — SportsInsights.com (@SportsInsights) September 15, 2014
– Want to pick a winner this season? Look no further than the turnover battle? (Update: The Eagles won the turnover battle on Monday night pushing this simple system to 25-3 ATS this season.)
NFL teams that have won the turnover battle are 24-3 ATS this season including 12-0 ATS in Week 2. — SportsInsights.com (@SportsInsights) September 15, 2014
– The Saints are off to a rough start (0-2), but oddsmakers still consider New Orleans one of the top Super Bowl contenders:
The #Saints may be 0-2, but they still have the 5th best odds to win the Super Bowl at +1100. DEN +450 SEA +500 NE +950 SF +1000 — SportsInsights.com (@SportsInsights) September 15, 2014
– Yesterday we posted an article highlighting the biggest movers in the NFL Futures market at BetOnline. – Before the season started we highlighted a betting system entitled, "Buying Low on Playoff Teams." This weekend the Chargers (+4.5) upset the Super Bowl champion Seahawks 30-21, pushing the system to 1-0 ATS on the season and 62-31 overall.
– On Monday morning we tweeted out the following stat: (Note: In the Monday night game the Eagles +3 received just 37% of spread bets but defeated the Colts 30-27 making this system 16-6 ATS this season)
NFL teams receiving 40% or less of bets are now 15-6 against the spread this season. — SportsInsights.com (@SportsInsights) September 15, 2014
– We've listed some of key early line moves below, but for the latest odds, public betting trends, injuries and more, don't forget to check out our free NFL odds page.
NFL Week 3 early odds moves (CRIS): BUF PK to -1 NE -13 to -14.5 PIT-CAR OU 40 to 41.5 http://t.co/m8ZX71FafA — SportsInsights.com (@SportsInsights) September 15, 2014
– Last season we published an article detailing the value of fading West Coast teams when they travel east. Here's an updated look at how West Coast teams are affected by cross-country travel:
West Coast teams that fly across the country for afternoon games cover the spread 39% of the time. #Chargers #Raiders pic.twitter.com/FSIZWhCzqJ — Bet Labs Software (@Bet_Labs) September 15, 2014
– It may be the year of the dog, but betting large dogs has always been profitable for both spread and teaser/pleaser bettors:
NFL double-digit dogs cover the spread 54% of the time, and they cover the 6-point tease 67% of the time. pic.twitter.com/5EfT5tkJ9q — Bet Labs Software (@Bet_Labs) September 14, 2014
– After seeing seven underdogs win outright in Week 1, NFL dogs once again went 7-9 straight up in Week 2. On the season betting underdogs on the moneyline has produced a 14-18 record with +5.64 units won.
In Week 1 of the NFL season, underdogs went 7-9 straight up. In Week 2 @BovadaLV has set the O/U for dogs winning outright at 4.5. — SportsInsights.com (@SportsInsights) September 11, 2014
– This weekend out NFL Best Bets went 4-1 ATS bringing the season record to 8-2 (+5.36 units). Receive our NCAAF Best Bets (18-13, +3.33 units), MLB Best Bets (+22.67 units), real-time odds, public betting trends and more by signing up for a 4-day trial of our Pro membership.
Biggest NFL Week 3 line moves so far: #Bills from pick to -2.5 over #Chargers #Jets from pick to -2.5 over #Bears

— SportsInsights.com (@SportsInsights) September 16, 2014
With RGIII out indefinitely, Kirk Cousins and the #Redskins have opened as 7-point road dogs this week against the #Eagles. (via CRIS)

— SportsInsights.com (@SportsInsights) September 16, 2014
[adrotate group="4″]