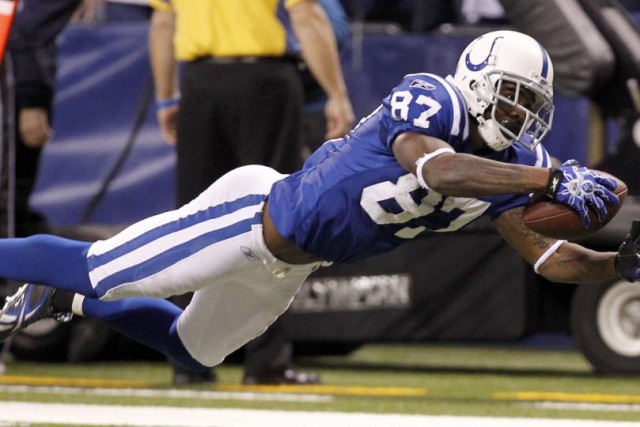 NFL Betting Against the Public: Buying Low on Playoff Teams
At Sports Insights we constantly preach two major adages:
1) Whichever team the public is loading up on, simply bet the other team.
2) Make sure to buy on bad news and sell on good
These two contrarian philosophies may seem simple, but they are extremely valuable for exploiting public perception. The public tends to be very reactionary and, with the ever-growing popularity of football, sharp bettors can take advantage of these squares.
In the past we've discussed our 80/20 NFL betting system which focuses on underdogs receiving less than 20% of spread bets. This basic system has produced a record of 96-74 ATS with 17.17 units won and a 10.1% return on investment (ROI); however, with a number of recent additions to our Bet Labs software we have been able to examine increasingly complicated betting systems with the help of many newly added filters.
Regardless of sport, we've found that teams tend to be undervalued following a loss — particularly a blowout loss. We've also noticed that a majority of bettors tend to take favorites and overs, which makes all the sense in the world. People want to root for their bet, and that's much easier to do with winning teams and high-scoring games. However, this tendency creates opportunity for astute sports bettors.
Our goal was to find good buy low opportunities, particularly on quality teams. While the team "quality team" can be somewhat tricky, we opted to identify these teams by using our newly added "Previous Season Postseason" filter to focus solely on teams that made the playoffs last season. This one filter resulted in a 941-929 ATS record with -22.22 units lost. However, when we utilize our betting against the public philosophy and focus on teams receiving less than 30% of spread bets, we produce an 83-64 ATS record with +15.09 units won and a 10.3% ROI.
The logic behind this is simple enough: teams that are receiving less than 29% of public bets are typically the league's cellar dwellers. Teams like the Jaguars and Raiders are routinely ignored by the public but for good reason. However, by focusing solely on playoff teams from the previous season we ensure that there is still a talented core of talent. We're still exploiting public opinion, but we're refining our search in a way that eliminates the league's worst teams.
As stated earlier, we're always looking to buy on bad news and sell on good and there's no better way to accomplish this than by taking teams after a loss. Most media outlets tend to be very reactionary (often times for the sake of creating a story or narrative) and this week long conversation can often times completely dictate public perception. Bettors are also often times skeptical of being burned by the same team twice and will refuse to bet on a team that lost them money the previous week.
By utilizing the "previous game margin" filter and looking at all teams coming off a loss (margin between -1 and -45 points) we are able to vastly improve our system with a 64-35 ATS record with +25.42 units. By adding one more filter to focus on underdogs our system improved to 61-31 with +26.73 units and a 29% ROI.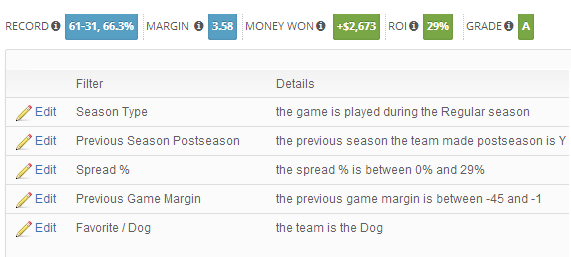 This system has all three characteristics that we look for in a winning betting system: a strong sample size, guiding hypothesis and consistent year-to-year results. In fact, this system has gone at least .500 in every single season dating back to 2005.
---
After being blown out on national television, the New England Patriots may be undervalued in this week's matchup with the undefeated Bengals. According to our free NFL odds page, New England is receiving just 25% of spread bets as the home team in Sunday night's pick 'em. With the juice currently favoring Cincinnati, the Patriots would be considered an underdog although it will be interesting to see if public betting continues to hammer the Bengals as the week progresses.
Have any questions for the staff at Sports Insights? E-mail us at help@sportsinsights.com, call us at 877-838-2853 or utilize our live chat function to speak directly with a customer service representative.
11/18/14 Update: In Week 11 the Cincinnati Bengals (+8.5) upset the New Orleans Saints to give this system a 2-0 record on the season. Overall the system is now 63-31 ATS for +28.76 units and a 30.6% ROI.
[adrotate group="4″]