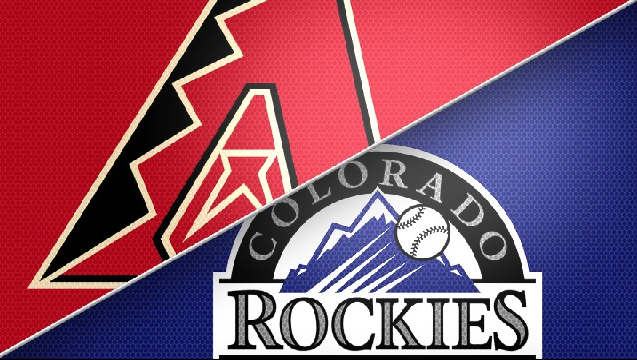 MLB Game of the Week: Colorado Rockies vs. Arizona Diamondbacks
With the NBA Draft on tap tonight, it's easy to forget that there are nine MLB games scheduled including one game that's offering tremendous value on both the moneyline and total. This evening at 8:40 PM eastern, the Colorado Rockies (34-37) will host the Arizona Diamondbacks (34-40) in an NL West showdown.
Over the off-season, Arizona signed former AL Cy Young Winner Zack Greinke to a six-year, $206 million deal in an attempt to bolster their pitching staff. Unfortunately, the 32-year old right-hander has regressed significantly in his first season in the desert. Despite boasting a 10-3 record in 15 starts, Greinke's ERA has jumped nearly two full points from 1.66 to 3.54.
Greinke was listed as one of the front-runners to win the NL Cy Young Award before the start of the season, but his tepid performance has caused those odds to plummet from 14/1 to 200/1. You would think that this level of under-performance would dissuade bettors from taking Arizona tonight, but they're actually receiving historical levels of public support.
The Diamondbacks opened -162 at the market-setting Pinnacle sportsbook and, at the time of publication, were receiving 87% of moneyline bets. Since 2005 we have tracked nearly 30,000 MLB games and only 238 teams have seen a higher percentage of public support. That's less than one percent of all games!
The screenshot below, which is available to Sportsbook Insider subscribers, displays the breakdown of our seven contributing sportsbooks.

Although public bettors are overwhelmingly taking the Diamondbacks, the Rockies have actually dropped from +149 to +146 at Pinnacle. It's a small move, but that reverse line movement indicates that sharp money likes Colorado.
Additionally, there have been two bet signals triggered on this game including a steam move on the Rockies (+145) at BetUS. Although the BetUS move is down -9.11 units this season, it's been one of our top-performing moves in recent years. Between 2011 and 2015, the BetUS steam move went 848-705 (54.6%) with +80.03 units won.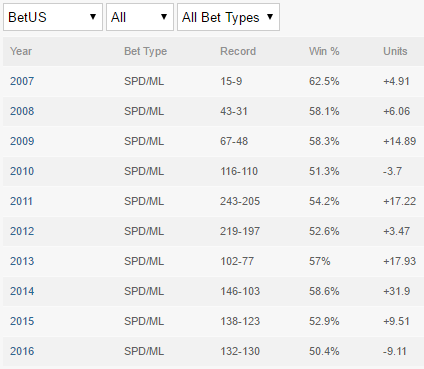 Betting against the public is one of the most basic and popular contrarian strategies used at Sports Insights. Square bettors tend to overwhelmingly root for winning teams and high-scoring games, and sportsbooks account for these tendencies by shading favorites and overs. Historically this has created value on underdogs and unders, but every season we update our betting percentage data to find the optimal betting percentage threshold for betting against the public.
Although the Rockies don't fit out 2016 MLB Betting Against the Public system, there's a lot of reasons to like the home 'dog tonight. For starters, teams receiving less than 20% of moneyline bets have earned +42.39 units with a 1.5% return on investment (ROI) since the start of the 2005 season. My past research has also found that underdogs with high totals have performed exceptionally well. That's great news for Colorado since the total is currently 11 at Pinnacle.
Over the past eleven seasons, underdogs have produced a +0.2% ROI when the closing total is at least 8.5 and a 3.8% ROI when the closing total is at least 10.5. High totals generally lead to more unpredictability, and that has disproportionately benefited the team getting plus money. It's also worth noting that underdogs have gone 18-15 (+7.9 units) this season when the closing total is at least 10.5.
Another trend pointing towards value on the Rockies is the historical performance of underdogs in divisional games. Past analysis has found that when teams from the same division face off, games tend to be much more competitive due to the familiarity between teams. Essentially, divisional games level the playing field and boost the value of teams getting plus money since they can win less than 50% of their games and still be profitable.
Using the tools available at Bet Labs sports, I found that underdogs have produced a 0.7% ROI in regular season divisional games. When the closing total is at least 8.5 that figure increases to 2.6% and when the closing total is at least 10.5 it jumps to 8.1%.
This season road favorites have gone 220-150 (+13.56 units won), but historically there has been far more value on home underdogs. It's also interesting to see that the Rockies have been a far better team at home than they have on the road. Since 2005, the Rockies have gone 149-154 (+21.38 units) when they're an underdog at Coors Field. For comparison sake, they have gone just 289-494 (-91.24 units) as a road underdog.
This is an excellent opportunity to sell high on a pitcher that's being overvalued based on name recognition and buy low on a team offering exceptional contrarian value. Several offshore sportsbooks are offering the Rockies +150, so I would strongly suggest shopping for the best line before placing a wager on tonight's game.
Looking at the total, it's quite clear that there's value on the under. Although Coors Field has been one of the best over ballparks in the league, there are too many trends on the under to ignore. At the time of publication, 58% of tickets had taken the over yet 76% of the total dollars wagered had taken the under. This type of split indicates that squares are betting the over while sharps are betting the under.
Additionally, my research found that overs have performed well in games with low totals while unders have been highly profitable in games with high totals.
Since 2005, MLB unders have gone 278-243 (53.4%) when the closing total is at least 11. ARI/COL total currently 11 at @PinnacleSports.

— David Solar (@TheDavidSolar) June 23, 2016
I realize that many bettors dislike the idea of taking unders at Coors Field (especially when one of our top-performing systems highlights value on late season overs), but that's part of being a contrarian bettor. You need to take unpopular viewpoints to capitalize on artificially inflated lines.
Betting on baseball can be a long grind, especially when you're constantly taking moneyline underdogs throughout a 162-game regular season. The expectation shouldn't be winning every game, but rather exploiting market inefficiencies and capitalizing on public perception. Since I believe that the Rockies win this game more than 40% of the time, there's a positive expected value.
These numbers are always subject to change, so make sure to visit our free MLB odds page for up to the moment lines, betting trends, injuries and more.
Have any questions for the staff at Sports Insights? Utilize our live chat to speak with a customer service representative or e-mail us at help@sportsinsights.com.