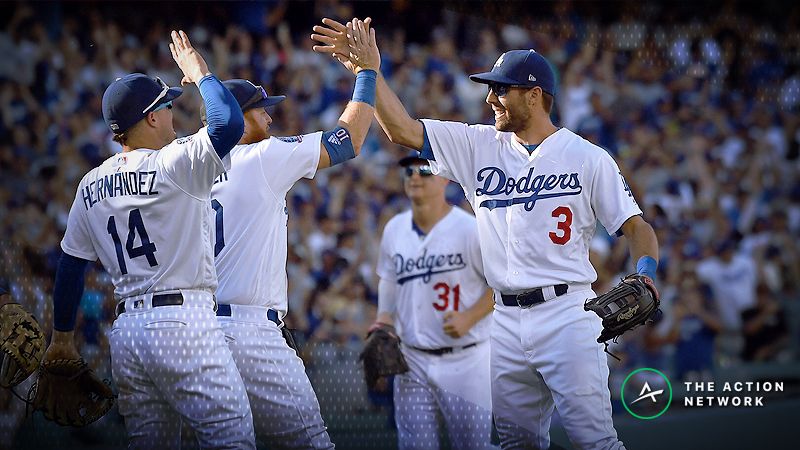 Projecting the Best Futures Bets to Win the World Series
October baseball is upon us. The 2018 MLB playoffs start Tuesday, and bettors have options when it comes to wagering on the postseason. The Boston Red Sox (+298, 5Dimes) are the betting favorite.
Boston won an MLB-best 108 games, led the majors in runs and batting average and will have home-field advantage throughout the playoffs.
However, the Red Sox aren't the most likely team to win the World Series.
There are many baseball playoff simulations available on the internet, but which one can you trust? Instead of putting your faith in a single model, it is wise to compile many and create a consensus projection.
Using results from ESPN, FiveThirtyEight, Baseball Prospectus and FanGraphs, I've created a consensus World Series projection. According to the models, Boston has a 16.0% chance to win it all.
The implied probability of the Red Sox winning the World Series is 25.1% based on +298 odds. Therefore, there is no value in placing a World Series bet on Boston.
If the Red Sox aren't an option, which team should bettors back?
Only two teams have value when comparing the implied probability to the consensus projection. The Houston Astros (+340) and the Los Angeles Dodgers (+600) are currently being undervalued by the betting market.
Of the two, the Dodgers are the best bet. The Astros are the most likely team to win the World Series per the consensus projections, but with Houston at +340 odds, gamblers are getting close to even money on that wager.
On the other hand, the Dodgers are more likely to win it all than Boston and have odds twice as long as the Red Sox. LA has a lot going for it to make bettors excited.
The NL West champions are the favorites to win the NL pennant, are best in baseball in offense (wRC+ and true average), have eight hitters with 20 or more home runs this season and the pitching staff's ERA of 3.38 is second-best in the majors.
Plus, Yasiel Puig guaranteed a Dodgers World Series win this season.
.@YasielPuig is a legend. 😂pic.twitter.com/UTh8AElWAN

— MLB (@MLB) October 2, 2018
It's the postseason and anyone can win, but the Dodgers are the best bet to capture the World Series.
This article was originally posted on ActionNetwork.com by John Ewing. Sports Insights is part of The Action Network.